Simply pan-frie them in a pan with garlic-parsley butter and toss them with fresh taglierini, top off with lemon juice, chives, and a pinch of smoked paprika. Dinner in a flash!
By Jessica Dang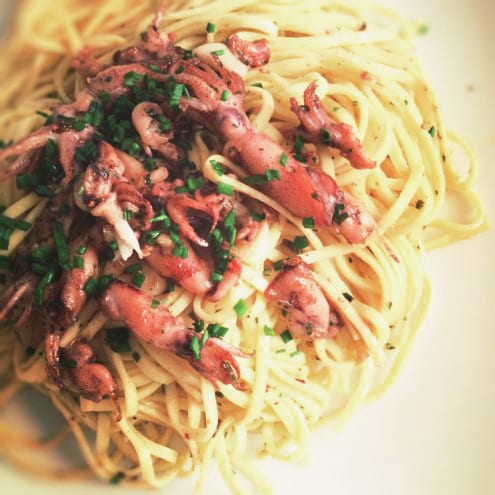 Print
Taglierini con Calamaretti – Pasta with Tiny Calamari
Simply pan-frie them in a pan with garlic-parsley butter and toss them with fresh taglierini, top off with lemon juice, chives, and a pinch of smoked paprika. Dinner in a flash!
Author:

Jessica Dang

Prep Time:

15 mins

Cook Time:

15 mins

Total Time:

30 mins

Yield:

2

1

x
Category:

Main
1/4

lb. of calamaretti

2 tablespoons

of garlic-parsley butter (I bought mine ready-made from The Lobster Place)

2

nests of fresh taglierini
Fresh chives
A squeeze of lemon juice
Smoked paprika
Sea salt
Black pepper
Olive oil
Instructions
Do your best to clean the calamaretti and pat dry. Set aside.
Bring a pot of salted water to a boil. This is for cooking the pasta. If you're wondering how salty it should be, it should taste like the ocean. Yes, you should taste the water. I learned that from a pasta-making class at Del Posto. It'll take some time to boil, which gives you a chance to multitask.
As you're waiting for your pot of water to boil, heat a frying pan over medium heat with a drizzle of olive oil. When hot, add 2 tablespoons of the garlic-parsley butter. The butter should melt and sizzle and the whole kitchen should smell absolutely yummy.
Throw the calamaretti into the pan and move it around with a spatula so that it cooks evenly. Season with a bit of sea salt and black pepper. The little tentacles will start to curl and the juices will mix with the butter and olive oil to create a sauce. Turn off the heat.
Back to the pasta! Your water should be boiling by now. Gently drop the taglierini into the boiling water. Give it a little stir. Cook for 2 minutes or so, until al dente. Drain and throw the pasta into the pan with the calamaretti while the pasta is still steaming hot. Toss and toss and toss until the pasta is coated with the sauce. You may want to add a bit more butter, if you please. Squeeze some fresh lemon juice over the entire pan and toss some more.
Once it's on a plate, snip some fresh chives on top and add a good pinch of smoked paprika.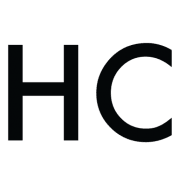 Jessica Dang
Jessica Dang is a freelance writer, blogger, and social media consultant based in New York City. She is currently developing Single Girl Dinner, an online community and resource of dinner ideas for young independent women living in the city. She enjoys reading menus, dining at the bar, and experimenting in the kitchen when no one's looking. When it comes to food, she can't resist uni, foie gras, caviar, or Popeyes' fried chicken.