Sweetened Carrots with Cardamom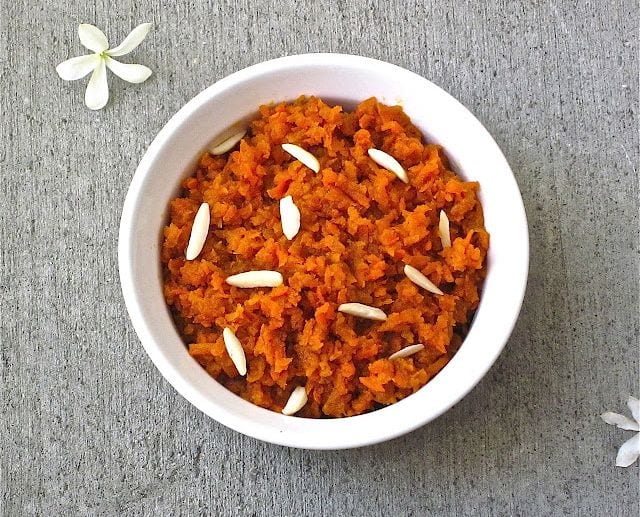 Carrot Halwa, where the vegetable is gently cooked in milk and sugar, is a very popular sweet in Indian cuisine.
By Pushpa Kumar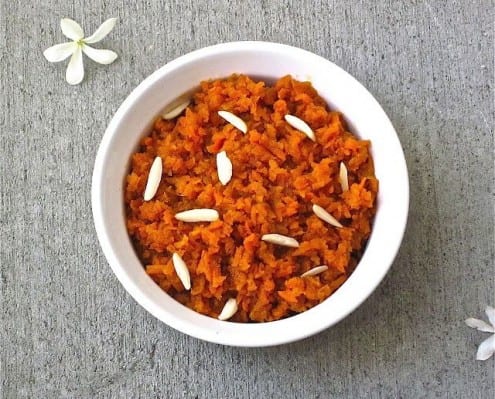 Sweetened Carrots with Cardamom
Carrot Halwa,where the sweet vegetable is gently cooked in milk and sugar is a very popular sweet in Indian cuisine. Easy to prepare this sweet goes as a perfect complement to a savory snack. Also makes for a delicious dessert to end a spicy meal. Add your favorite nut/nuts in the end to give a nice crunch to the sweet.
Ingredients
5 cups shredded carrots
2 cups whole milk
1 cup sugar
½ cup oil
7-8 whole green cardamoms
Nuts
Instructions
Heat oil in a wide open pan and add the carrots and saute them for about 5 mins on medium low flame.Add 2 cups milk and the powdered cardamom seeds.Cook till all the milk is absorbed.Add sugar and stir cook on low flame till oil slightly begins to seperate.At this point you can add 2-3 tbsp of ghee or more oil if preferred and continue to stir till well blended.Enjoy hot or cold.
Pushpa Kumar
Pushpa lives in Southern California.She loves listening to good music,travelling and enjoys photography.Her blog Taste as You Cook reflects her experiments in the kitchen.