Sweet, salty, and so deliciously complex tasting, this caramel corn is made with nutty sesame oil and nori flakes.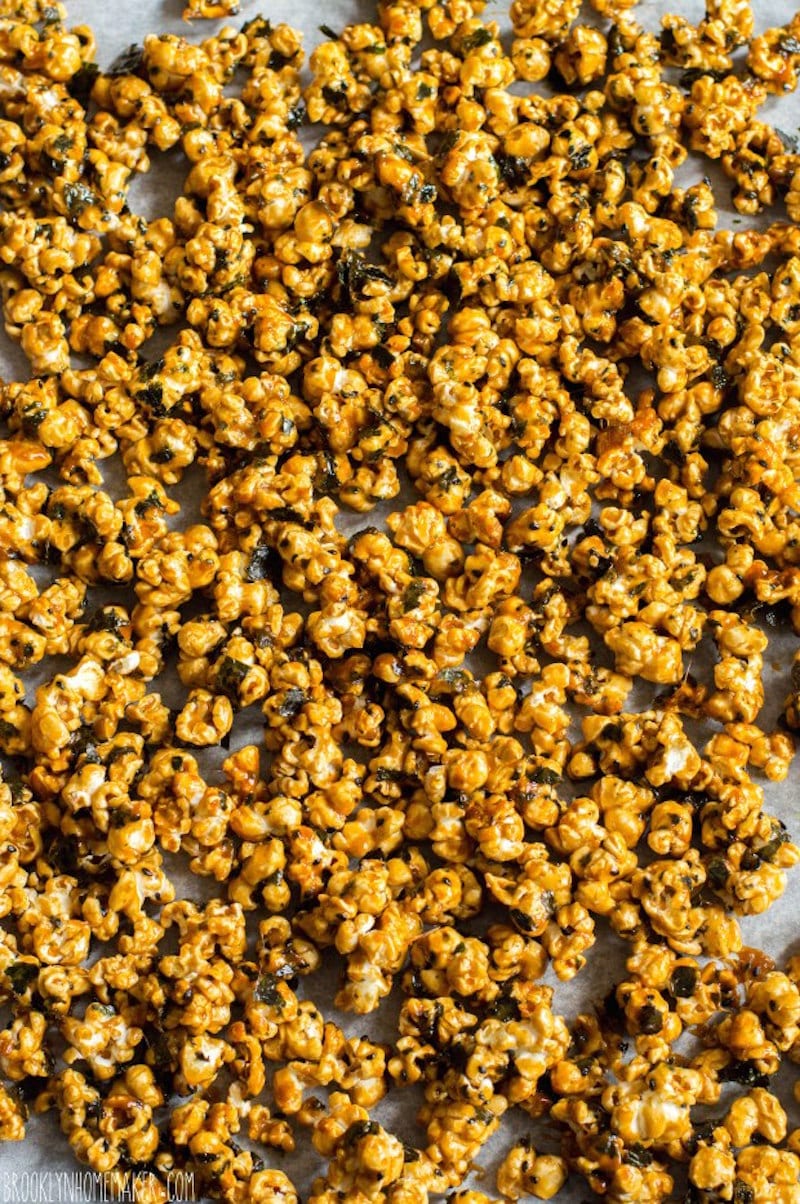 Thing is, going to the movies in New York City is expensive. Like crazy expensive.
Out of nowhere, I decided I needed to make caramel corn. I've only made caramel corn once before, but before I knew it the popcorn was popping and the caramel was bubbling away. You might not expect it, but caramel corn is actually a pretty easy recipe. Easy for homemade candy anyways. You don't need a candy thermometer at all, just an easily adjusted burner and a good kitchen timer. And the ability to move quickly while handling bubbling hot sugar without injuring yourself.
I've been on a bit of a sesame oil kick lately, so I decided to swap some of the butter in the recipe for some nutty, toasty sesame oil. And some black sesame seeds. And why not, some crushed up toasted nori flakes too.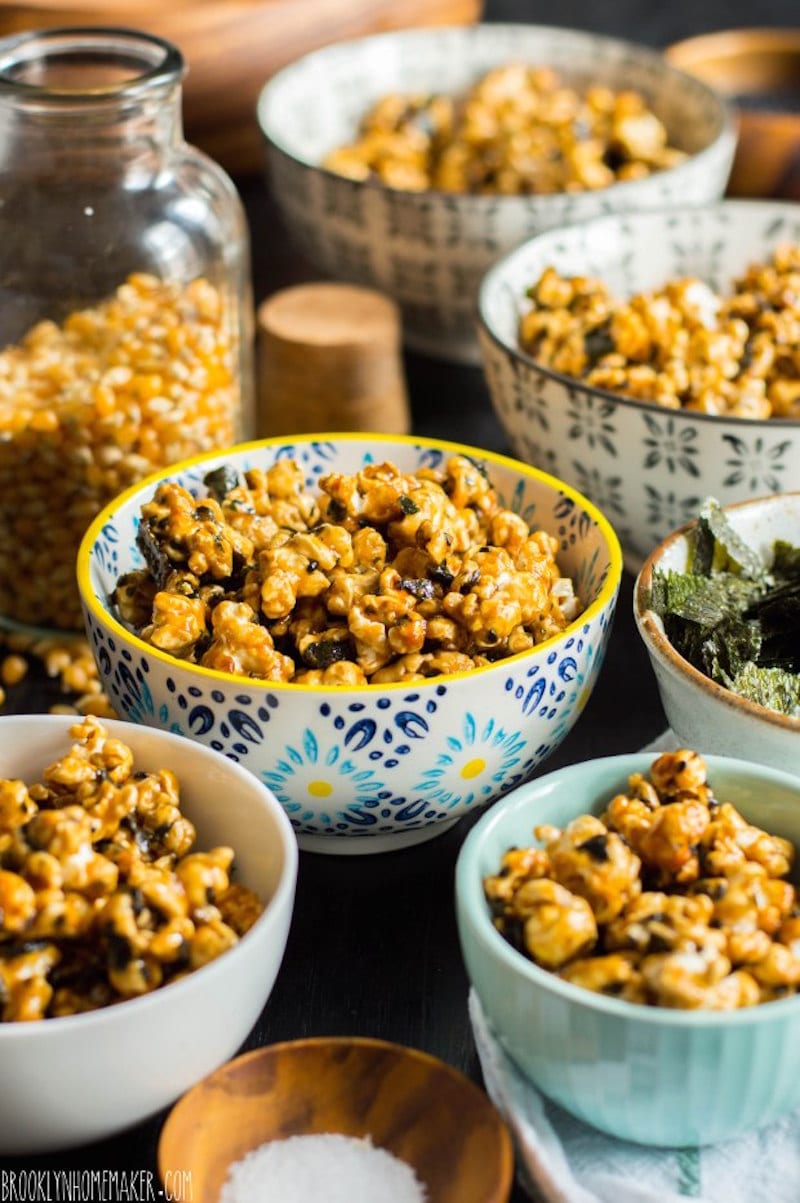 Before you turn your nose up at caramel corn with seaweed in it, rest assured this stuff is GOOOOOOOD. My friends were going crazy for it and impassioned whispers about how amazing it was could barely be heard over the movie.
This is everything you want in good caramel corn with a little something extra. First you get the crunchy, sweet, salty, caramel-y, amazingness that you expect, but then you notice the nutty toasty sesame flavor and a gentle hint of salty brininess from the nori. The nori is really just a subtle hint that pairs incredibly with the sesame flavors and complements the salty caramel in a really modern, mature, and interesting way.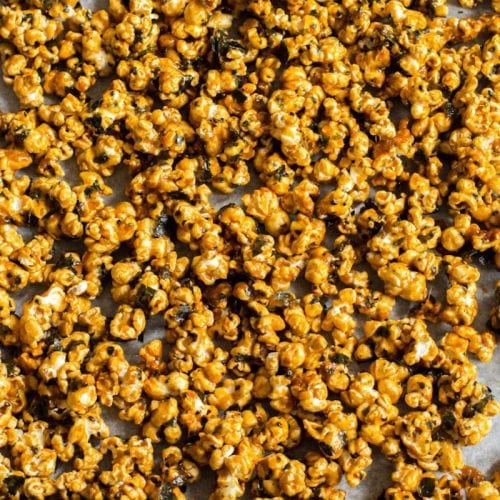 Sweet and Salty Nori and Black Sesame Caramel Corn
Tux Loerzel
Sweet, salty, and so deliciously complex tasting, this caramel corn is made with nutty sesame oil and nori flakes. adapted from the New Better Homes & Gardens Cookbook, 2005
Ingredients
2

tablespoons

peanut oil

1/4 to 1/3

cup

unpopped popcorn kernels

8 cups popped

1/4

cup

crushed nori

optional

1

tablespoon

black sesame seeds

3/4

cup

packed brown sugar

5

tablespoons

unsalted butter

1

teaspoon

coarse kosher salt

3

tablespoons

light corn syrup

1

tablespoon

toasted sesame oil

1/2

teaspoon

vanilla extract

1/4

teaspoon

baking soda
Instructions
Preheat oven to 300F.

Heat oil in a large heavy bottomed stockpot or dutch oven over medium high heat. Add popcorn and cover with a lid. Using potholders or a towel to hold the handles, shake the pot around to keep the kernels moving as they pop. When several seconds pass between pops, remove from heat. Remove and discard any un-popped kernels and return popcorn to the pot it was popped in. Crush nori up into small flakes with your hands and add, along with sesame seeds, to the pot with popcorn.

Combine brown sugar, butter, salt, and corn syrup in a medium sauce pan. Cook and stir over medium heat until mixture begins to boil. Reduce heat to medium to maintain a moderate boil, and cook, without stirring, for exactly 5 minutes.

Remove pan from heat and stir in sesame oil, vanilla, and baking soda. Immediately pour caramel mixture over popcorn and gently toss toss toss to combine as quickly as you can. If you don't work quickly the caramel will harden and become difficult to mix.

Spread popcorn in an even layer over a parchment lined baking sheet. Bake for 15 minutes, stir mixture around, and bake for 5 minutes more. Once cooled enough to handle gently toss the popcorn around so it doesn't all stick together in one large block.

Store tightly covered for up to one week. It probably won't last that long.

*variation: If you're not sure about the nori but like a bit of heat, try skipping the nori and add a heaping tablespoon of sriracha along with the sesame oil and vanilla in the recipe.
Tux Loerzel
Tux is a food blogger, photographer, dog lover, husband, and avid baker living in Bushwick, Brooklyn. Originally from upstate New York, he inherited his love of cooking and baking from his mother and grandmother. With the encouragement of good friends and several glasses of wine, he began his food writing and blogging adventure in the fall of 2013. Learn more about Tux at his blog Brooklyn Homemaker