SPONSORED: We get excited about good food and great ingredients, so we've teamed up with Divine Flavor to bring you delicious recipes made with their mini Tribelli peppers.
These Sweet Pepper Biscuit Breakfast BLTs are hearty breakfast sandwiches made on a homemade sweet pepper biscuit and loaded with fresh lettuce and tomato, crispy bacon and a runny fried egg!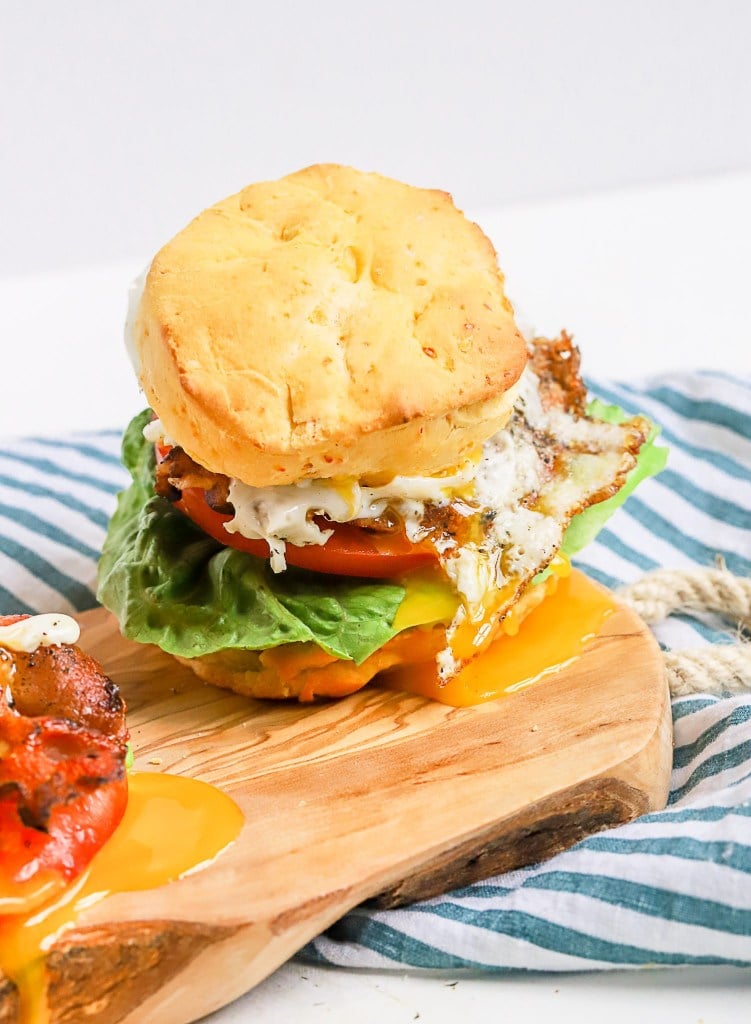 Is there anything better than a BLT for breakfast? Yes, there is, you see, when that BLT is served on a homemade biscuit!
Now before you start rolling your eyes and get all "that's so complicated, I hate you for even mentioning homemade biscuits" let me tell you how easy they are…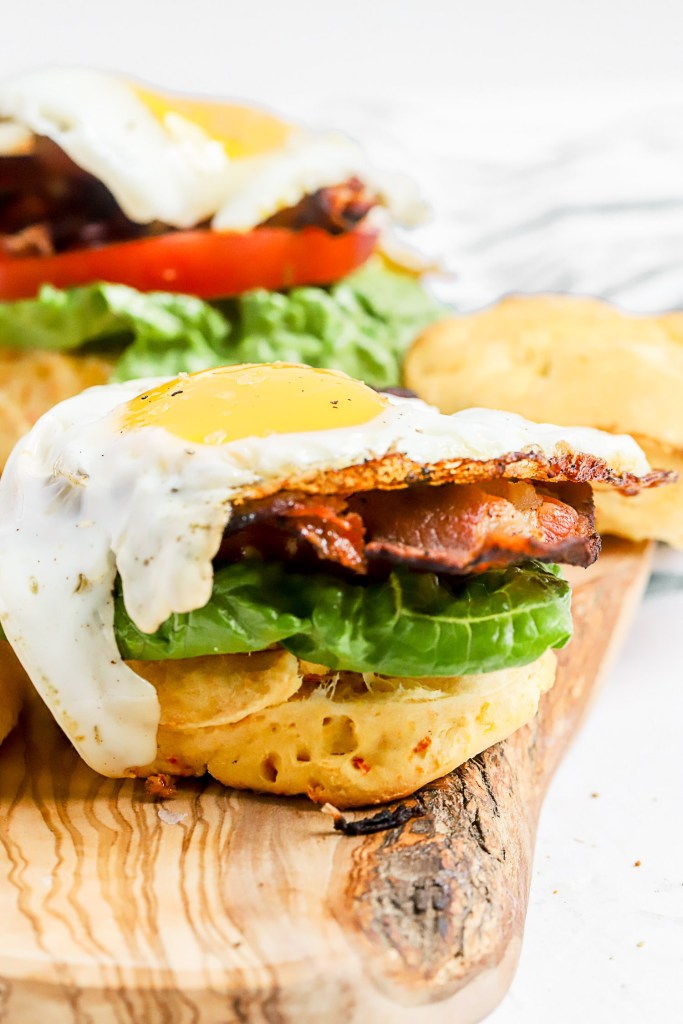 Like I was saying… they are SO easy! No need for kneading (no pun intended) and you don't even have to let them rise! Oh, and did I mention, they are made entirely in the food processor!? Yep, they are a one bowl kind of biscuit – are you in?
We'll start by first chopping up the Divine Flavor Tribelli Mini Sweet Peppers. We have them to thank for giving our biscuits that sweet, fresh pepper taste as well as making them a pretty pinky-orange hue! Did you know that Divine Flavor Tribelli Mini Sweet Peppers are sustainably grown in greenhouses so we have the pleasure of enjoying them all year long!? Win-Win-Win!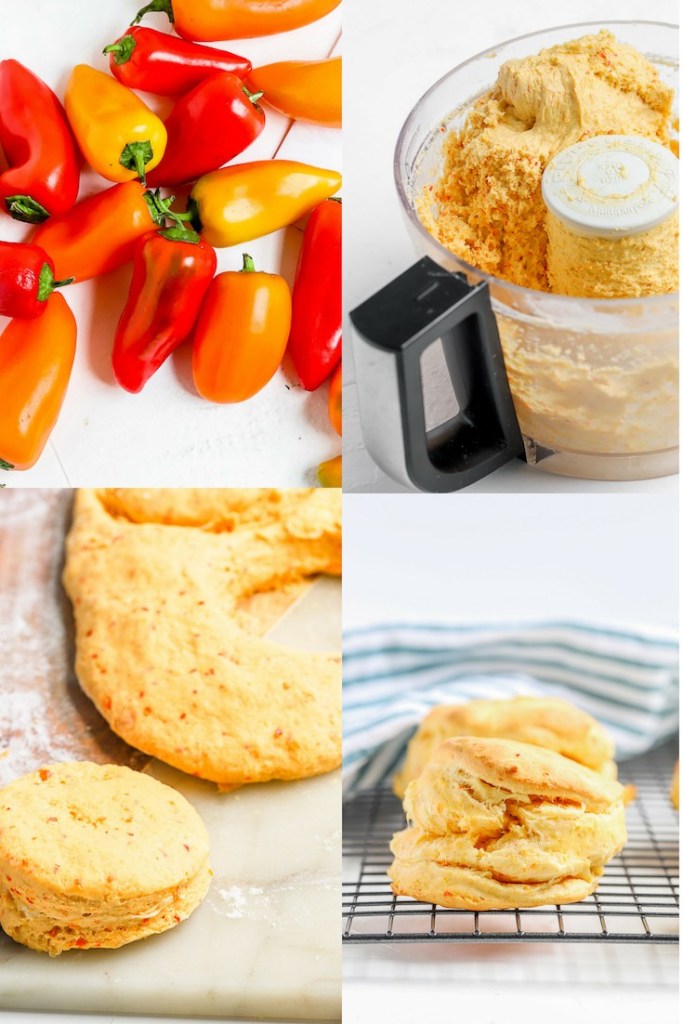 Once you have chopped the peppers up nice and fine in the food processor you add the flour, baking powder and salt. Mix that all up and then add the butter. It is very important to use cold butter in biscuit making, we don't want the butter to fully combine with the flour because then it will form more or those flakey layers we are after! So do yourself a favor and freeze the butter for at least 20 minutes prior to adding it into the dough.
After the butter has been pulsed into the dough, add the honey and then slowly pour in the buttermilk. The dough is going to start to form a ball, once it does, stop the food processor and you are ready to roll!
Make sure you flour your hands and the surface you are rolling the dough on to. Roll out the dough so it is 1-inch thick. Using a 2-inch wide circular cookie cutter, cut the biscuits out of the dough and place them on a parchment-lined baking sheet. Bake the biscuits for about 10 minutes at 425°F.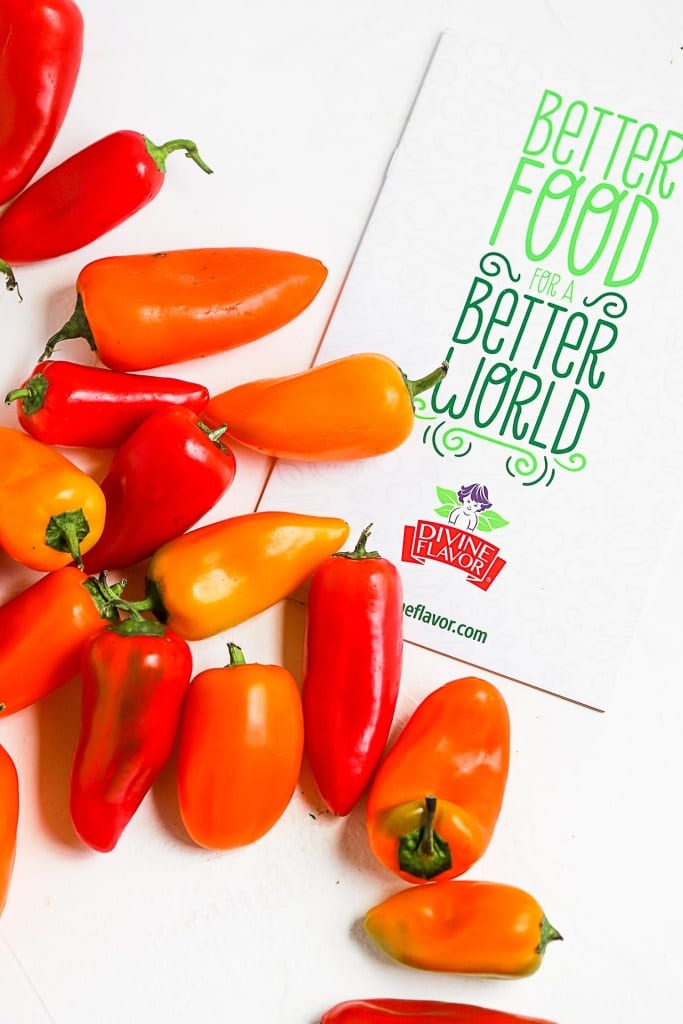 Now that we have the biscuits baking it's time to prep our BLT ingredients! We'll need slices of romaine lettuce, slices of tomatoes and we'll fry up some bacon and eggs! Once your bacon and eggs are cooked to your liking and the biscuits are out of the oven it's time to assemble! You will have the best results if you use the biscuits fresh out of the oven. Slice them in half and then layer on the lettuce, tomato slices, bacon and an egg! Pop the top on and dive into breakfast heaven!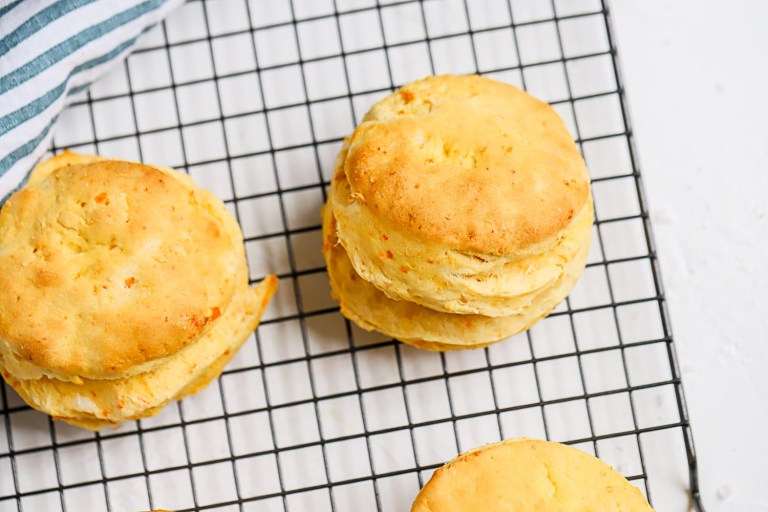 Print
Sweet Pepper Biscuit Breakfast Sandwich
Author:

Laura Nockett

Category:

Breakfast
SWEET PEPPER BISCUITS
4

Divine Flavor Tribelli Mini Sweet Peppers

2 cups

white all-purpose flour + more for rolling

1 tbsp

baking powder

1 tsp

sea salt

4 tbsp

unsalted butter (very cold*)

1 tbsp

honey

½ cup

buttermilk
BREAKFAST BLT
8

sweet pepper biscuits

16

slices of thick-cut bacon

2

large tomatoes
Salt

8

eggs

8

large slices romaine lettuce
Instructions
SWEET PEPPER BISCUITS
Preheat oven to 425°F
Line a baking sheet with parchment paper, set aside
Slice the tops off the peppers and slice in half vertically, remove seeds
Add the peppers to the bowl of your food processor fitted with blade attachment
Process on high until the peppers are chopped up into small pieces
Add the flour, baking powder and salt, pulse to combine
Add the butter 1 tablespoon at a time, pulse
Add the honey, pulse
Slowly add the buttermilk, dough will begin to form a ball
Flour your hands and remove the dough from the food processor, forming into a ball
Place on a flat, floured surface
Using a rolling pin, roll the dough until it is about 1-inch thick
Cut out the biscuits into 2-inch wide circles**
Evenly space the biscuits on a lined baking sheet
Bake for about 10 minutes or until the tops of the biscuits turn golden brown
BREAKFAST BLT
Slice the sweet pepper biscuits in half horizontally
Fry the bacon in a skillet until cooked to your liking, set aside
Slice the tomatoes horizontally, sprinkle with a pinch of salt
Remove some of the bacon grease from the skillet, leave just enough to fry the eggs in
Crack the eggs into the skillet 1 at a time and fry until cooked to your liking***
Layer the lettuce, tomato slices, bacon slices and a fried egg on the bottom piece of each biscuit
Close the sandwich with the top of the biscuit and enjoy immediately.
Notes
*put butter in the freezer for 20 minutes before using
**use a cookie cutter if you have one
***for a runny egg only fry it for 2-3 minutes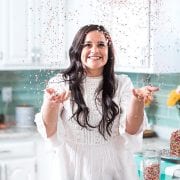 Laura Nockett
I'm Laura, a recipe developer, photographer, ice cream and avocado enthusiast and I'm so excited that you are here! My hope is that I can take some of the stress out of cooking and inspire you to get creative and have fun in your kitchen.