An oat crumble crust gives this pie just the right amount of earthy flavor to bring out the sweetness of the dark, ripe cherries. With a red wine filling, this pie has a tantalizing aroma.
By Mariela Alvarez Toro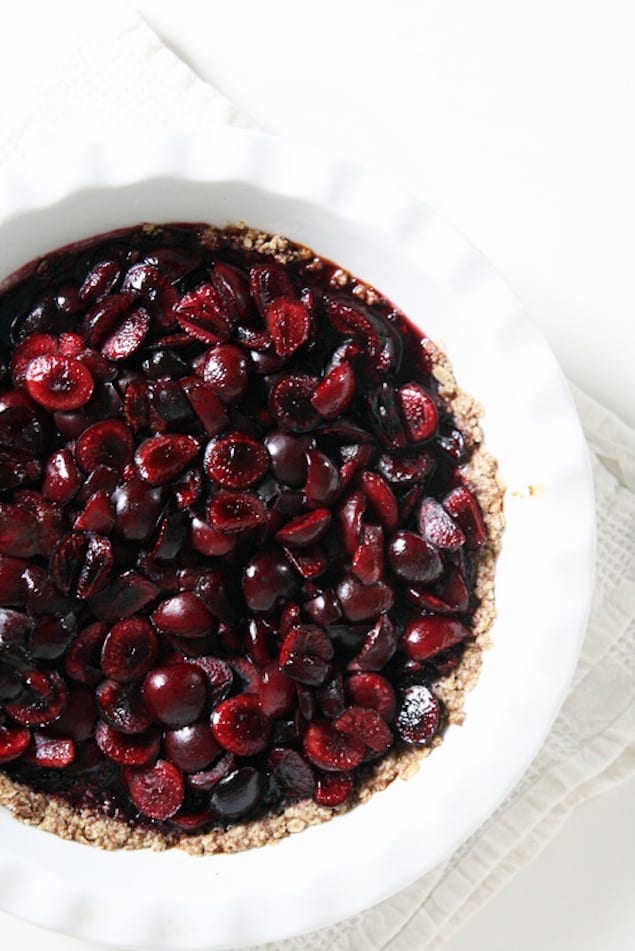 A love letter to cherry pie
Sweet, sweet cherry pie,
Oh so succulent, oh so sublime, if only I had met you earlier, life would be different. Like the first time I tasted a fresh cherry, hand picked, freshly bought from a market, ripe as a mid-summer sun rise, I have fallen for you too! Juicy and bursting with flavor, small and cute, but also dark and mysterious.
I remember pitting each cherry, one by one, pit by pit, fingers red, mouth sweet. I remember baking you, the caramel aroma infusing the hot kitchen air. I remember the sound the wine made as it poured through sugar and into a bunch of cherries. So familiar, so sublime, full of delight!
Now only but a memory, you sweet cherry pie, were the tastiest pie I have ever had. Your crust, full of oats, and brown sugar, baked to perfection, hearty and sweet. The perfect pair to a cherry packed, wine drunk, tangy-sweet filling. Oozing with the richest, darkest, most vibrant juices, oh cherry pie, I ate you over a kitchen counter surrounded by old friends and new, after a day of sun and sand. Until we meet again.
Print
Sweet Cherry Pie
An oat crumble crust gives this pie just the right amount of earthy flavor to bring out the sweetness of the dark, ripe cherries. With a red wine filling, this pie has a tantalizing aroma. Adapted from The Bojon Gourmet and El Invitado de Invierno
Author:

Mariela Alvarez Toro

Category:

Baking
Oat crumble crust
3/4 cup

gluten-free old-fashioned rolled oats

1/4 cup

dark brown sugar

2 tablespoons

white rice flour

2 tablespoons

quinoa flour

2 tablespoons

tapioca flour

1/2 teaspoon

kosher salt

4 tablespoons

cold coconut oil
Cherry filling
5 cups

pitted cherries (about

1 ½

pounds fresh cherries)

½ cup

organic sugar

¼ cup

red wine, preferable a fruity one like Pinot Noir

1 tsp

. vanilla extract

3 tbsp

. corn starch
Instructions
Crust
Place all ingredients in a food processor. Pulse until crust batter resembles wet sand. Transfer onto pie plate. Press crust batter thin to coat the bottom and sides of the plate. Place in freezer for fifteen minutes.
Preheat oven to 350 degrees Fahrenheit. Place hardened crust in oven for 20 minutes. Remove and add filling.
Filling
To make filling, start by pitting 5 cups of cherries, about a pound and a half of cherries. Place in a cowl with sugar, red wine, vanilla extract and corn start. Stir until evenly distributed.
When crust comes out of the oven, add filling to the pie dish. Bake for 30-35 minutes. Remove from oven. Let cool completely.
To serve scoop into bowls, by itself, with ice cream, or whipped cream!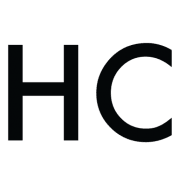 Mariela Alvarez Toro
Recently graduated with from Harvard University's Graduate School of Design. She has recently completed "People in Food-Space", an ethnographic study on the cultural production of taste in space. She has also examined post-soviet food production systems and housing projects in Havana, Cuba. Originally from Puerto Rico, Mariela has been living in the United States for eight years. She has involved herself in both teaching and practice, while writing on food at tastyplan.com. Her goal as a food writer is to cook creatively, using the best ingredients to find new flavor combinations every day.