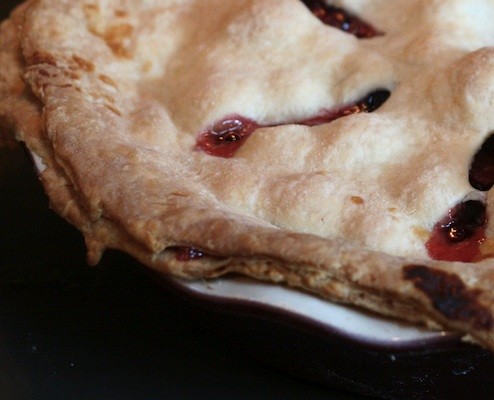 Sara Clevering tries desperately to find tart cherries, but ends up with a great sweet cherry pie instead.
By Sara Clevering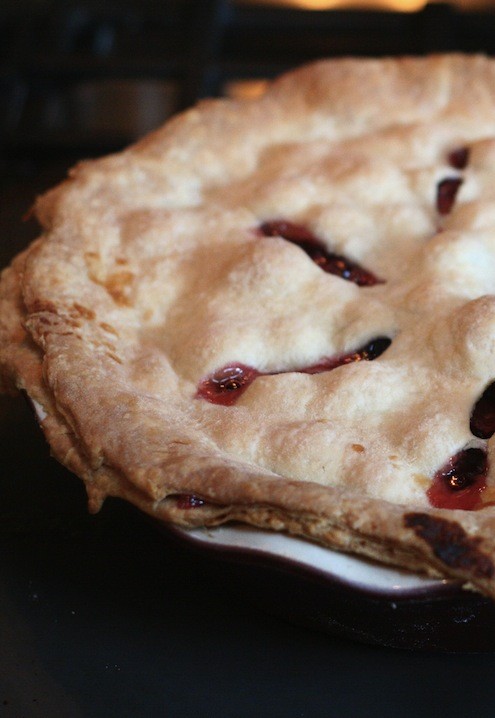 I've been hearing a lot about how wonderful tart cherries are for just about everything.  I'd be perfectly happy to line my pantry with tart cherry jam, make classic French clafoutis, or infuse a sweet liqueur–problem is, I simply can't find them.  I've been keeping my eye out, with the hopes of making the ideal cherry pie before summer's gone, but luck has not been on my side.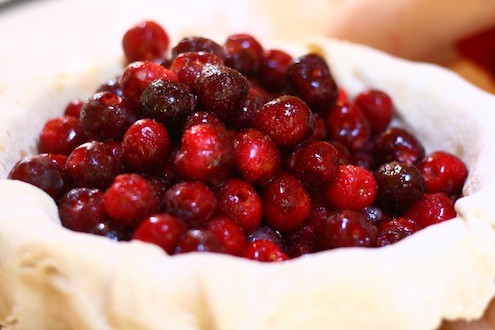 Meanwhile, I've been buying loads of sweet cherries, and I wondered if it would really be such a sin to make cherry pie using this bounty.  Shouldn't delicious cherries simply beget delicious pie?   Yes they should…and they do.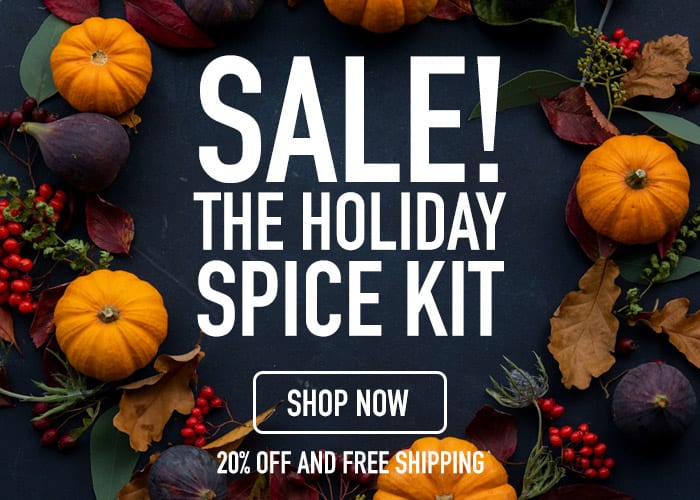 So:  don't think you can't make amazing cherry pie without tart cherries. (But if you find any, please do let me know where!)

Author:
Sara Clevering, adapted from the L.A. Times
Recipe Type:
Dessert, Baking
Ingredients
6 cups sweet cherries (about 3½ pounds or 1.5 kilos)
⅔ cup (134g) sugar
¼ cup (30g) cornstarch
1 teaspoon vanilla extract
Juice of one lemon
Prepared sweet pie crust for 1 double-crust pie.
Instructions
Preheat the oven to 350F/175C.
Pit and stem the cherries.
In a large bowl, whisk together the sugar and cornstarch. Add the cherries, and stir well to coat with the sugar-cornstarch mixture. Stir in the vanilla extract and the lemon juice.
Roll out slightly more than half of the dough and use it line a 9 inch (about 22cm) pie pan. Pour in the cherry mixture. Roll out the remaining dough and place it over the the pan. Press the edges together to seal. Cut several slits through the top crust to vent.
Bake for 1 hour and 15 minutes, or until the crust is golden and the filling is bubbling. Rotate halfway through for even baking.
Notes
In adapting this recipe, I used the juice of lemon to ensure that the sweet cherries did not turn cloying in the finished pie. You might consider using almond extract instead of vanilla extract, as almonds (which are related to cherries) have a natural affinity for this fruit.
Sara Clevering
Sara sees cooking and baking as a delicious way to connect with the past and travel the world from her kitchen. She is commited to preparing homemade, unprocessed meals for her family and is always looking for tricks to fit this into a busy schedule. Sara is currently in the Boston area after several years living in London, Spain, and the Czech Republic, and travelling extensively in Eastern and Western Europe, always making sure to experience local culture through food. She also blogs with her sisters at www.threecleversisters.com