A beautiful red tart for the season when strawberries are abundant and you cant get enough of them.
By Tania Cusack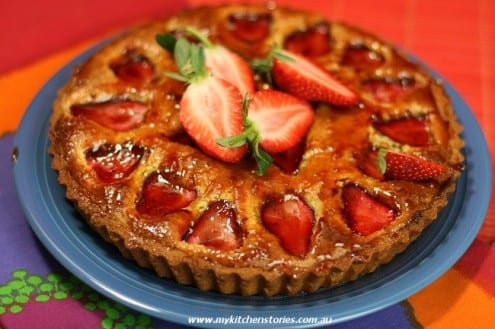 I love Strawberries and when they are sweet and juicy and they seem to be so cheap you can buy a punnet a day and still go back for more…… thats when I make this tart. It just showcases their gorgeous flavour and colour and makes you happy with each bite.
Given the colour ( and the obvious heart shaped fruit) , now finished I am dedicating this tart to the memory of my Dad. He has been gone 10 years now.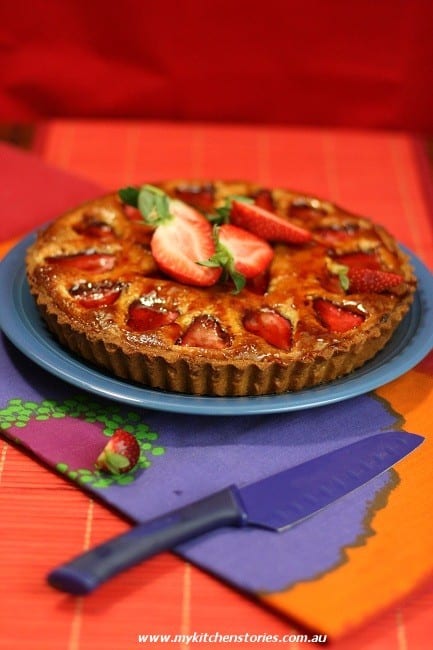 He also loved food. When we were young his love of Kransky sausages, pigs totters and garlicky relishes, disgusted us beyond all recognisable pre-teenage measures .
Sometimes the ones we miss are the ones that were omnipresent in our lives…. and not always in a pleasant way.  As time moves on I see him in myself a lot, and this makes me laugh and cringe simultaneously. Dad you naughty, silly, annoying, wonderfully handy, kind hearted man ……. This glistening Strawberry Frangipane tart a bleeding heart of red  love, and loss is for you

Summer Time Strawberry Tart
A beautiful red tart for when Strawberries are abundant and you cant get enough
Ingredients
250 gm(8oz) (powdered)or icing sugar, sifted
450 gm( 14¼ oz) unsalted butter (softened)
3x 70 gm( large) eggs
100 gm(3 oz) almond meal
190 gm(6oz) plain flour
580 gm(1 lb 2½) oz plain flour
125 gm(4 oz) (powdered) icing sugar sifted
125 gm(4 oz) almond meal
125 gm(4oz) unsalted butter
2 eggs
1 yolk
25 gm (1 oz) plain flour
1 punnet Strawberries
½ cup strawberry jam ( no lumps)
Instructions
Beat the butter and icing sugar together until light and fluffy, using the paddle attachment of your mixer
Add the eggs , 190gm(6oz) flour and almond meal. Mix until only just combined .
Add the rest of the flour to the mixture, and mix ( if it will fit in your mixer, if not pour onto the bench top and work together). Once mixed in the mixer, pour the mixture onto the bench and gently push together with your hands until combined, and an even dough is formed . The pastry is quite sticky, remove excess by rubbing your hands in some extra flour and adding back into the pastry mix . Wrap into 3 discs and put into the fridge, at least 30 minutes, but 2 -3 hours is best.
The tart above was made using a 10 in or 23 cm tart case with a removable bottom, however you can use a smaller one, individual or the next size up.
When you are ready take the pastry from the fridge, it will be quite firm, leave it out of the fridge for 5- 10 minutes before rolling. Roll between two pieces of baking paper. (I like a very thin crust.) Lift into the tin, and put back into the fridge or freezer, till firm ( 15- 20 minutes).
Bake this blind at 180(350F) deg or 15 minutes approximately, removing the paper and cooking a further 10 minutes or till lightly golden . Cool on a rack and carefully trim the edges.
Beat the softened butter and sugar until light and fluffy.
Add the eggs and flour and mix well. Add the almond meal, and beat till combined 1-2 minutes.
Spread the strawberry jam onto the base of the tart then add the frangipane into the cooked tart case to 5 mm from the top, there may be some left over.
Push halved strawberries into the mixture at intervals around the tart, cut side upwards.
Bake at 180(350F) degrees for approximately 25 minutes or until the centre springs back when touched. The tart should be just colouring.
When cool brush with warmed strawberry jam.
Tania Cusack
After completing Culinary School in Sydney, Tania travelled the world working as a Chef in restaurants, doing catering and cooking on road for a travel company in Europe and the US. Once back at home, the birth of her son meant a change, and during his small years, she enjoyed jobs in wholesale food, buying Artisan food products, testing and recipe writing as sales and educational tools. Tania is now back to what she loves, working as an in house Chef for a large retailer, conducting Cooking Classes and writing recipes for her blog.