Summer Squash and Feta Pot Pie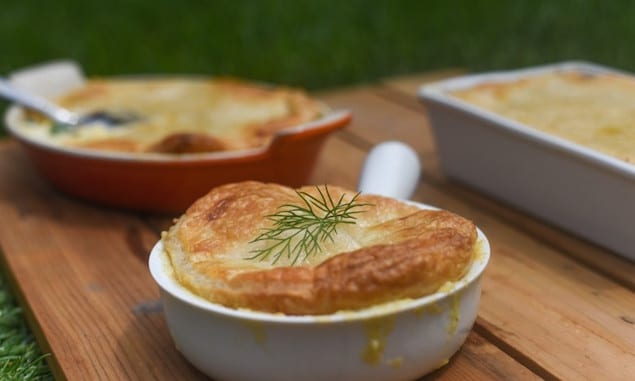 This dish this is an easy way to use a multitude of vegetables. Zucchini, summer squash, and eggplant are the ones I used this time, but you can try kale, kohlrabi, corn—even potatoes; they'll all be good, even two or three days after they've been cooked. This is seriously filling and delicious fare.
By Tami Ganeles Weiser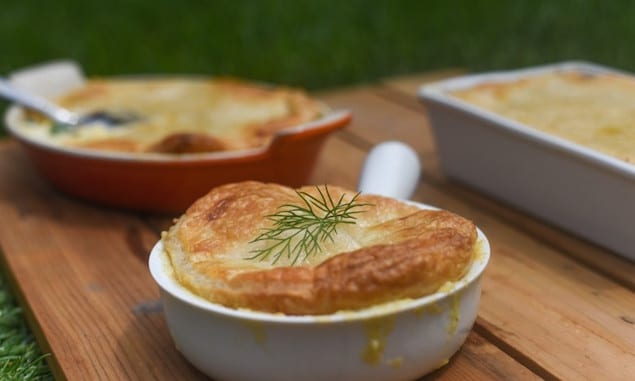 Summer Squash and Feta Pot Pie
Zucchini, summer squash, and eggplant with feta are beautiful end of summer additions to a warm pot pie perfect for the start of fall.
Author:
Tami Ganeles Weiser
Ingredients
Vegetables:
5 small to medium zucchini, trimmed and halved lengthwise (1/2 to 1 inch thick)
1 large or 2 medium globe eggplant (see Kitchen Tip), peeled, trimmed, and halved lengthwise (1/2 to 1 inch thick)
4 small to medium summer squash, trimmed and halved lengthwise (1/2 to 1 inch thick)
12 to 14 ramps or thin scallions, trimmed
3 tablespoons olive oil
1 teaspoon kosher salt
1 teaspoon freshly ground black pepper
Sauce:
1 stick (½ cup/114 grams/8 tablespoons) butter
8 tablespoons unbleached, all-purpose flour
2 teaspoons kosher salt
2 teaspoons freshly cracked black pepper
1 pinch ground nutmeg
2 cups heavy cream
2 cups milk
1 fat pinch saffron
2 pounds feta cheese, crumbled (about 1½ generous cups)
8 cloves garlic, peeled and minced, any green centers discarded
1 large bunch fresh dill, minced
Leaves of 1 small bunch fresh oregano
Crust:
1 sheet puff pastry, Dufour brand preferred (see Kitchen Tips)
1 egg
1 teaspoon water
Instructions
Grill the vegetables: Heat a grill over high heat. Place the cut zucchini, eggplant, summer squash, and ramps or scallions in a large mixing bowl. Drizzle with the olive oil, sprinkle with salt and pepper, and turn gently to coat.
With tongs, place the vegetables on the grill and cook until they are soft but not mushy, checking for doneness frequently and removing the ones that are done sooner. Place the vegetables in a covered, heatproof container and refrigerate until chilled. This can be done up to 2 days before making the pot pie.
When you are ready to bake, preheat oven to 385°F. Spray a deep 13- by 9-inch casserole dish (see Kitchen Tips) with nonstick vegetable oil spray and set aside.
In a large saucepan set over high heat, heat the butter until foamy. Add the flour, salt, pepper, and nutmeg and cook, whisking constantly, until the mixture is a medium brown in color, but not dark. Add the cream and milk and whisk to combine. Add the saffron and whisk gently until it comes to a light boil. Reduce the heat to low and cook until the mixture comes to a hard boil; then remove from the heat and set aside.
Roughly chop all the grilled vegetables including the ramps or scallions into about ½-inch pieces and place them into a large mixing bowl. Add the feta cheese, garlic, dill, and oregano and stir to combine. Add the hot cream mixture and stir to combine again. Pour into the prepared casserole dish.
Unfold the puff pastry dough and lay it across the top. Make an egg wash by mixing the egg and water in a small cup. Brush the puff pastry with the egg wash. Bake for 25 to 30 minutes or until the rust is a deep warm brown and puffed. This is best served immediately.
Notes
Ramps, also called wild onions, belong to the allium family, which includes onions, garlic, and scallions. They smell like garlic, but taste like onions, and with their thin, edible stalk and bulb, look a little like scallions, except for the fact that they have smooth, broad leaves and their stalks can take on a burgundy hue. They are often fried or pickled, but can be used in most any recipe that would feature a member of the allium family.
Eggplant can be bitter, so many cooks take preliminary steps to reduce the bitterness. One way is to salt the eggplant first. Salting is done to draw the liquid out of many vegetables (think cucumbers in cucumber salad) and with eggplant, it has it added benefit of drawing out the bitter flavor compounds along with the vegetable's natural liquids. It also renders the eggplant less likely to soak up too much oil. Peel and cut the eggplant, salt liberally and let stand in a colander set over a bowl for about 1 hour. At the end of the hour, you will see beads of "sweat" on eggplant. Rinse very well under cold running water and pat dry with paper towels, pressing gently to remove as much water as possible. Continue with your recipe.
Frozen puff pastry comes in different sizes, depending on the brand you use; for this recipe, the sheet of pastry should be big enough to cover your pan with 1 inch of overhang. (You can always roll it with a rolling pin if you need to lengthen it a bit. If you wind up with any scraps, however, you can't reroll and use them.)
You can make this pot pie in any size or shape you like, as you'll see from the photo that accompanies this recipe. The instructions here are for one large pot pie, but the recipe will adapt easily to whatever baking dishes you have and/or however you'd like to serve.
Tami Ganeles Weiser
I am Tami Weiser—food writer, food anthropologist, and culinary professional. Join me in finding a genuine expression of your heritage through food, incorporating who you were, who you are and who you want to be. At theweiserkitchen.com I offer original, globally-inspired, seasonal, kosher-style recipes, culture and history made relevant and a dollop of kitchen wisdom to take you and your cooking from good to great.