Summer Corn Soup, with Saffron and Turmeric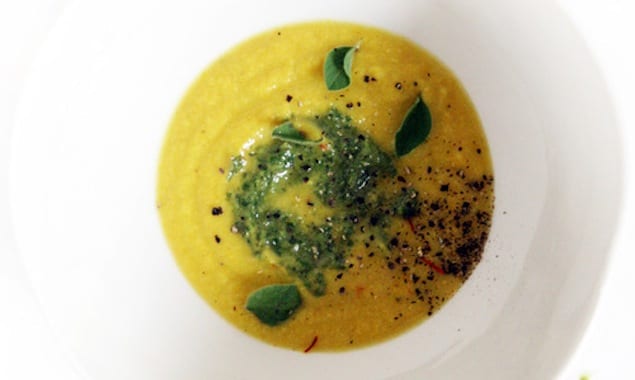 This soup is light with a perfect balance of sweet and spice. The combination of saffron and turmeric makes it exotic, without loosing the familiar summer flavors of corn. When paired with this amazing spicy green sauce, every bite is a comforting and welcome, surprise of flavors.
By Mariela Alvarez Toro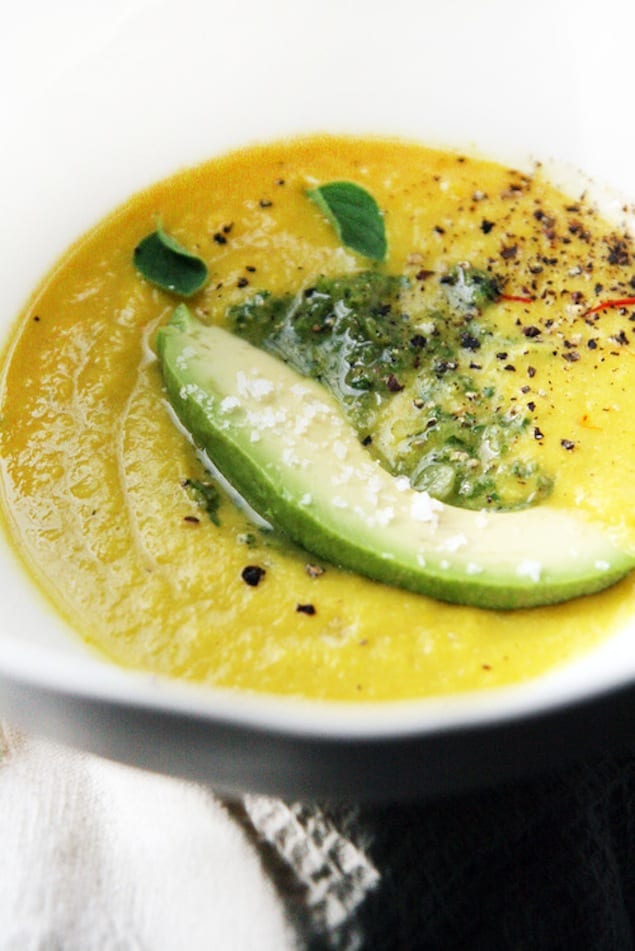 I woke up to the mouthwatering taste of sweet summer corn, spiced with turmeric and saffron, laced with a spicy green sauce that goes well with anything and everything, refreshing and herbaceous. As soon as I got home from a grueling day of work, I turned on the burner, chopped vegetables, and cooked my dreams into a reality, kernel by kernel, squash by squash.
This soup is light with a perfect balance of sweet and spice. The combination of saffron and turmeric makes it exotic, without loosing the familiar summer flavors of corn. When paired with this amazing spicy green sauce, every bite is a comforting and welcome, surprise of flavors. The grassy taste of cilantro and jalapeno add the perfect balance to the earthy and aromatic taste of spices infusing this soup.
I know, I know, soup and summer don't go hand in hand, but hey; sometimes the belly wants decadence, comfort, and warmth, and this soup's got it.

Summer Corn Soup, with Saffron and Turmeric
This soup is light with a balance of sweet and spice. The combination of saffron and turmeric makes it exotic, without loosing the flavors of summer corn.
Author:
Mariela Alvarez Toro
Ingredients
Spicy green sauce
2 jalapenos, stems and seeds removed
1 garlic scape, or alternatively one clove of garlic
1 big handful fresh cilantro
1 tbsp. fresh oregano
1 tbsp. tahini
⅛ cup olive oil
¼ cup water
1 large pinch of salt
Turmeric & Saffron Summer Corn Soup
2 tbsp. olive oil
¼ red onion, sliced
1 inch knob of ginger, sliced
3-4 small yellow carrots cut into 1-inch pieces
3 ears fresh corns, shucked and silked
1 yellow summer squash, cut into ½ inch slices
1 ½ tsp. kosher salt
Fresh black pepper to taste
1 tsp. turmeric
2 cups water, or vegetable broth
Pinch saffron, plus more for plating
Several leaves oregano for plating
Instructions
Green Sauce
Place jalapenos, garlic scape, cilantro, and fresh oregano in a food processor, pulse until roughly chopped. Add tahini, olive oil, water, and a pinch of salt. Pulse until smooth. Taste for seasoning, adjusting as necessary. Set-aside until ready to use. Store in an airtight container. Keeps fresh for 4-5 days in the refrigerator.
Soup
Place a large pot over medium-high heat, with 2 tbsp. olive oil. Add red onion, ginger, and carrots. Reduce heat to medium and cook, stirring occasionally for 5 minutes. Onions and carrots should begin to soften, but not brown. Remove corn kernels from husk, then add both kernels and husks into the pot. Add sliced summer squash, then salt, black pepper to taste, and turmeric. Stir. Add 2 cups water, or vegetable broth, into pot with vegetables. Bring to a simmer, reduce heat to medium low and cook, covered, for 10 minutes. Discard corn husks. Let soup cool for a few minutes.
Transfer components into a blender, and puree until smooth, about 1 minute in a Vitamix. Transfer back into pot. Taste for seasoning, adding more salt if necessary. Add pinch of saffron and stir.
To serve, scoop about a cup of soup into a bowl. Add a couple saffron threads, a couple oregano leaves, a tablespoon or two of The Amazing Spicy Green sauce, and a couple cracks of fresh ground pepper. I also like to eat this with a slice or two of avocado and a scoop of brown rice. (Taste awesome cold, too!)
Mariela Alvarez Toro
Recently graduated with from Harvard University's Graduate School of Design. She has recently completed "People in Food-Space", an ethnographic study on the cultural production of taste in space. She has also examined post-soviet food production systems and housing projects in Havana, Cuba. Originally from Puerto Rico, Mariela has been living in the United States for eight years. She has involved herself in both teaching and practice, while writing on food at tastyplan.com. Her goal as a food writer is to cook creatively, using the best ingredients to find new flavor combinations every day.