A perfect picnic or lunch dish, this summer chickpea salad is loaded with tomatoes, cucumbers and avocados to be seriously satisfying.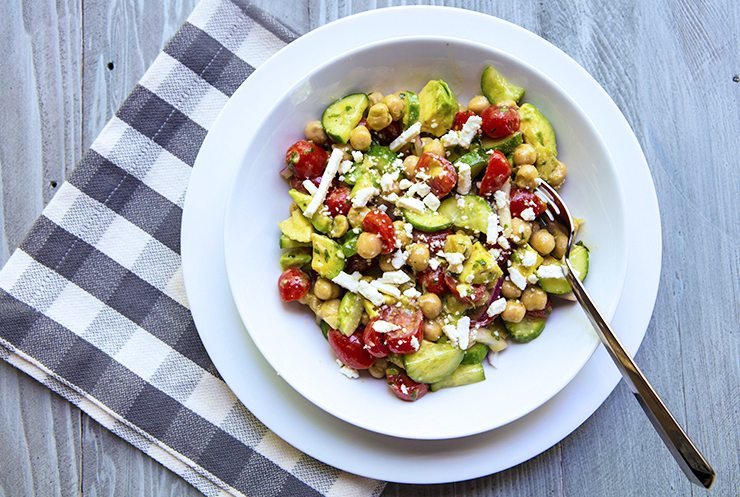 I have been preparing some healthy grain and vegetable salads to last me for lunch for a couple of days. Living just down the street from three of my grandkids, I have learned to make all my recipes in quantity so that I have some tasty snacks to offer hungry kids when they drop by. This simple salad includes ingredients I had on hand both in the pantry and refrigerator and turned out so well that I wanted to share it. This would be a great salad to enjoy throughout the summer months and would pack well to take on a picnic or for outdoor entertaining. To ensure this salad tastes great, do use great ingredients including ripe tomatoes, perfectly ripe avocado, and canned chickpeas that are firm and not mushy. Even though this is just a salad, the addition of avocado and chickpeas make this dish really satisfying and filling.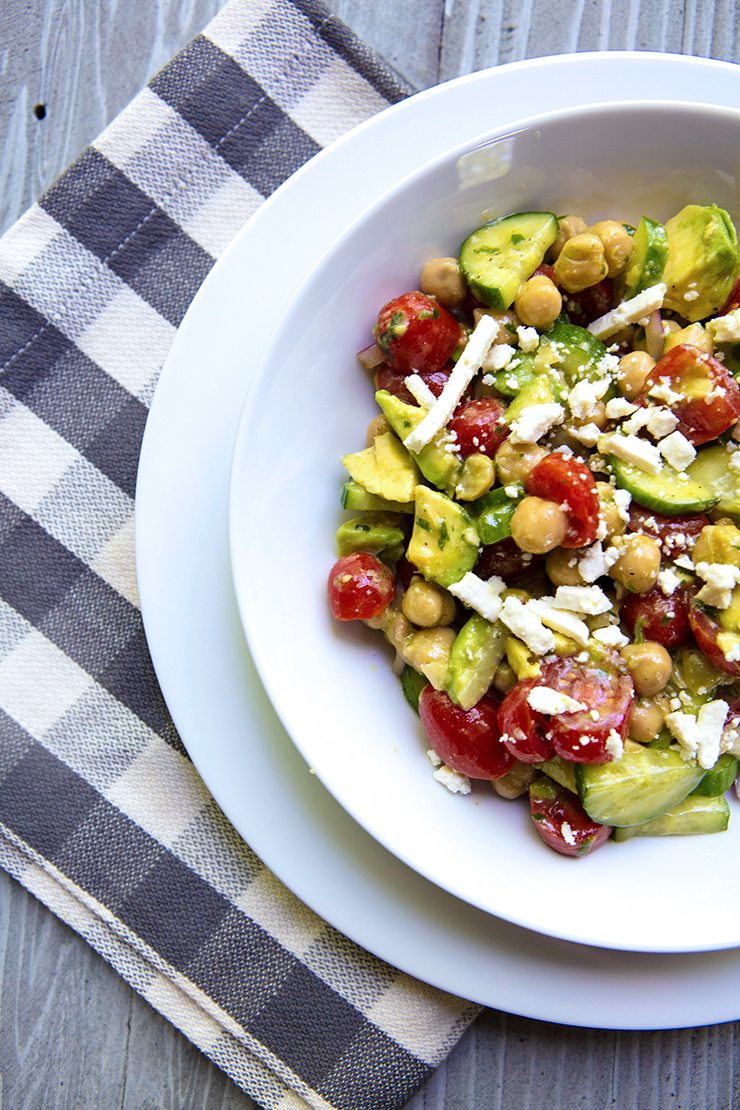 Click here for the dressing recipe.

Summer Chickpea Salad with Tomatoes, Cucumber and Avocado
Ingredients
2 Cups Ripe Cherry Tomatoes
2 Cups Chopped Cucumbers
½ Cup Thinly Sliced Red Onion
1 (14 Ounce) Can Chickpeas, Drained & Rinsed
1 Ripe Avocado
3 Ounces Crumbled Goat Cheese or Feta Cheese
DRESSING:
Click the link above for the recipe.
Instructions
Place all the dressing ingredients together in a small bowl and whisk well to blend.
In another bowl, toss together all of the salad ingredients except the cheese.
Pour the dressing over the salad and toss to coat evenly, then sprinkle the crumbled cheese on top.
Serve immediately, or refrigerate until needed.