PARTNER POST: Get ready to feed a holiday crowd with appetizer recipes paired perfectly with food-friendly Cavit wines.
A little sweet and a little savory, these crostini are the perfect appetizer to devour all winter long, with a glass of Pinot Grigio, of course.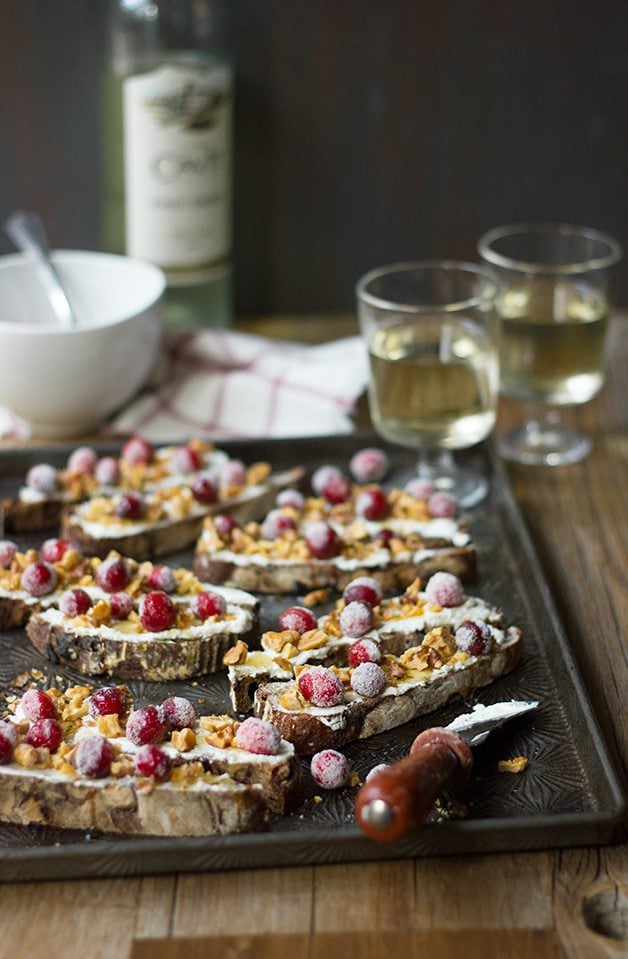 I don't know what I love most about this recipe – the goat cheese, the sparkling cranberries, or the fact that it meant I got to work with wine for the day (always a win-win). The best part though might just be that these crostini are probably one of the EASIEST appetizers you could possibly make, and totally perfect for winter/holiday entertaining.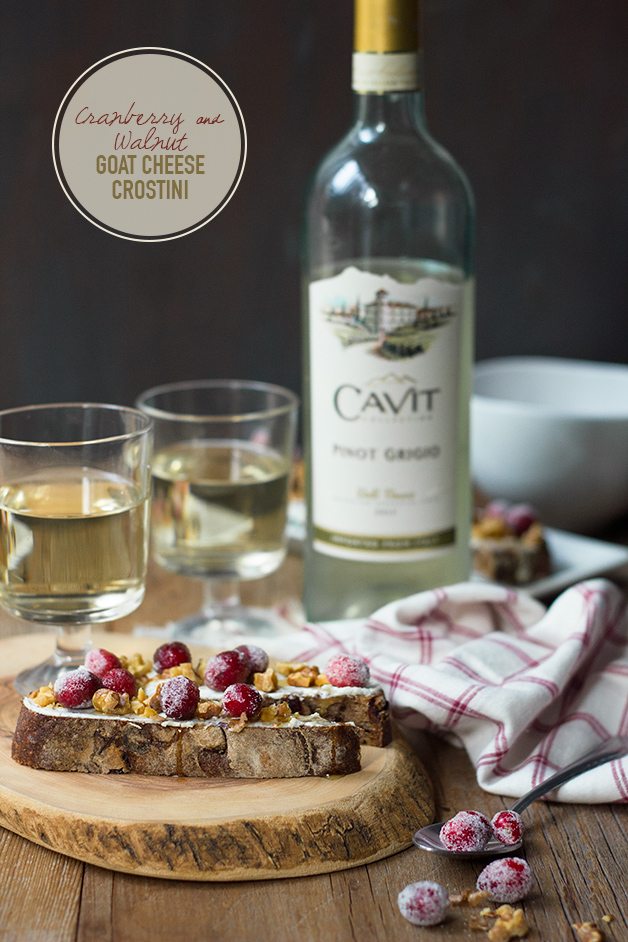 We've definitley got a little bit of a savory-sweet thing going on here, combining tangy goat cheese and toasted walnuts with sweet-but-tart sugared cranberries and a drizzle of honey. Depending on the bread you use, you can make it a little more or less sweet; a cranberry-walnut bread will lend a little more sweetness, but a walnut or plain levain will tone it down a bit if that's your preference. Either way, it's a perfect match for one of my new go-to white wines, Cavit Pinot Grigio. The bright, crisp cranberries and creamy chèvre pair perfectly with its clean, light, and fruity taste —> a perfect little bundle for all your holiday parties.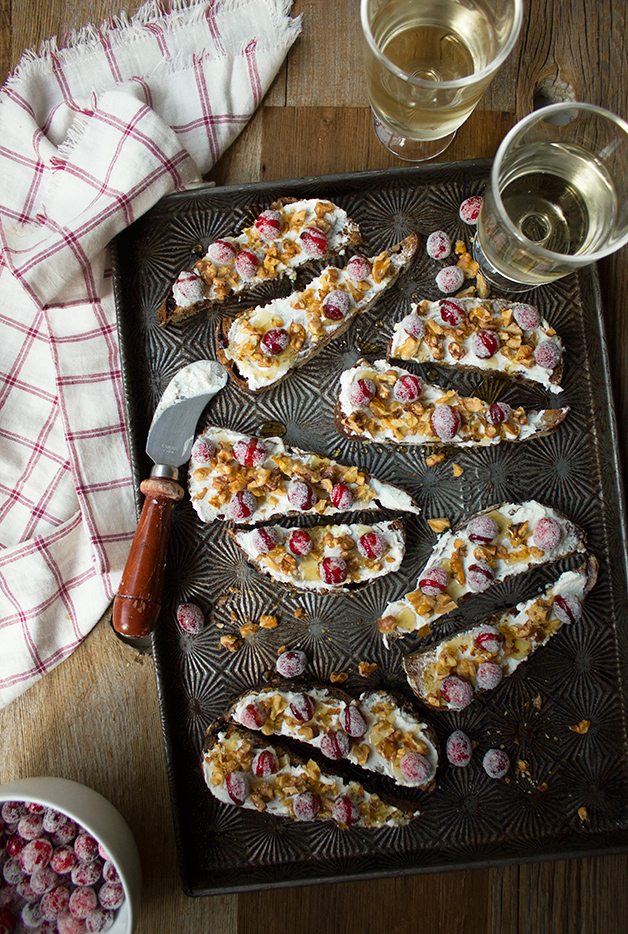 For another easy holiday appetizer, try these lamb bites. Recipe here.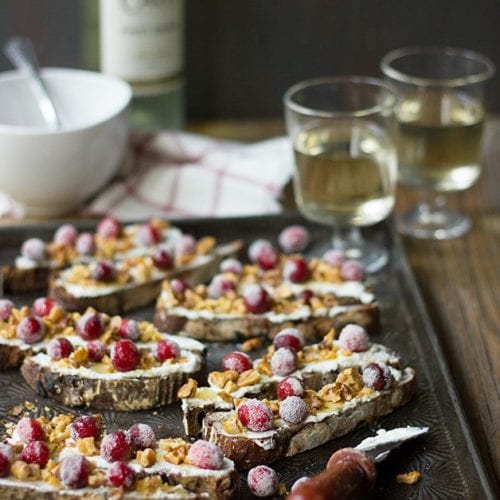 Alexandra Azary
Ingredients
Sparkling Cranberries:
8

ounces

1 cup water

7

ounces

1 cup granulated sugar, plus extra for coating cranberries Coupons

3 1/2

ounces

1 cup fresh cranberries
Toasted Walnuts:
2 3/8

ounces

2/3 cup walnut halves
Crostini:
10

1/2" thick slices cranberry-walnut bread, halved*

7

ounces

chèvre

goat cheese

honey

for drizzling
Instructions
Sparkling Cranberries:
Combine the water and sugar in a small saucepan set over medium heat. Cook, stirring occasionally, until sugar has dissolved completely. Remove from heat and allow to cool for about 5 minutes.

Place cranberries in a lidded container. Pour cooled syrup on top, cover, and refrigerate overnight, gently shaking the container a few times during this period to make sure the cranberries get completely coated in syrup. Drain cranberries, reserving syrup for another use if desired.

Line a baking sheet with paper towels. Place cranberries on baking sheet and, using another layer of paper towels on top, roll cranberries between paper towels to dry until just tacky. Remove paper towels.

Fill a small bowl with granulated sugar. Working with a few cranberries at a time, roll in sugar to coat. Return cranberries to baking sheet to dry (about 1 hour) before using. Meanwhile, toast walnuts.
Toasted Walnuts:
Preheat oven to 350ºF. Spread walnuts out on a baking sheet.

Toast walnuts in preheated oven for about 10 minutes, until golden-brown and fragrant. Remove from oven and allow to cool briefly before chopping into small pieces.
Crostini:
Toast bread in a toaster oven or conventional oven as desired. Spread goat cheese on top of each slice and top with sugared cranberries and toasted walnuts. Drizzle with honey and serve immediately.
Notes
*It might go without saying, but you'll want to use a yeast bread here. That being said, feel free to use a walnut levain or anything similar if you can't find a cranberry-walnut loaf.
Alexandra Azary
Alexandra is a self-taught baker and food photographer who shares her creations on her personal blog, Confessions of a Bright-Eyed Baker. She's passionate about food and aims to inspire more people to bake from scratch and get comfortable in the kitchen.