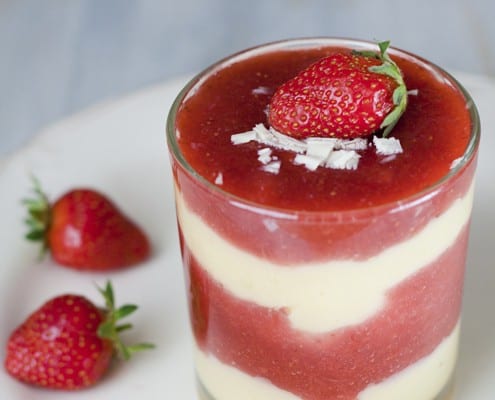 It's strawberry season – that wonderful time of the year – so make sure to use as much of them while you can.
By Tamara Novacoviç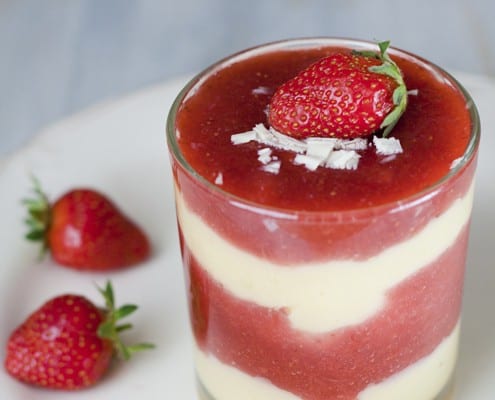 I'm always about creamy desserts, especially during spring and summer.  These two creams can be easily made into a cake, just add some sponge layers in between. You can also make a trifle out of it by adding crushed cookies. This basic vanilla pastry cream gets along perfectly with most fruits. And don't buy powdered mixture, cook your own pastry cream because it's way better and it's not that difficult.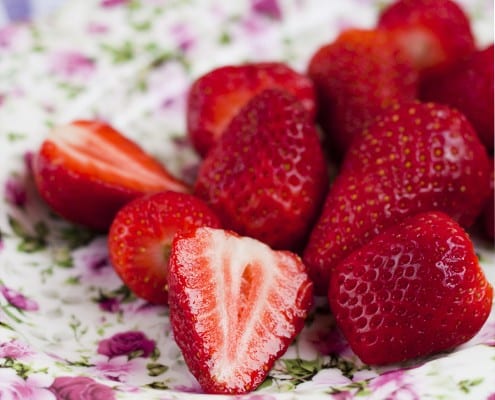 It's strawberry season, that wonderful time of the year so make sure to use as much of them while you can. It's even better if you can get hold of wild strawberries, which are tiny and delicate, but have more intense flavor and smell beautiful. They're my favorite and remind me of my childhood.
This is a beautiful and refreshing spring / summer dessert.
Ingredients
Vanilla cream
2 cups (500 g) milk
2 egg yolks
2 tsp vanilla extract
½ cup plus 1 tbsp (110 g) sugar
⅓ cup (40 g) cornstarch
Strawberry jelly
8.8 oz (250 g) strawberries
0.5 oz (15 g) cornstarch
1.7 oz (50 g) sugar
Instructions
Make vanilla cream first: combine yolks with sugar, cornstarch, vanilla and some milk. Heat the rest of milk until it boils. Add a bit to yolks to temper them. Then put everything into boiling milk and cook whisking constantly until it thickens. Set aside to cool.
Puree strawberries and combine them with sugar and cornstarch. Cook on low heat, stirring, until it thickens. Set aside to cool.
Assemble both creams into serving glasses. Let cool completely in fridge. Decorate and serve.
Tamara Novakoviç
Tamara Novakovic is a passionate self-taught cook, food blogger, freelance food writer and photographer behind bite-my-cake.blogspot.com. Her life journey has led her through Faculty of Humanities in Zagreb, Croatia to discovering passion for making cakes. She is currently a weekly food columnist for Croatian newspaper V magazine and food magazine Repete.