Steamed Artichoke with Red Curry Aioli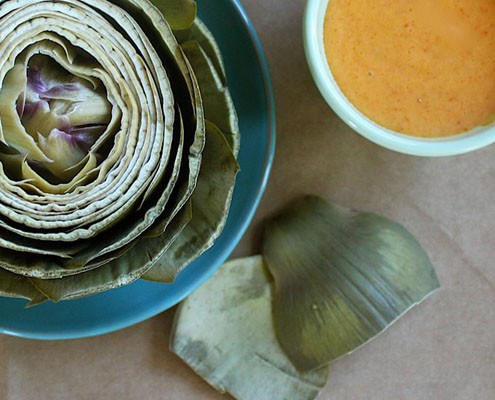 With their furry chokes and sharp leafy edges, artichokes are well known as being a little tricky to prepare. However, for those who are willing to persevere through the slicing, peeling, and trimming- they offer up a dream of a summer meal.
By Sarah Schiffman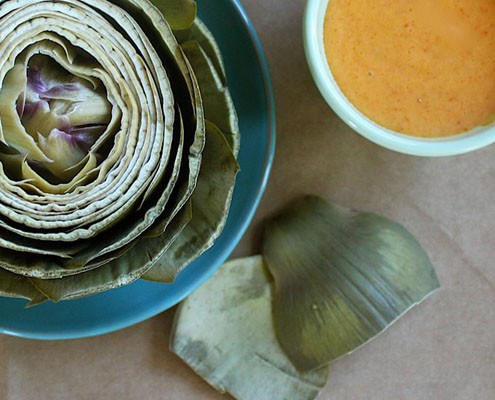 It was one of those summer evenings- people casually strolling the street outside our apartment, doors propped open, windows swung out, and everything awash in that pretty gold light that comes only at twilight. We picked up a few artichokes from our local market and stood around the kitchen sipping wine as we lopped off the thick stalks and snipped away the thorny outer leaves.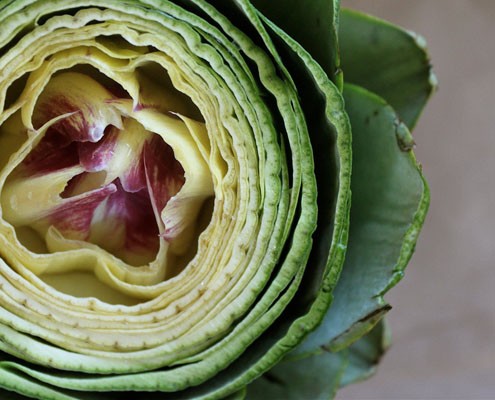 With their furry chokes and sharp leafy edges, artichokes are well known as being a little tricky to prepare. However- for those who are willing to persevere through the slicing, peeling, and trimming- they offer up a dream of a summer meal. When artichokes are fresh, I like to simply steam them with a little lemon juice and garlic until their leaves all but fall off.
We made a mess of the table as we dipped the meaty leaves through a red curry aioli and when those were gone we cut up the heart and dragged that through it as well. Fragrant with grassy olive oil and warmed with a racy curry bite, the aioli was a perfect compliment to the rough and rustic flavor of the artichoke.

Steamed Artichoke with Red Curry Aioli
Keep in mind that this recipe uses raw egg. To avoid the risk of salmonella, be sure to buy good quality eggs from a reputable source. I also make sure to take extra care when separating the yolks so that they do not come in contact with the outer part of the shell. You can also use pasteurized egg yolk instead.
Author:
Sarah Schiffman, Adapted from Chef Jody Adams via Gourmet, September 2002
Recipe Type:
Appetizer/ Main Course
Ingredients
1 large artichoke, trimmed and stem removed
4 Tablespoons freshly squeezed lemon juice (divided)
2 whole garlic cloves
1 large egg yolk
1-2 Tablespoons red curry paste (to taste)
4 Tablespoons extra virgin olive oil
3 Tablespoons vegetable oil
2 garlic cloves, minced and mashed to a paste
Instructions
Fill a large pot with a couple inches of water. Add 2 Tablespoons of lemon juice and 2 whole garlic cloves to the water. Place a steaming basket in pot and add the artichoke to the steaming basket. Bring water to a boil then simmer for 30-45 minutes until leaves come away easily from the choke.
While the artichoke is steaming, whisk together egg yolk, remaining 2 tablespoons lemon juice and curry paste in a medium bowl. Combine the olive oil and vegetable oil and add, a few drops at a time, to the yolk mixture, whisking constantly, until all the oil is incorporated and mixture is emulsified. (I like to place a damp towel under the bowl to keep it steady while whisking.) If mixture starts to separate, stop adding the oil and whisk until it comes back together, then continue adding the oil.
Whisk in the garlic paste and season with salt and pepper to taste. Keep chilled and covered until ready to use.
Sarah Schiffman
Sarah Schiffman is the author of the food and photography blog Pearl and Pine. Her recipes focus on fresh seasonal ingredients and she loves to share the stories and pictures that accompany each dish.