It's safe to say that everything Lynda Balslev bought at the market ended up in this dish.
By Lynda Balslev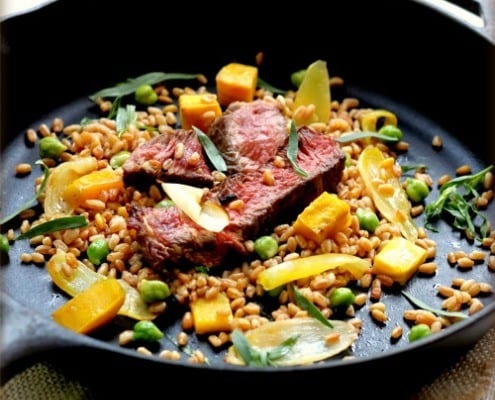 It's safe to say that everything I bought today at the market ended up in this dish. Sweet onions, golden beets and fresh chickpeas vied for my attention this morning at the farmers' market, so I did what any sensible person would do. I bought all of them. Moving on to the local rancher's stall displaying their glistening meat, I  continued my spree and snagged 2 seriously soft and richly marbled rib eye steaks, each weighing in at nearly 1 pound each. I wasn't sure exactly how I would put our dinner together, but I knew it would be magnificent with these fresh and earthy ingredients.
Warm Steak and Farro Salad with Roasted Beets, Onions and Chickpeas
Serves 4
3 medium golden beets, peeled, cut in 1/2 inch batons or wedges
1 large sweet yellow onion, halved lengthwise, each half thickly sliced in wedges
Extra-virgin olive oil
Salt
Freshly ground black pepper
2 1/4 cups chicken stock
1 1/2 cups farro
1 small garlic clove, minced
1 teaspoon paprika
1 teaspoon cumin
1/4 teaspoon cayenne, or to taste
2 or 3 rib eye steaks, about 1 inch thick
1/2 cup shelled fresh chick peas
1/4 cup fresh tarragon leaves
Sriracha (optional)
Preheat oven to 375 F/190 C. Toss the beets and onion with 1 tablespoon olive oil. Season with salt and pepper. Bake in oven until beets are tender and onions are beginning to brown, about 45 minutes.
While the vegetables are roasting, prepare the farro: Combine the stock, farro and 1 teaspoon salt in a medium saucepan. Bring to a boil, then reduce heat to a simmer. Cover and cook until the farro is tender but still chewy, about 30 minutes. Remove from heat and fluff with a fork. Stir in 1 tablespoon olive oil, paprika, cumin and cayenne. Partially cover to keep warm.
Prepare the steaks: Season the steaks all over with salt and pepper. Heat 1 tablespoon olive oil and 1 tablespoon butter in a heavy skillet or cast iron skillet over medium high heat. Add steaks, without overcrowding, and cook until brown on both sides, turning once, 6 to 8 minutes for medium rare. Transfer to a cutting board and let rest 5 minutes. Cut steaks crosswise in 1/2 inch thick slices.
While the steaks are resting, add the fresh chickpeas to the skillet and briefly saute over medium heat until their color brightens, 1 to 2 minutes.
To serve, spoon the farro into the center of a serving platter or divide among serving plates. Arrange steak in the center of the farro and drizzle with any accumulated juices. Place the vegetables around the steak and drizzle with any accumulated baking juices. Scatter the chickpeas over. Garnish with fresh tarragon. If desired drizzle with more olive oil. Serve warm with Sriracha sauce on the side.
Looking for the perfect mushroom sauce for steaks? Check this lovely recipe out.
Lynda Balslev
Lynda Balslev is a writer, recipe developer, cooking instructor and caterer. Educated at Le Cordon Bleu Ecole de Cuisine in Paris, Lynda lived and worked in Switzerland, England and Denmark for more than 15 years before moving to the San Francisco Bay area. Lynda is a contributor to NPR and authors the blog TasteFood, where she publishes original recipes and chronicles her culinary journey beginning and ending at the kitchen table.