It's no coincidence that St. Croix is the largest of the U.S. Virgin Islands. It's full of love, laughter, and kind people who will never let you go hungry. We were able to learn the ins and outs of how the island stays local by growing, raising, and cooking their own food. Here's a preview of what you'll get to taste and see at the upcoming DINE VI restaurant week.
By Ashley Smith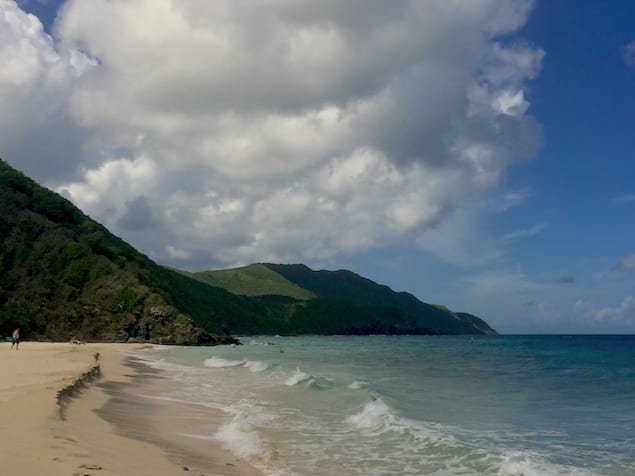 When exploring original and somewhat functional sugar cane plantations, like the one Cruzan Rum was built on, the importance of real food in St. Croix is very present. From local farms raising true organic meat, vegetables, and fruits, to neighborhood restaurants and bars, this island knows what they're talking about when it comes to good ingredients and impeccable dishes. While St. Croix might be known for it's beautiful beaches and crystal clear oceans, the food is one of it's best kept secrets. You may be eating every hour throughout your time there, but we think you will find that you'll never get full. There are so many different types of cuisine to try, each made with wholesome ingredients that will leave you feeling satisfied and happy.
Crucian culture is a fusion of many backgrounds, with a Danish influence, an Irish heritage, and Puerto Rican traditions. In fact, we got a chance to experience their celebration of multiple customs coming together. During our time in St. Croix, the islanders were partaking in their Puerto Rican Friendship festival. It's a weekend full of music, art, spectacular food, and the celebration of Puerto Rican influence in their traditions. The days and nights are filled with Hispanic and Caribbean infused music, dance, and food. A park-like setting brings a wonderful aroma of various festival treats. One of the most popular foods is alcapurrias. It's a classic Puerto Rican dish that has meat inside of dough, kind of like a beef patty. The meat is typically ground beef mixed with tons of spices and green banana. A simple yet exquisite alcapurria is an explosion of tropical flavors from islands throughout the caribbean.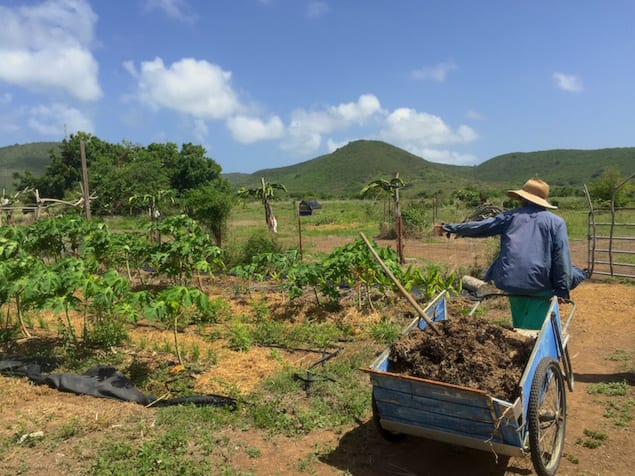 Luca Gasperi preparing to work
Something that's very special about St. Croix is how intimate it is. It's a place where everyone knows you by name and possibly relative. On an island that is small enough to drive across in one hour, you can only expect wonderful things, kind strangers, and a connected community. One way that keeps the food community grounded, is it's use of produce and meat from local farms like the ART Farm/Farmers Market or the Ridge 2 Reef Farm.
The ART Farm is run by husband and wife, Luca and Christina Gasperi. During their on season they not only have a weekly farmers market, but they also have an art gallery that is showcased to their visitors. The gallery contains work from local artists, as well as the couple's own pieces. Christina expressed that like painting, gardening is very visual and creative. The two art forms flow nicely together, making their farm a unique and refreshing place to be.
Most of the produce and meat from the farm is sold locally. They grow a huge variety of fruits and vegetables including lettuce, microgreens, various tomatoes, carrots, onions, beets, dragon fruit, pineapple, and more from seeds. The couple stressed to us that their farm was so organic, that you could eat anything; whether it's fruit or compost, it wouldn't harm you. As the parents of a young girl, their main concern is to make their produce safe for the human body and the environment. Even through tons of experimenting with varying methods of plant growing, they never use any chemicals or pesticides.
Due to a previous drought, places like the ART Farm had a major threat to their business. The worry of brush fires was on their minds as they wondered how to keep their pastures and produce going.  Luca made the observation that they needed to change the way they farmed.
Christina described how when it comes to chefs, they need to be flexible with the ingredients they have in the kitchen that day. They have to be able to get creative with what they've got in front of them, even if they were planning on using different ingredients. Like a chef, a farmer has to be quick on their feet in a time of crisis. So with great motivation, Luca and Christina began to experiment with permaculture. Permaculture is an approach that allows crops to be sustainable and self-sufficient, with little help from a third party (aka humans). They utilized two methods that turned out to work wonders for them: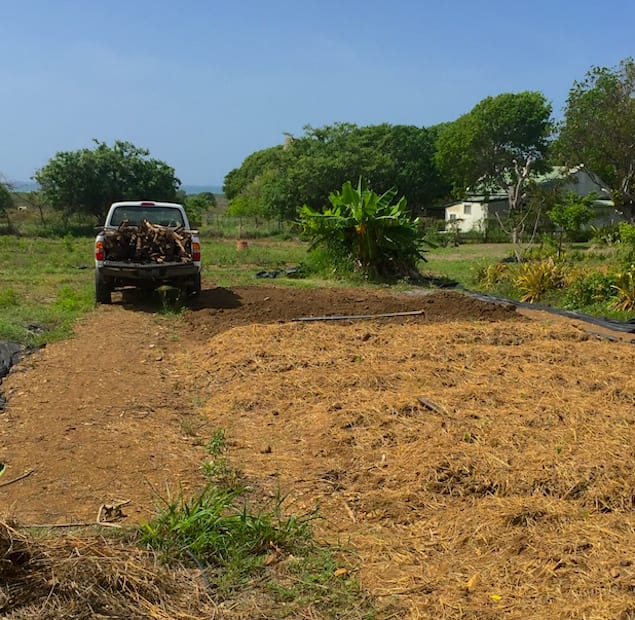 Hugel Beds
These are created when a huge hole is dug and filled with logs and brush. As they decay, the moisture and nutrients from the soil nourishes the surrounding plants.
Wicking Beds

This other strategy is not only helpful to farmers, but it's also a great DIY idea for anyone with their own garden. The process starts the same way however, the hole is layered with plastic, gravel, permeable geotextile fabric, and a pipe is stuck through all the layers. Water is fed down the pipe and absorbs into the plants from the roots up. Instead of watering the plants everyday, Christina would only have to water them once every ten days.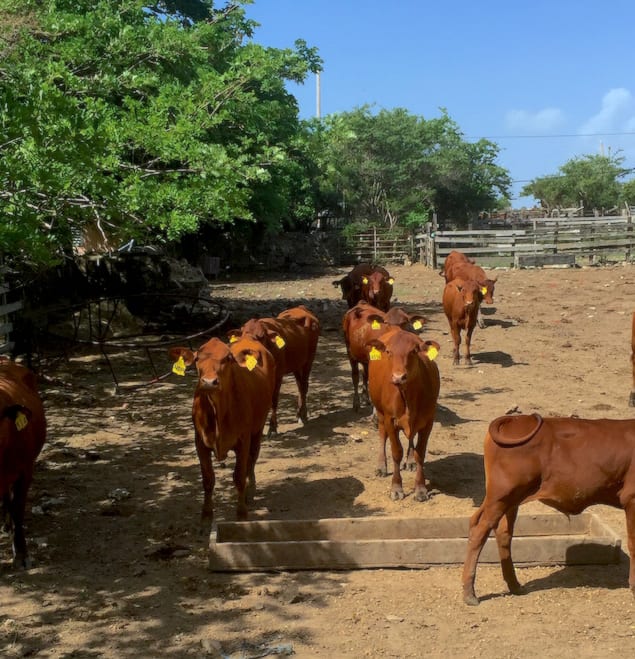 In terms of livestock, the ART Farm has chickens, turkeys, rams, sheep that are guarded by indestructible dogs, and a very special breed of cow. The breed that they raise is called Senepol, which is originally from St. Croix. Senepol beef is said to be some of the most succulent meat, because these animals are eating wholesome and pure foods. This goes for all of the ART Farm's livestock as well; they stick to eating greens, fruits, seaweed, and very minimal grains if any at all. Only a small percentage of their Senepol beef is sent to the states, but most of it stays within the U.S. Virgin Islands.
While there are still the usual threats to their farm such as wildfires, set fires, and hunters, Luca and Christina are confident that their new ideas will help bring their farm back to life.
Nate and Shelly Olive are another couple that has taken on the task of running a large scale farm. The farm is fully functional and doubles as a community kitchen as well as a learning center for survival and plant knowledge. This bounty in the mountains is quite the trek, but once you make it there it's absolutely worth it. Shelly described their farm as "the wall of green that turns into the grocery store." Every ingredient they could possibly need is right at their finger tips.
You will find all of their crops and learning settings on the east side of the community center. Majestic trees like the giant Baobab, mysterious Moringa, and various types of bamboo forests make this place quite the wonderland. Plants that fulfill more purposes than nourishment thrive here, and are quite surreal. Trees like the Moringa prove to be an unknown superfood. While a handful of it's leaves could provide your daily source of protein, a tablespoon of seeds could purify a gallon of bacteria-filled water. The east side also contains endless herbs, vegetables, and fruits such as jack fruit (the largest fruit in the world), passion fruit, mango, turmeric, ylang ylang, mulberries, lemongrass, sour orange, various nuts, multiple breeds of basil, and so much more. As you loop back to the center of the farm where the kitchen and bath houses are located, there are a handful of bunk houses made for visitors or employees of the farm. Shelly referred to this area as Cabanaland, a place of calm and complete relation to nature.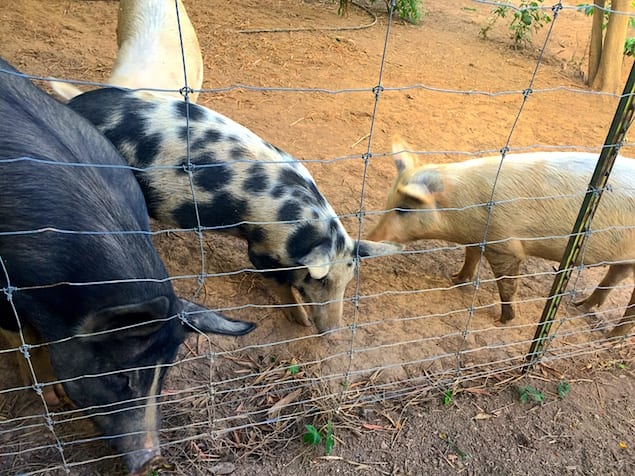 The farm has their livestock on the west side. Sheep roam with their companion donkey, pigs rest in the shade, and all are fed foods from the farm. Shelly expressed that companies that have purchased their pork were amazed at how sweet and spectacular it was, including the rich layer of fat. These pigs love to eat mangos and it shows. Nate and Shelly's farm is still growing, however there's no doubt that they have great things to come. They already send fruit and vegetables to their local CSA every week. The farm also hosts various events, including one where chefs from all over compete in a challenge. Each chef has to create an interesting six course meal with only the ingredients on the farm, including a meat and veggie option for each course. Events like these bring the community together, as well as promote the Ridge 2 Reef Farm.
Farms are the foundation of all the delicious food that comes from the island. We were lucky enough to go on a food crawl with St. Croix's well known chef, Digby Stridiron, to see what dishes those farm fresh ingredients were going towards. Chef Digby, half Crucian and half Puerto Rican, is a colorful cook who sticks to his roots. As president of The West Indian Chefs Alliance, contemporary West Indian chef, and future owner of his restaurant balter, Chef Digby's aura oozes his passion for food. He travels all over the world, from Milan to the White House, for special events and competitions. No matter where he goes, his cooking goals remain the same–to keep his dishes and ingredients rooted in St. Croix's values, and tweak them into innovative and equally delicious meals.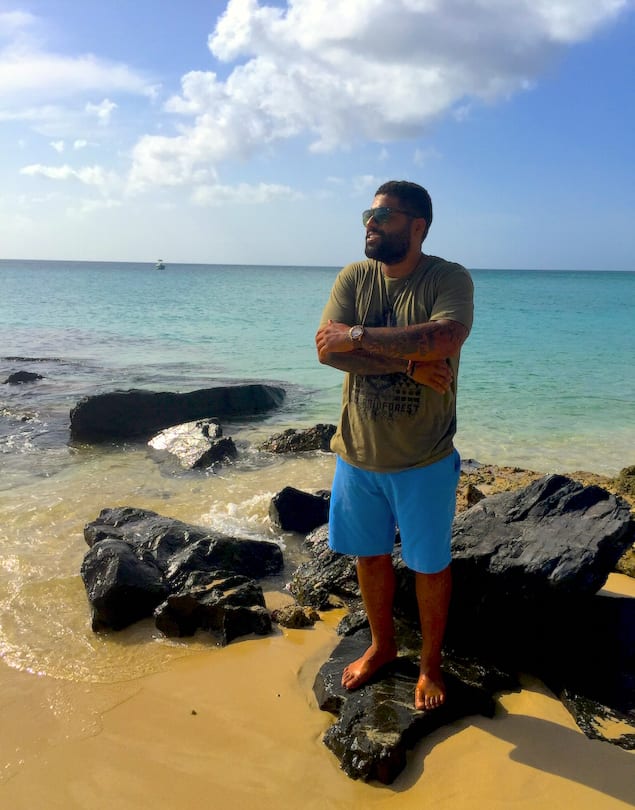 Digby started his education at a young age by watching the cooks in his family make some of his childhood favorites like fungi, potato stuffing, or ceviche. His college experience began at Johnson and Wales where he learned how to be a pastry chef, which turned out not to be his thing. Chef Digby truly found his way when he continued onto Le Cordon Bleu culinary school. When talking to him about food, it's evident that all his years of reading and hard work fueled his love of making something that tastes great and is good for you.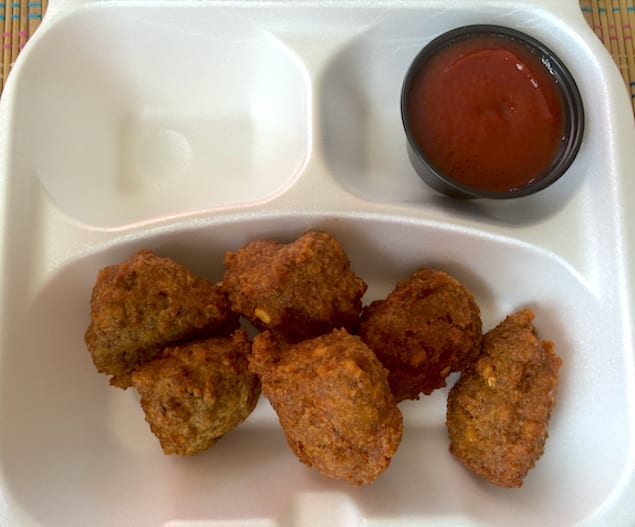 We had the perfect guide to show us some of the best kept secrets on the island. Our first stop was Ital in Paradise, a small vegetarian/vegan/gluten free spot. After drinking fresh lemonade, we experienced crispy lentil balls. The all-natural dish is simply ground up lentils mixed with various spices and seasoning. The lemonade was the perfect combination for this quick snack.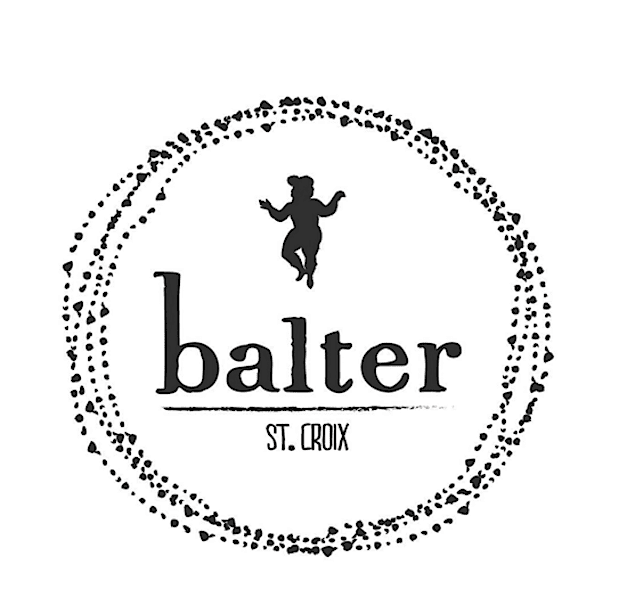 Instagram:@chefdigby

On our way to the next place, we were able to stop by the site of Digby's new restaurant, balter. While the building is still being renovated, Digby has a clear vision of what it will look like. Just outside the restaurant will be outdoor seating right near a stage for live music, as well as the garden where he'll grow his ingredients. He plans on collaborating with the ART farm to use their wicking beds for his garden. The chef would also like to continue a custom that includes an outdoor butchering table. He feels that the event of butchering the meat and preparing it with the community is something that's an old cherished tradition, which is important when it comes to food and knowing it's origin. Digby also wants to focus on supporting small business. His restaurant will have handmade clay dishes from a local potter, glassware and glass signs from a neighborhood artist, furniture from local trees, and ingredients from the island. While every piece of art is unique, Chef Digby welcomes the individuality because he takes pride in making every dish distinct from one another. With creating West Indian cuisine, he hopes to "capture the ocean in [his] food."
Next to the construction site was a small and casual farmer's market where various fruits were being sold. Orange plums and plump guavas proved to be extremely juicy and sweet.
Our last stop of the day was The Cast Iron Pot, a great restaurant to have lunch or dinner in a home-cooked fashion. The chef and owner, Burt Peterson, assured us that his number one desire in cooking is to serve a dish that will make the customer happy. It's safe to say that no one could leave his restaurant unsatisfied. Most foods are made in a cast iron pot which increases the health benefits, because of their limited use of oil and the iron that's cooked into the food. You may have to wait a tad longer for your meal, but that's because The Cast Iron Pot doesn't let their cooked food sit; they make it fresh as you order.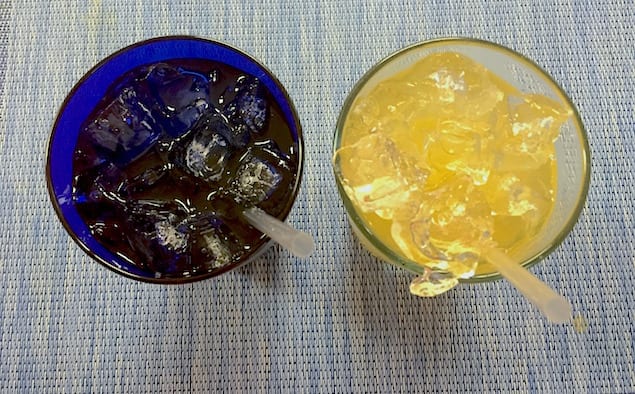 Their beverages are made on the spot as well. We got a chance to try two drinks that are flavorful and detoxifying at the same time. Mabie is an old, natural island drink that's known for it's healing properties. It's made from bark and includes spices like cinnamon and nutmeg. Mabie has the perfect amount of sweetness with a strong, earthy after taste. Burton recommended Mabie as a great way to detoxify your body. The second drink was a classic, ginger beer made with real ginger. This drink was a sweet treat, with a flavorful zap of ginger after each sip. This too would serve as a nice internal cleanser.
When it comes to Burton's dishes, he makes it clear that seasoning is the key. The Cast Iron pot uses it in everything because no seasoning, means no flavor. They use their in-house, "pound seasoning," and it's exactly what it sounds like; they take twelve different spices and herbs, and pound them together into one flavorful combination.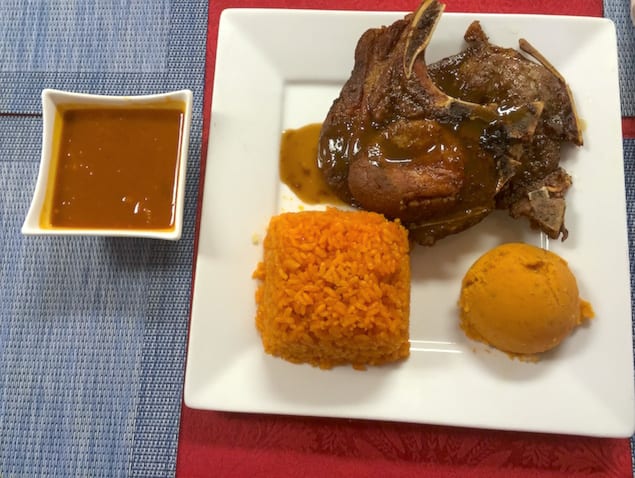 Juicy pork chops served with pound seasoned rice, sweet potato stuffing, and red beans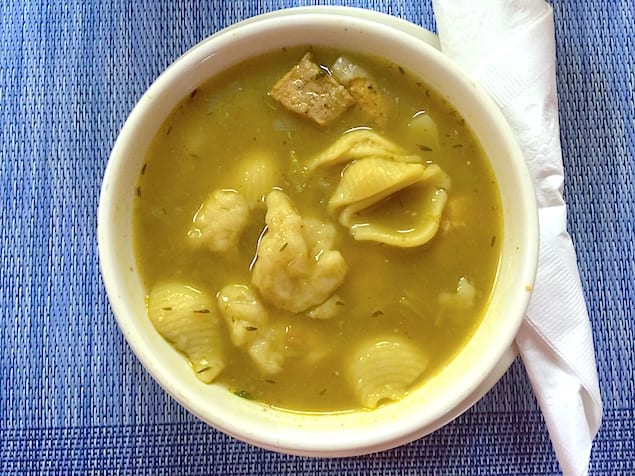 Fresh fish soup with handmade dumplings, noodles, and spices
Along side this dish we indulged in fresh fish, barbecue chicken, and fungi (a caribbean classic polenta cake made with okra).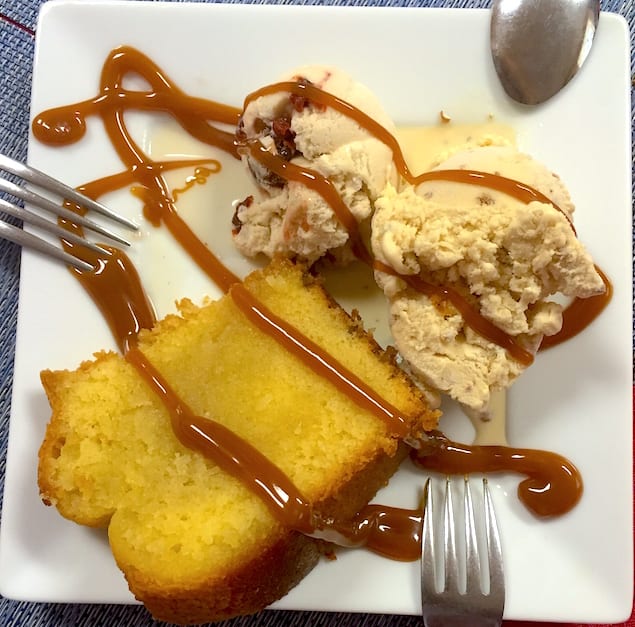 Real rum raisin cake and rum raisin ice cream with a caramel drizzle
Even though St. Croix is a small island, the food options are endless. Here a few more places that are a must.
Victor Mencho's is an old, mom and pop shop that's the go-to breakfast sandwich joint. Mencho's started out as a bakery, and has been passed down the family. Back in the 70s, the bakery would turn into a disco at night and run until fresh bread was being made. People would walk out as the sun was rising with a hot loaf in their hands.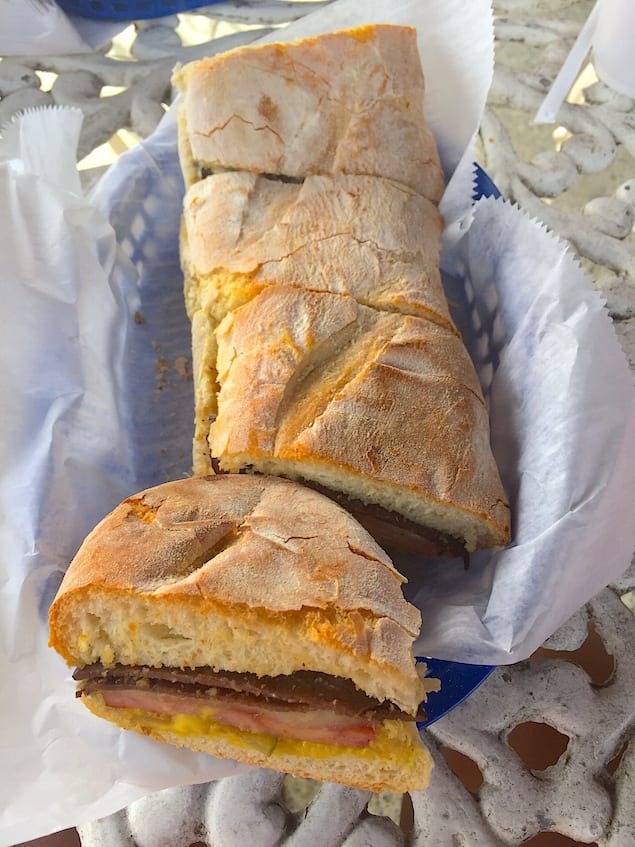 Today the Mencho family has their classic sandwich, The Cubano. Mencho's Cubano has sweet pickles, mustard, their iconic bread, and fresh ham of course, however instead of using pork, they use beef that's cooked with vinegar. If you visit St. Croix, you can't leave the island without having a bite of this sandwich.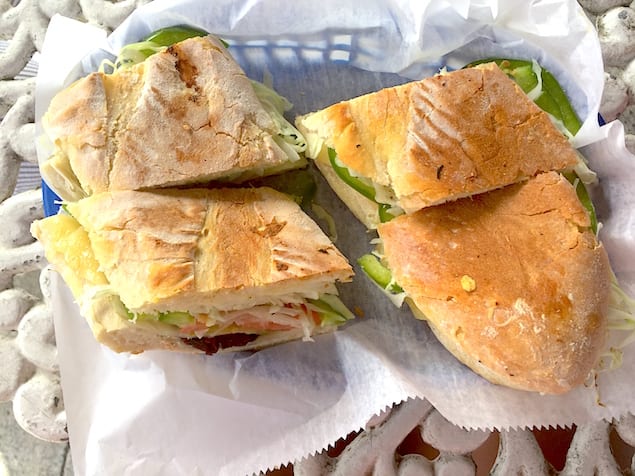 We also tried their veggie sandwich made with lettuce, tomato, cheese, mustard, peppers, pickles, and cranberries. All of the flavors work together between their homemade bread.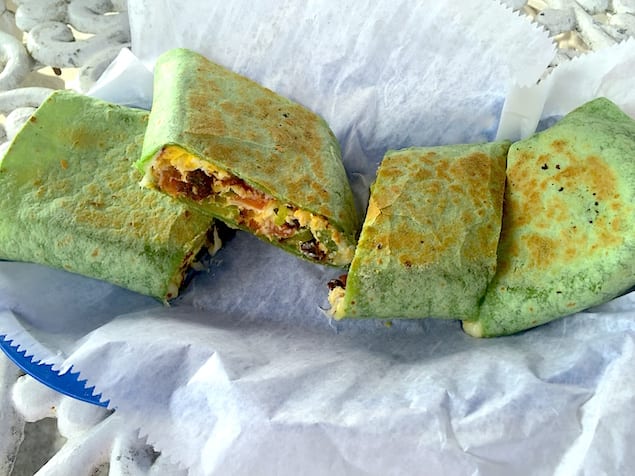 Their breakfast omelette wrap is a close second to their Cubano. Inside a spinach wrap is a steamy omelette filled with seasoning, hot peppers, cranberries, and cheese. You're guaranteed to be set for the day with just one of these sandwiches for breakfast.
Another hot spot is the Le Reine Chicken Shack. This is where you'll find anyone and everyone right after church on a Sunday. The shack is one of many restaurants that makes you feel like your eating from your mom's kitchen. With lines going for hours, the Chicken Shack does a speedy job of getting every customer served. The two most popular dishes here are their roast chicken and Johnny Cakes, a Caribbean comfort food.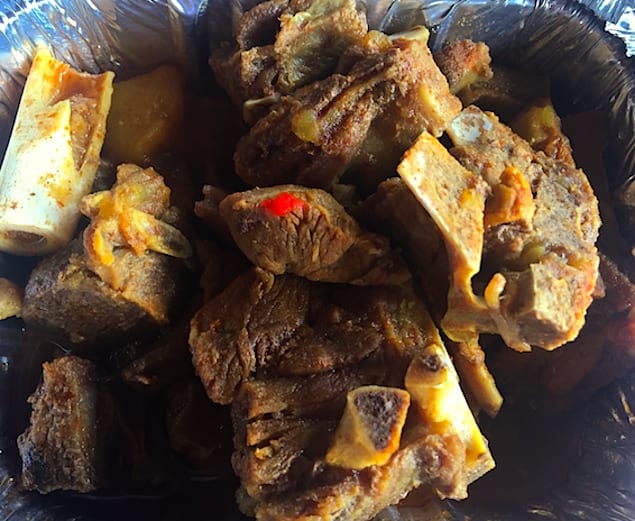 Try the moist stewed goat full of spices. The meat is cooked until it's soft, smooth, and falls off the bone. Their take on potato stuffing resembles The Cast Iron Pot's, but of course everyone put's their own unique spin on it.

The famous roast chicken is cooked on a rotisserie to perfection with the right amount of seasoning. The special flavor may be attributed to their unique methods; instead of typical charcoal, they use a specific type of bark that heightens the chicken's flavor while it's being roasted.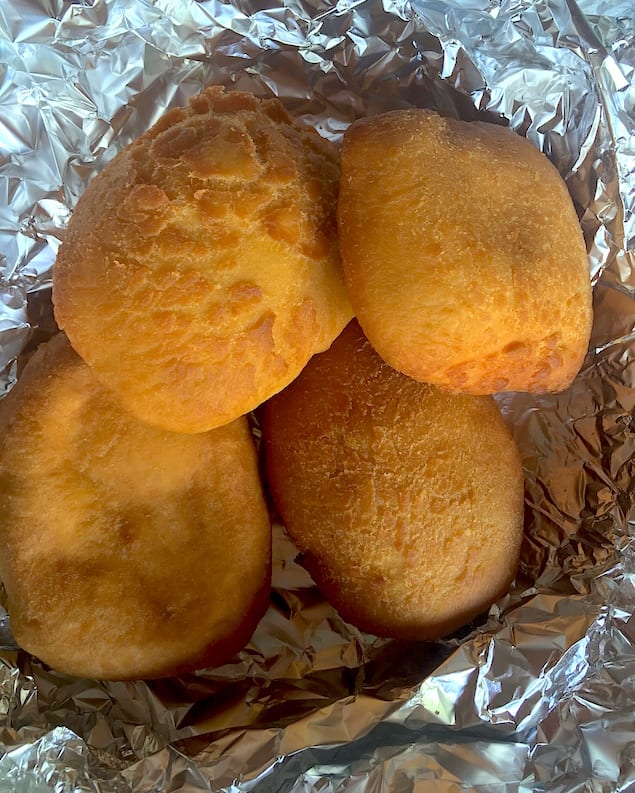 Johnny Cakes are another traditional food that never gets old. It's common that each person makes it differently, but we heard that Le Reine Chicken Shack has some of the best on the island. The soft sweet bread is typically a dessert treat. These delights are perfect on their own, but are also a great vehicle for flavor combinations. We recommend trying them with the red beans.
Zion Modern Kitchen is a wonderful place to get the "Crucian infusion" experience. This new restaurant takes basic dishes from all over, and reinvents them with a Caribbean style. The team works extremely hard to serve good quality food, and it definitely pays off.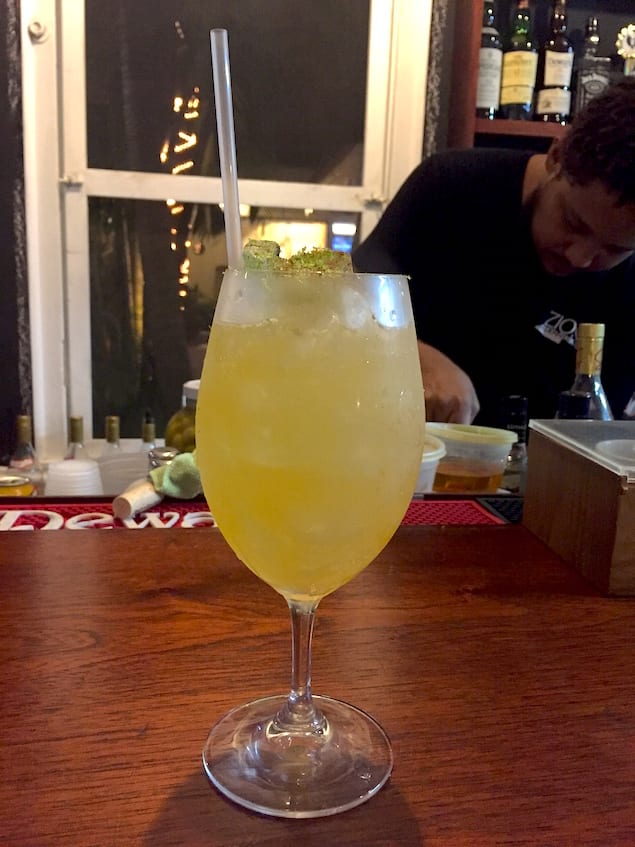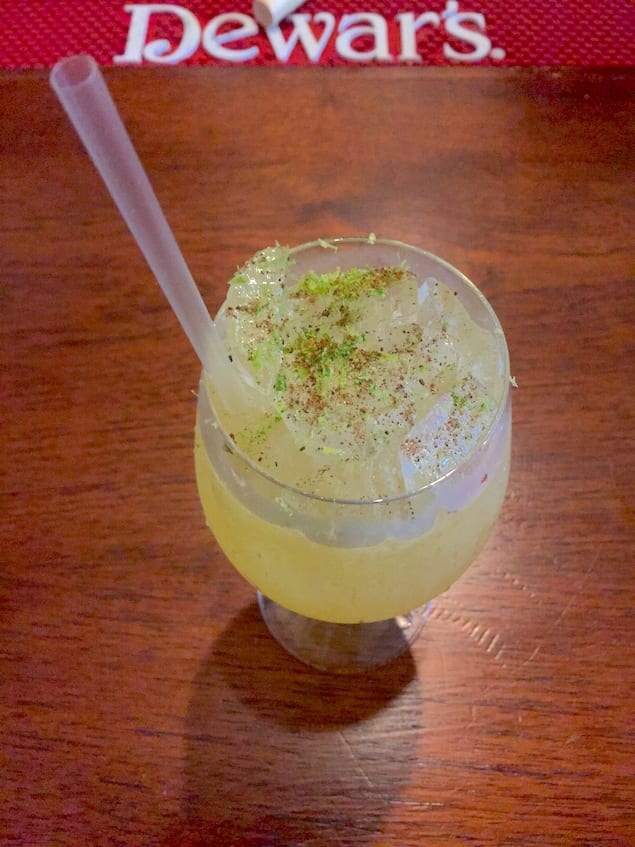 Mixologist Frank Robinson is known around the island for his well crafted cocktails. Frank's drinks aren't about the liquor, their about the cocktail experience as a whole. One of our favorites was the Ginger Thomas. It's simple and refreshing with squeezed orange juice, ginger syrup, vodka, and topped with lemon zest and clove.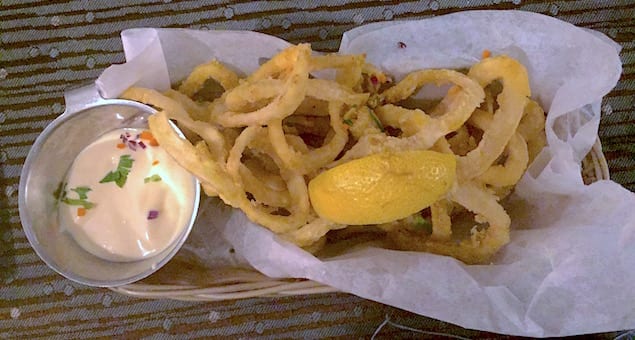 Their curried calamari is on the money with thin, crispy batter served with a passionfruit mayo.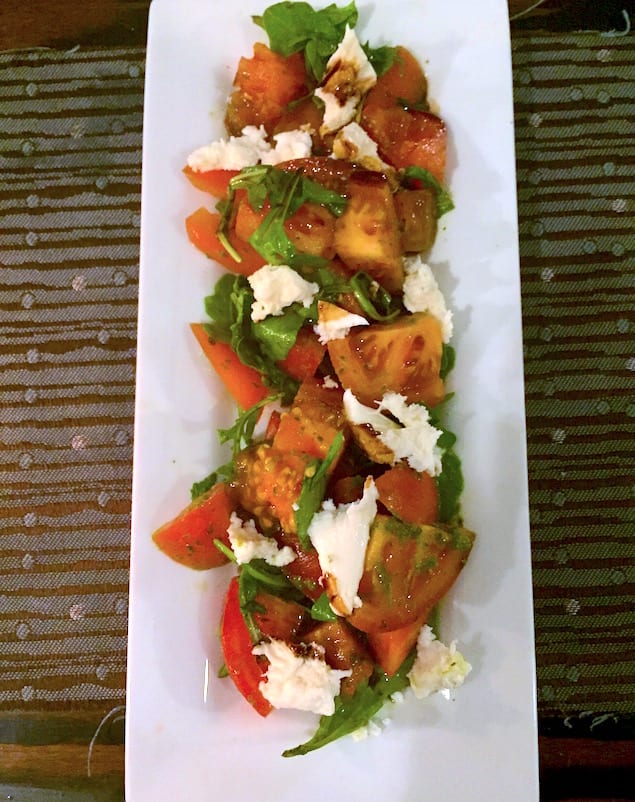 Zak and Mary (members of the Zion team) made a salad! Zak's hydrotonic tomatoes are the thickest and juiciest we've ever tasted, and Mary's mozzarella is everything you're looking for in a cheese.
Let's not forget their drop-dead gorgeous chocolate mousse in a Mason jar. Rich chocolate and a chantilly creme make for a spectacular treat.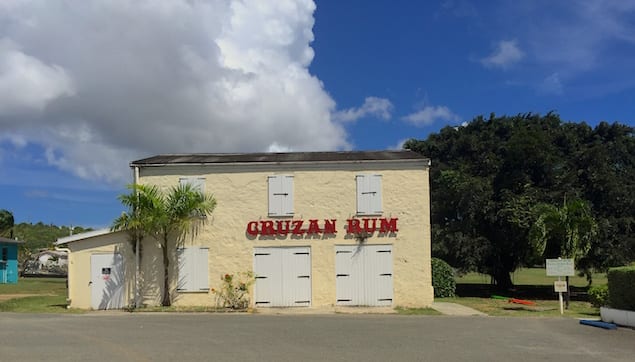 The most highly anticipated place to visit in St. Croix is the Cruzan Rum distillery. Cruzan Rum is in it's own category of liquor for several reasons, but the most historical is that the present day distillery is on it's original property. The land started out as a sugar plantation; the original sugar mills and stables from the 1700s are still used. The distillery was established in the 1760s, and the structures were refurbished in the 1900s.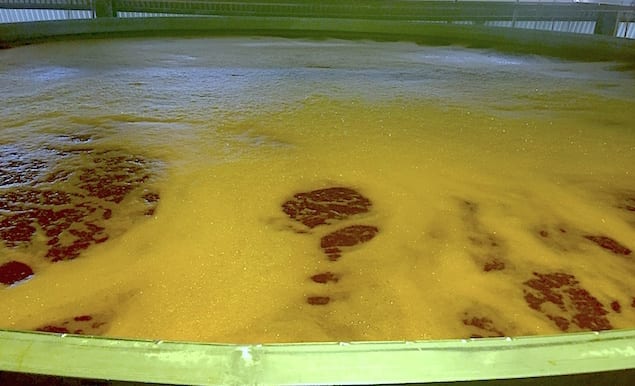 Something that most rums don't have when compared to Cruzan Rum is molasses. Yeast, water, and molasses are the only ingredients used to make the liquor. The tower on the plantation has tanks for the fermentation process. The yeast tank contains molasses and yeast to begin the process. This takes 36 to 48 hours until completion. A unique step takes place afterwards–the rum is distilled five times and filtered again at the end of the process. This may give some truth as to why drinks with Cruzan Rum are less likely to give you a hangover. Do you need anymore reasons to give it a try?
The molasses remains are filtered into the ocean. This doesn't harm the sea life, but it definitely contributes to the sweet fish you're getting from the islands.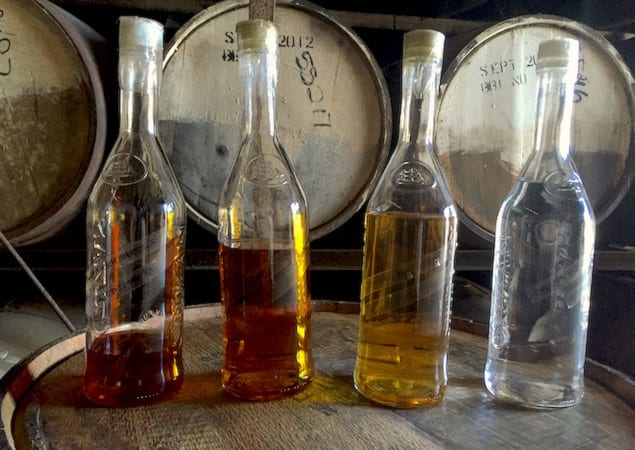 There are three different darkness levels of Cruzan Rum: aged two years (clear or light), aged five years, and aged twelve years.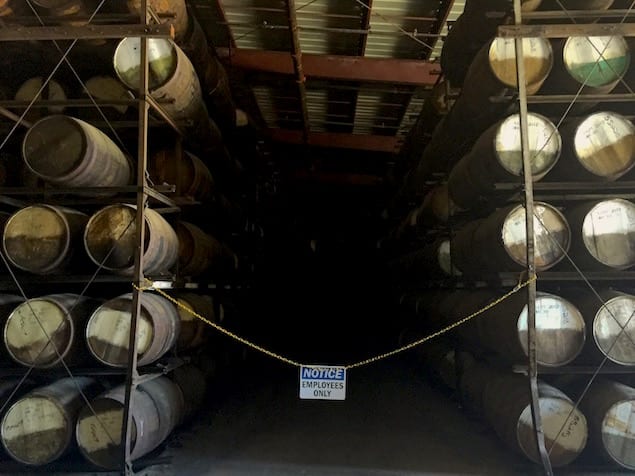 The rum is stored the old-fashioned way–in barrels. They are reused up to seven times and who knows, after a few uses you may be able to purchase one. When the rum is ready to be shipped off, it is emptied the traditional way as well. The barrels are rolled onto a platform that drains into a dumping trough. They are whacked until the cork pops out, and all of the rum flows into the trough. What's authentic about Cruzan Rum is that everything is done by hand. The rum is eventually shipped off to Florida, and is distributed from there. After a tour of Cruzan Rum, be sure to stick around for a rum tasting .
St. Croix is the most underrated out of all the U.S. Virgin Islands. With activities like scuba diving, snorkeling, going to the horse races, marveling at the heavenly beaches, and endless diverse food, what's stopping you? Visit a culture that is truly a community and supports the movement towards real food for real people.
Why not explore this paradise during a food festival? DINE VI is just around the corner, starting October 28th. The event goes on until November 8th. balter is expected to open it's doors in January 2016, which is when DINE VI will expand into a month long event. You'll be able to try Chef Digby's new restaurant, "a contemporary West Indian kitchen," as well as all of the mouth-watering restaurants we've mentioned. Let St. Croix be your first and best USVI adventure!
For more information on the DINE VI festival, go to dine.vi to learn more.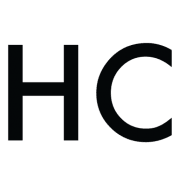 Ashley Smith
Ashley was raised on Guatemalan and West Indian cuisine; both backgrounds are filled with vibrant flavors and spices. Working at a French bakery in the past--and getting introduced to craft beers and cheeses during her time at the University of Vermont--has piqued her interest in experimenting with food.