A light stir fry from Rinku Bhattacharya, using Sri Lankan spices, kale and carrots.
By Rinku Bhattacharya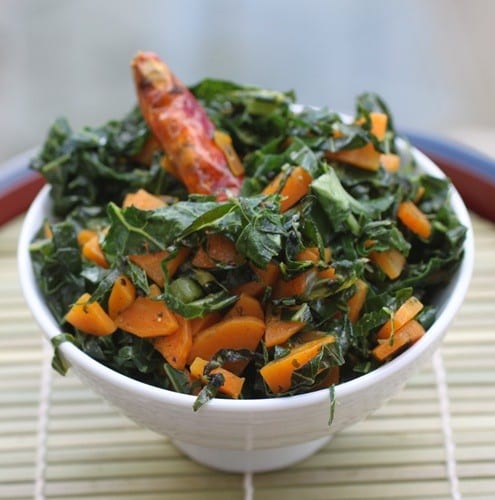 This will be the summer that I learnt to eat kale, more like I learnt to work with kale, tame it and then  showcase its green and colorful beauty with a dressing of spices. I cannot believe that I am referring to summer in past tense already, but with September knocking at my door, I can tell that summer is indeed on its way out.
It was less of a trend thing, although we all know that kale could not be trendier. Although, the problem is that we like to do things to tame this green rather than accepting its somewhat tough nature. I have in this recipe done something that we usually do with fenugreek, another winter green that in India is nicely paired with carrots.
The seasonings are actually an adaptation of classic Sri Lankan flavors, usually married to radish greens. I have toned down the heat that is typical in the cuisine of this country. It is often difficult to discern between the sub-continental culinary flavor profiles. In my salad days in graduate I spend a lot of time observing my culinary neighbors cook and have in turn learnt to understand the nuances in the cuisine of the different countries in South Asia and it this case the addition of the cinnamon and fresh black pepper is what allows me to call this recipe Sri Lankan.

With all the kale and carrots still in season, this recipe has become quite the colorful favorite and we have been enjoying it with simple steamed rice and lentils for a satisfying meal.
Kale with Carrots, Cinnamon and Lime
A light stir fry using Sri Lankan Spices, Kale and Carrots
Ingredients
2 tablespoons oil
1 teaspoon whole black mustard seeds
2 pods finely grated garlic
1 teaspoon minced ginger
1 large 1-inch stick cinnamon broken
2 dried red chilies
2 cups of finely chopped kale
2 medium carrots, peeled and cut into a coarse dice
Salt to taste
11/2 teaspoons freshly ground black pepper
1 lime
Instructions
Heat the oil on medium low heat for about 1 minute. Add in the mustard seeds and wait till they begin to crackle.
Working quickly add in the ginger and garlic and stir well for 30 seconds, and stir in the cinnamon and the dried chilies.
Add in the kale and the carrots and mix in the salt.
Cover and cook for 5 minutes on low heat until the vegetables are tender crisp.
Stir in the black pepper and squeeze in the lime juice and enjoy as a side or a warm salad.