Fall flavors were meant to be pizza toppings. Broiled eggplant, roasted butternut, and crispy baked kale give this rich pie some beautiful warm flavors.
By Taylor Kadlec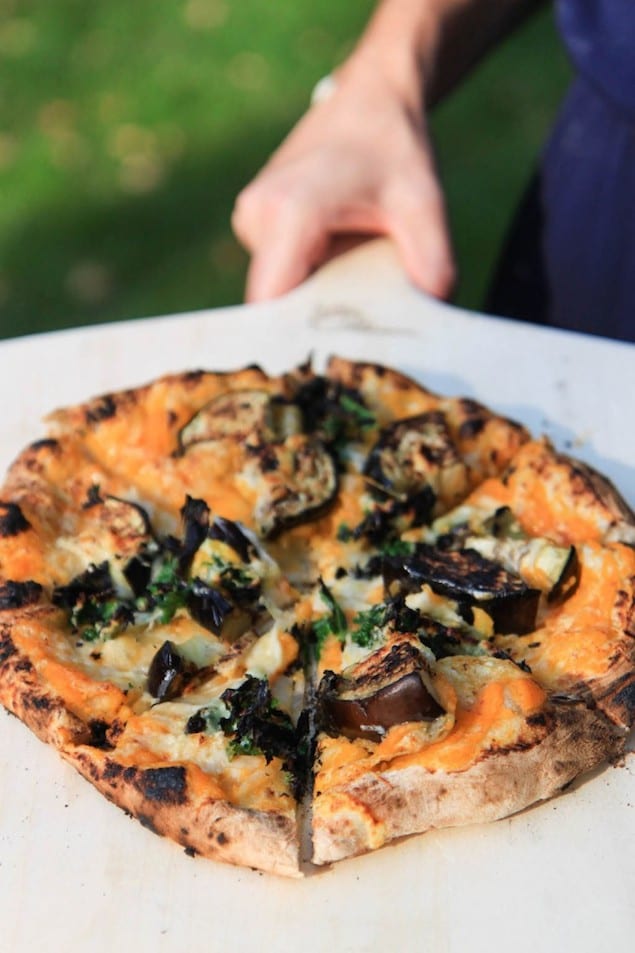 The squash gets it's smoky flavor from chiles en adobo sauce, which also give it a good kick. I broiled the eggplant before putting it on the pizza to make sure they were soft, and threw on some raw kale which got nice and crispy in the hot wood burning oven. If you're looking for a fun new fall-ish pizza to try – give this a shot! It was one of my favorites.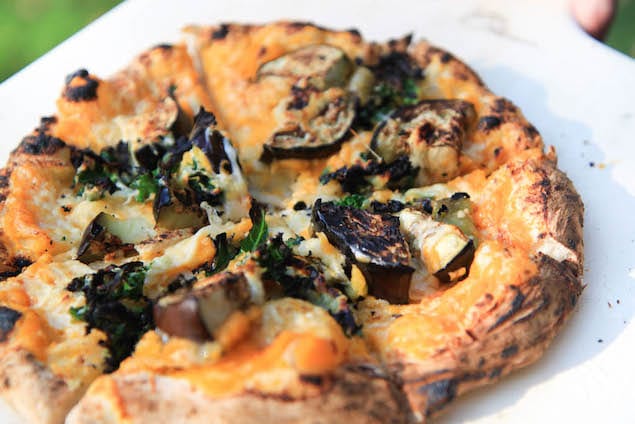 Squash and Eggplant Pizza with Adobo Sauce
Fall flavors were meant to be pizza toppings. Broiled eggplant, roasted butternut, and crispy baked kale give this rich pie some beautiful warm flavors.
Ingredients
For the squash
1 small butternut squash
3 tbsp olive oil
1 tbsp cream or milk
1-2 tbsp chiles en adobo sauce (depending on how spicy you want it)
½ tsp salt
for the eggplant:
1 small eggplant
1 tbsp olive oil
salt and pepper, to taste
for the pizza:
~1/3 cup curly kale, roughly chopped
pizza crust, your favorite homemade recipe or store bought*
~1/2 cup shredded cheese (depends on how big your pizza crust is) - Havarti, Mozzarella, or Fontina would all work well
Instructions
To cook the squash
Preheat oven to 400 degrees F.
Cut butternut squash in half. Drizzle with 2 tbsp of olive oil and season with salt and pepper.
Place cut side up on baking sheet and bake in oven 50-60 minutes, until squash is tender throughout.
Remove from oven and let cool.
To cook the eggplant:
While squash is cooking, cut eggplant into small triangle pieces. I did this by slicing ¼-1/2" thick slices, then quartering the slices.
Place eggplant slices on a baking sheet and season with salt. Let sit for 30 minutes to let the eggplant "sweat."
After 30 minutes, there will be some condensation on the eggplant. Dab dry with paper towel.
Drizzle eggplant with olive oil, making sure it is well distributed among the pieces.
Once butternut squash is done roasting, turn oven's broiler on.
Place eggplant on baking sheet under broiler and broil until golden. In my oven, this took about 5 minutes, but watch yours carefully so it does not burn.
Remove from oven and let cool.
To make squash puree:
Now that the squash is done cooking, scoop out the flesh of into a blender.
Combine with the remaining olive oil, cream, chiles en adobo, and salt.
Blend until pureed. You may have to mix around with spoon every once in awhile to get it all through the blender, as there is not much liquid for the puree.
To assemble the pizza:
Preheat oven to 500 degrees F.
Roll out pizza dough.
Spread generous layer of squash puree over crust, as you would with marinara pizza sauce. You will not use all the puree for one pizza.
Top with slices of eggplant, along with the raw kale. You will also not need all of the eggplant for one pizza. See note below.
Top with shredded cheese - enough to cover the toppings.
Bake in preheated oven for 12-15 minutes, until golden brown.
Notes
The toppings you prepare (the squash puree and eggplant) will certainly make more than one pizza, and the amount of toppings you use for each pizza will depend on how large your pizza crust is. If you are not making more than one pizza, or make a couple and have leftovers, the squash puree can be frozen. The eggplant will not hold up well if frozen, so you can throw leftovers in a salad or pasta!

*follow the instructions for the pizza crust you are making, as far as pre-baking the crust if the instructions call for it, oven temperature, baking time. Since the topping ingredients are already cooked, you just want to make sure the cheese gets nice and melted.
Taylor Kadlec
Taylor Kadlec is a lover of all things food including baking, cooking, and of course, eating. She is a self-taught baker and cook, and she shares her kitchen adventures on her blog Greens & Chocolate, where healthy cooking meets sinful indulgence.