Braised Pork on Rice: Lu Rou Fan
Crispy fried onions and pork seasoned with star anise, cinnamon, and five spice are served over rice with pickled vegetables and eggs for a satisfying Asian meal.
By Elaine Luo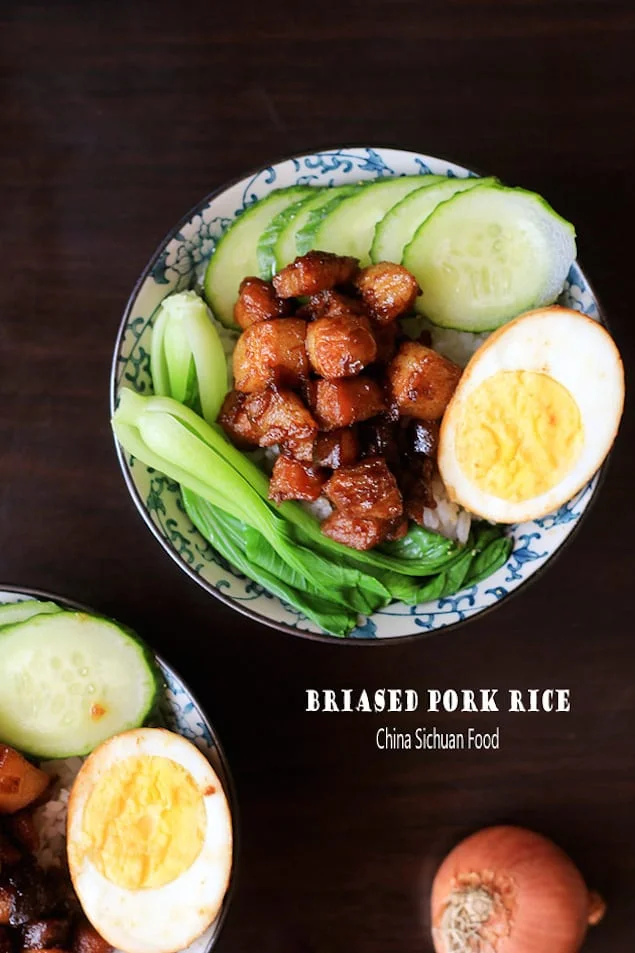 This is a recipe I have been thinking about writing for quite a long time. As a fan of Taiwanese rou zao dishes, it may appear with rice, noodles, or even sticky rice. Along with the strong aroma of small red onions, I can always find some memory back to my university life when the four roommate enjoyed this Lu Rou Fan almost once a week.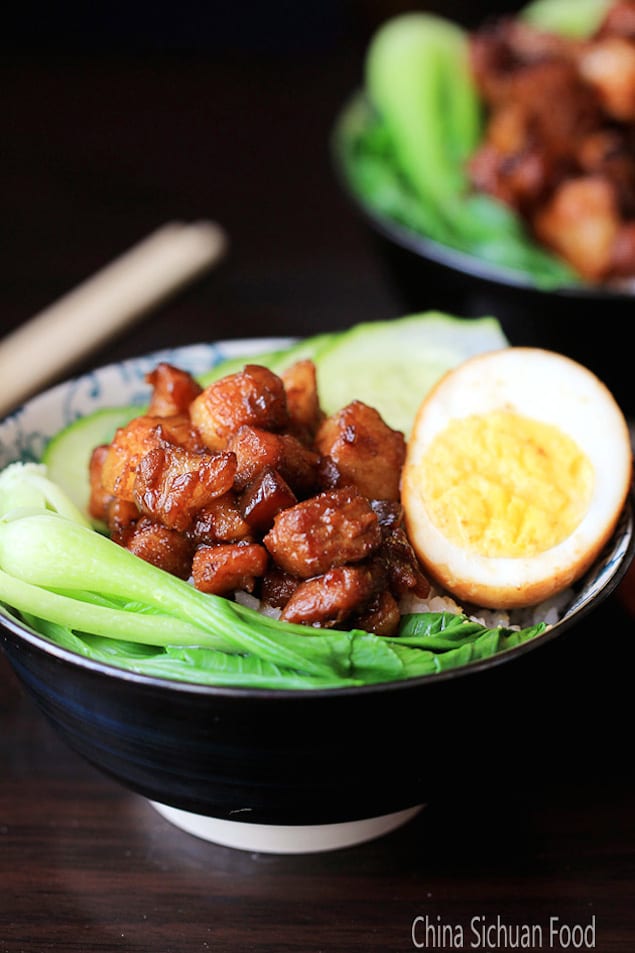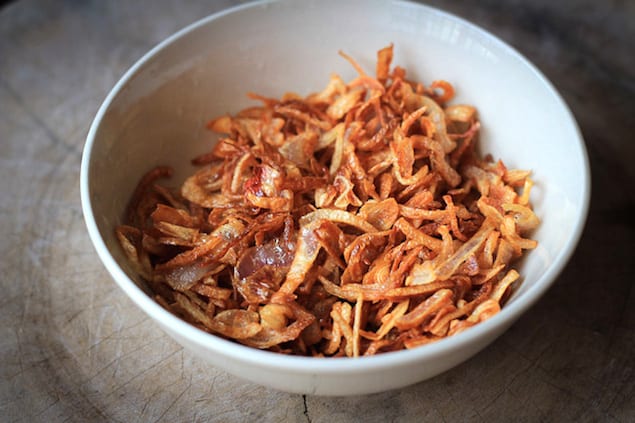 Braised Pork on Rice: Lu Rou Fan
Crispy fried onions and pork seasoned with star anise, cinnamon, and five spice are served over rice with pickled vegetables and eggs for a satisfying Asian meal.
Ingredients
2 pounds pork
4 middle sized red onions, cut into slices and separate with hands
4 middle sized shitake mushroom, cut into small cubes too
½ cup light soy sauce
½ cup rice wine
½ cup of vegetable cooking oil
Salt as needed
1 tablespoon dark soy sauce
3 pieces of rock sugar
1 tablespoon minced garlic
2 star anises
2 bay leaves
1 teaspoon five spice powder
1 inch cinnamon bark
2 cups of warm water
Rice for serving
2 hard-boiled eggs, peeled (or adjust according to your serving)
side ingredients
Cucumber slices (picked ones or fresh ones)
Blended Bok Choy
Instructions
Cook the pork belly in boiling water for around 4 minutes. Transfer out, clean with warm water and then dice into cubes around 0.5 cm to 1 cm.
Heat all the vegetable oil in a wok or sauce pan, add sliced onion in to fry until they becomes dark golden brown. Control your fire especially in the later part to medium or slow and stir the onions from time to time. Transfer out and filter extra oil out with a filter or kitchen pepper. Set aside to cool down. After cooled, the fried onions will become quite crispy; crack them in a plastic bag with a rolling pin.
Back to the wok: pour the extra oil out and leave around 1 tablespoon. Stir fry minced garlic until aroma and then add pork cubes in. Fry until there is lots of lard floating on the surface. Pour the extra oil out of the wok (around half of the oil).
Add mushrooms, and fried onion in with the basic spices including star anise, bay leaves and cinnamon bark. Fry until all the ingredients are well combined and then add soy sauce and cooking wine. Add water, turn down the fire and simmer. I would suggest testing your pork sauce and find out whether any extra salt is needed since different types have different saltiness. Add salt if needed and rock sugar.
Simmer for around 20 minutes and add your eggs in. Continue simmering for another 30 minutes.
Prepare the side ingredients, fresh ones or picked ones and steamed rice in serving bowl. Scoop the braised pork dices and decorate with eggs.
Elaine Luo
Food blogger from China. Love real and simple dishes especially Sichuan Cuisine.