A spinach salad with a light dressing, plenty of veggies and with the addition of fresh sliced oranges.
By Patty Price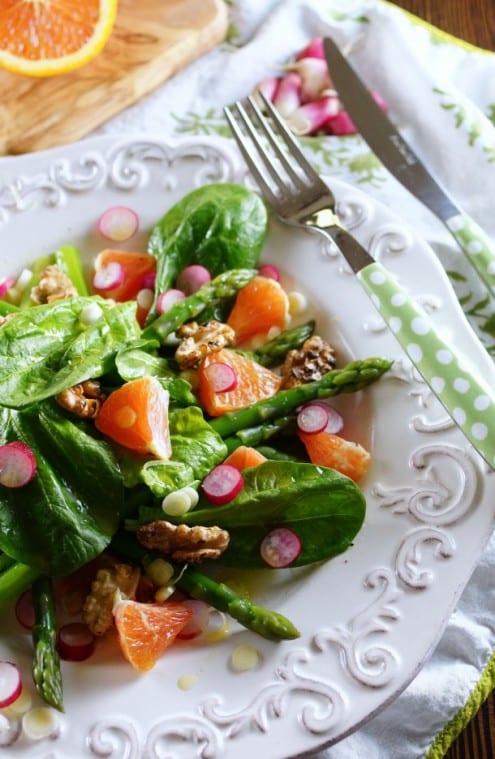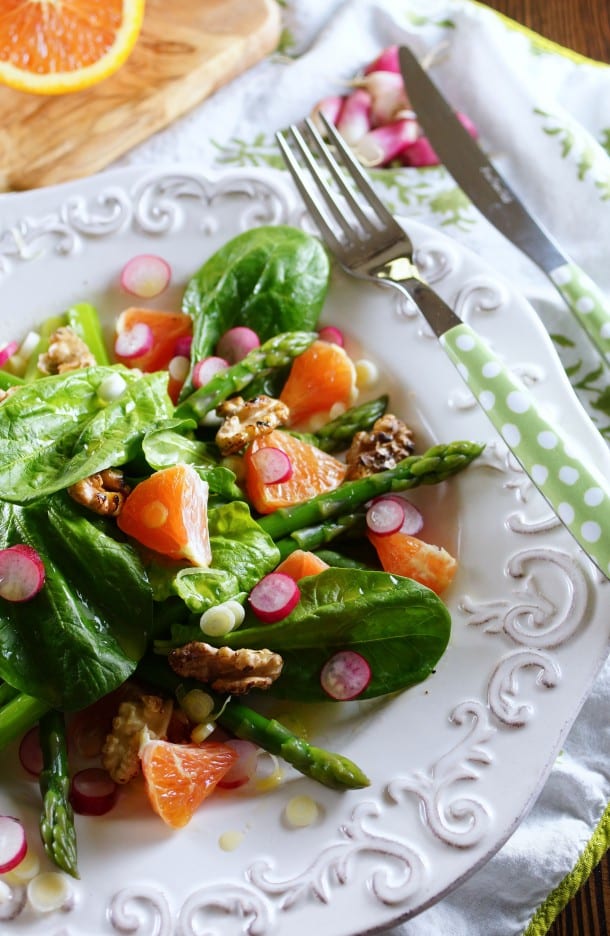 Spinach Salad with Asparagus
A spinach salad with a light dressing, plenty of veggies and with the addition of fresh sliced oranges.
Ingredients
1 large bunch fresh spinach, washed, dried and leaves separated
1 bunch fresh asparagus spears, washed, tough ends snapped off
4 Cara Cara oranges, peeled, thickly sliced and separated into bite size pieces
¼ cup minced scallions, white and light green parts only
1 small bunch French breakfast radishes, washed, trimmed and cut into slices
⅔ cup walnut halves
1 teaspoon sugar
Sea salt and freshly ground pepper
For the Vinaigrette
2 tablespoons fresh orange juice
2 tablespoons champagne vinegar
1 teaspoon honey
3 tablespoons extra virgin olive oil
2 tablespoons walnut oil
Sea salt and freshly ground pepper to taste
Instructions
Place the spinach leaves in a large salad bowl and set aside.
To Make the Vinaigrette
In a small bowl whisk together the orange juice, vinegar, honey, oils, salt and pepper to taste, set aside.
Blanch the asparagus spears in simmering water for 2-3 minutes, remove and plunge in a bowl of ice water, remove and drain when thoroughly chilled.
Place the walnut halves in a hot non-stick skillet, gently stir to lightly brown.
Sprinkle the sugar on to the hot walnuts with a generous pinch of sea salt and black pepper, stir to coat walnuts- continue stirring and cooking until dark brown and shiny spots form on edges on walnuts (turn on the exhaust fan-will be smoky) -remove from heat and cool.
Add the asparagus spears, orange pieces, scallions, radishes and broken up walnut halves to the salad bowl with the spinach.
Add the vinaigrette, gently toss to coat everything and serve.