A deliciously spicy and tangy dish – the perfect beer snack from India.
By Shuchi Mittal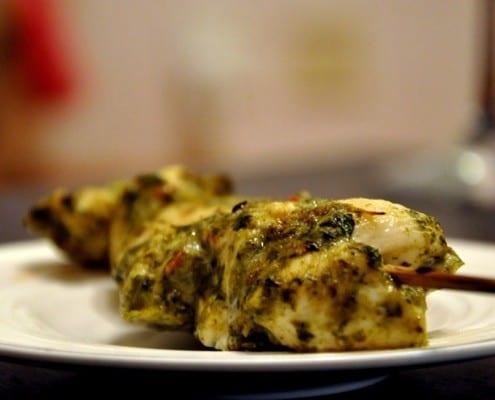 When you think of Indian appetizers, tikkas have got to be on top of the list. No beer hole in the country can survive without offering a range of these mouth watering melt-in-the mouth versions of what the world calls skewers or kebabs. They come in a range of choices- chicken, mutton, fish, vegetarian, each with flavors that burst in your mouth on that first bite, and a spicy tangy feeling can only be best numbed by a cold beer on the side.
I tried my hands at a greener version of the traditional mint & yogurt tikka, by adding some spinach to it. Read on…
Spinach & Mint Chicken Skewer
A spicy tangy beer snack from India
Ingredients
250 gm chicken breast, cut in cubes
2 tablespoon thick yogurt
1 cup boiled spinach
½ cup fresh mint
¼ cup fresh coriander
1 clove of garlic
1 teaspoon grated ginger
1 teaspoon coriander powder
½ teaspoon garam masala
1 teaspoon chili flakes
1 teaspoon olive oil
2 tablespoons melted butter to coat
Salt & pepper to taste
Chat masala to garnish
Instructions
Heat the olive oil in a pan. Add the ginger, garlic, boiled spinach, coriander powder and garam masala and cook for a few minutes.
Cool the mixture and blend in a mixer along with the mint & coriander to make a smooth paste.
Marinate the chicken with this paste, yogurt, salt, pepper & chili for 5-6 hours.
Put 4-5 cubes of the chicken on a skewer. Brush with some melted butter and grill at 200 degree C for around 10 minutes.
Turn the skewers around once, and continue grilling for another 10 minutes. Wait till the chicken is cooked and starts to brown on the surface.
Dust immediately with some chat masala (or simply chopped coriander) and serve hot!