Spicy Red Lentil and Sweet Potato Soup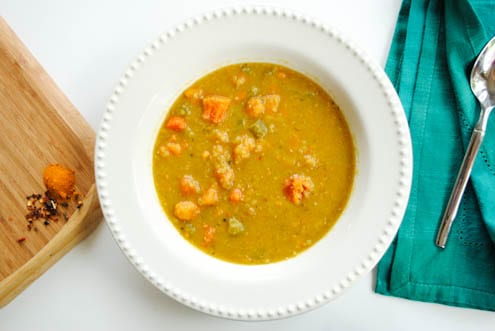 Red lentils are a great choice for soups since they fall apart during cooking and take on a smooth, silky texture with big flavor.
By Lauren Kretzer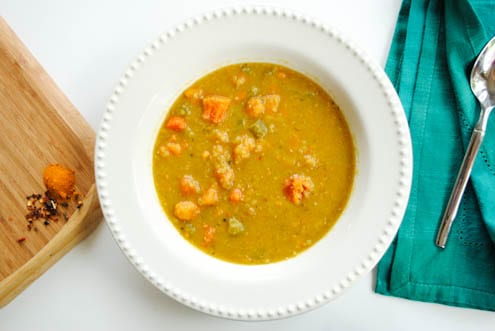 There are days when I desperately want something deeply satisfying and healthy for dinner that won't take an entire evening to prepare.  Enter this red lentil and sweet potato soup, which contains two of the most nutrient rich foods on the planet and takes a mere 40 minutes to prepare from start to finish.  If that doesn't entice you to make this soup on a regular basis, the intoxicating aroma that fills your kitchen when all of the ingredients swirl together certainly will.
If you've never cooked with red lentils before, be sure to rinse them and pick through for any small stones or debris. Red lentils are a great choice for soups since they fall apart during cooking and take on a smooth, silky texture with big flavor. The addition of sweet potatoes makes for a heartier soup, perfect for beckoning in cooler autumn nights.
Spicy Red Lentil and Sweet Potato Soup
A hearty, simple, comforting soup that just so happens to be good for you.
Ingredients
2 Tablespoons coconut oil
1 sweet potato, chopped in roughly ½" pieces
2 small carrots, chopped
2 ribs celery, chopped
1 clove garlic, minced
1 small onion, chopped
¼ teaspoon garam masala
¼ teaspoon turmeric
½ teaspoon curry powder
½ teaspoon cardamom seeds
½ teaspoon red pepper flakes (omit if you want to keep the heat mild)
1 bay leaf
2 teaspoons kosher salt
1 cup dry red lentils, rinsed
6 cups vegetable stock or water
Instructions
In a large soup pot, heat coconut oil over medium heat. Add sweet potatoes, carrots, celery, garlic, and onion. Cook for 3-4 minutes and then add garam masala, turmeric, curry powder, cardamom seeds, red pepper flakes, bay leaf, salt, and a few grinds of black pepper. Stir until vegetables are completely coated with spices. Cook an additional 2-3 minutes.
Add vegetable stock/water and lentils and bring to a boil. Once at a boil, reduce heat to low and simmer, covered, for 30 minutes or until vegetables are fork tender. Add salt and pepper, to taste. Serve hot.
Lauren Kretzer
I'm a vegetarian/vegan private chef specializing in healthy, organic cuisine - I live and work on Long Island, NY and love to use local foods in my cooking! I graduated culinary school from the Natural Gourmet Institute in New York City and am working toward my certificate in Plant Based Nutrition through Cornell University. You can find me over at www.laurenkretzer.com