Grilled shrimps spiced with chili, garlic, lime and cilantro are a fantastic start on a successful BBQ evening.
By Johanna Kindvall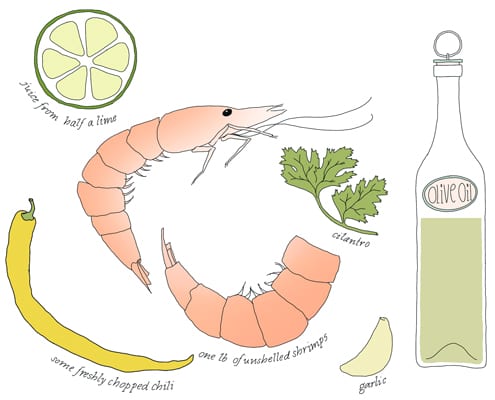 Instead of enjoying the Swedish summer by growing vegetables and foraging for berries and mushrooms, I have been stuck with NY's summer heat. I can't say it has all been miserable though, it just hasn't been the same. In Sweden I would have picked wild black cherries instead of gluttonized on local peaches. I would also have picked yellow chanterelles instead of trying to grow my own oyster mushrooms. Its all good as both places have their own unique quality.
I have found it a little hard to be in my kitchen cooking when the city gets too hot and humid. Some nights I end up just eating cold watermelon with feta or something like that. Delicious and simple. Luckily we have had direct access to a really lovely garden so many dinners have been cooked outside on the terrace. Often vegetables such as eggplant, zucchini and field mushrooms (sliced up and simply marinated with herbs, garlic, olive oil and tamari) served together with steak, just barely grilled and thinly sliced.Other specialties are BBQ'd mussels and shrimps (see below). The mussels can be BBQ'd as is and eaten with squeezed lemon. You can also precook them and grill them topped with garlic butter and breadcrumbs.
See Also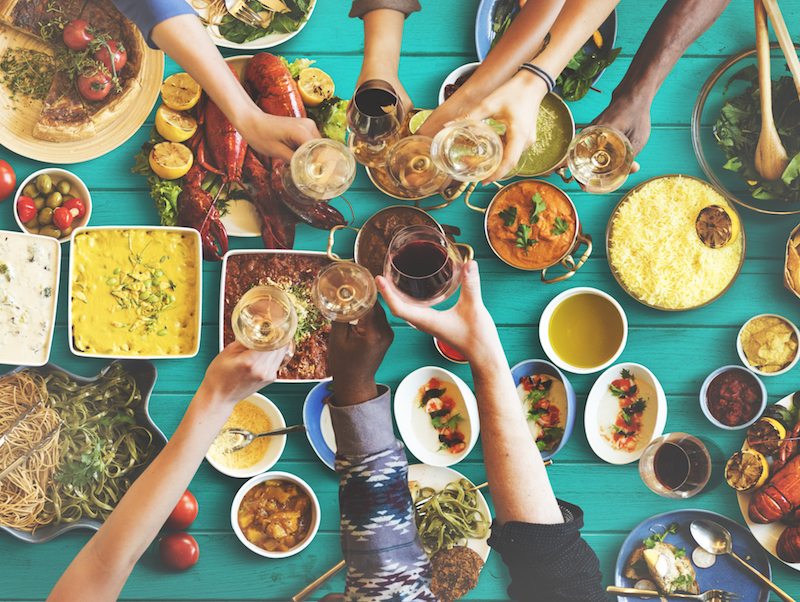 Print
Spicy Grilled Shrimps
Grilled shrimps spiced with chili, garlic, lime and cilantro are a fantastic start on a successful BBQ evening. Simple and delicious!
Author:

Johanna Kindvall

Prep Time:

3 mins

Cook Time:

5 mins

Total Time:

8 minutes

Yield:

2

-6

1

x
one

lb un-shelled raw shrimps, small or medium
about

½ cup

olive oil
juice from

½

a lime
fresh chili (what kind depends on how spicy you want the shrimps)

two

cloves of garlic
plenty of cilantro
sea salt (seasoning)
Instructions
Rinse the shrimps and let them dry.
Mix together olive oil, lime juice and finely chopped cilantro, garlic & chili. Season with sea salt.
Place all the shrimps on the grill on high temperature (but no flames). Turn the shrimps over to the other side when they have got some nice color (after about a minute). They are done when they are cooked through and have got a nice even pink color.
Drop the shrimps directly from the grill into the olive oil mixture. Stir around and serve immediately together with bread and salad.
Serve the shrimps simply as they are or together with a salad and freshly baked bread.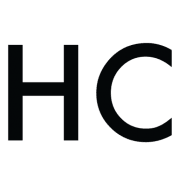 Johanna Kindvall
Johanna Kindvall is freelance designer who works with illustrations, graphics and architecture. She loves to cook, eat and draw; a combination she have been sharing on her cooking blog, Kokblog since 2005. Her recipes are more about what you can do, less about how you make them. Johanna is a Swede based in New York City. During the summer she works from her little cottage in the very south of Sweden just an hour from the Danish capital of Copenhagen.