A soft pretzel with a healthy dose of spelt, from Roxana Jullapat.
By Roxana Jullapat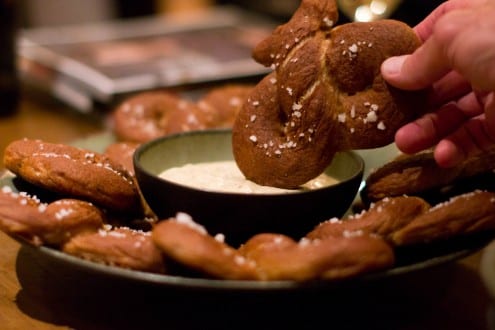 Up to the challenge of making your very own soft pretzels? Try these delicious, chewy and nutty "spretzels" made with spelt flour in addition to all-purpose flour
In addition to giving the pretzel dough earthy and nutty undertones, spelt provides the rich mahogany hues one expects in a pretzel without using lye (a corrosive alkaline substance commonly used in the commercial production of pretzels). To achieve that pretzel-like flavor that lye imparts, poach the spretzels in an alternative alkaline solution made with baking soda. And if you are really feeling it, add beer to the poaching liquid to give the spretzels a more authentic Germanic taste. Many recipes suggest that you brush pretzels with the alkaline solution and skip the step of poaching them altogether but for some of us a pretzel (like a bagel) is not a pretzel unless it has been poached.
See Also
Serve shortly after baking or reserve for later, in which case you may want to reheat for a few minutes before enjoying. Don't forget the cold beer and a crock of strong mustard.
Print
The Clever Spretzel
---
Author:

Roxana Jullapat

Total Time:

2 hours 25 minutes

Yield:

Makes

1

5

1

x
Description
A soft pretzel with a healthy dose of spelt
---
2 ¼ teaspoons

(

17 grams

) dry active yeast

1 tablespoon

(

14 grams

) granulated sugar

1 cup

(

150 grams

) spelt flour

2 ½ cup

all-purpose flour (

375 grams

) plus extra for dusting

1 tablespoon

(

10 grams

) kosher salt
About

2 tablespoons

(

30

milliliters) canola oil

1/2 cup

(

125 grams

) baking soda

12

-ounce bottle (355 milliliters) pilsner or blond ale (optional)
Coarse salt to garnish such as Maldon or fleur de sel
---
Instructions
Pour 1 ½ cups (355 milliliters) lukewarm water into a bowl, and rain the yeast over it. Sprinkle the sugar on top and stir and set aside to activate for 5 minutes.
In the electric mixer fitted with the dough hook attachment, combine the yeast mixture with the spelt flour, all-purpose flour and salt on slow speed for 2 to 3 minutes or until the dough is uniform and soft but not sticky. Transfer the dough to a lightly floured surface and knead into a tight ball. Brush a bowl that's large enough for the dough to double in size with a bit of the canola oil and place the ball of dough in it; place the bowl in a large plastic bag, tie it loosely, and set it aside in a warm place in the kitchen for about 1 hour, or until the dough has doubled in size.
Preheat the oven to 400°F (204ºC) and place an oven rack in the middle position of the oven.
Brush two baking sheets with the remaining canola oil and set them aside.
Turn the risen dough onto a table and pinch off 15 nuggets, about 2 ounces each. Take each nugget and roll into a snake about 20 inches long. Shape each pretzel by forming a loop then twisting the two ends together a couple of times and finally pinching them in the middle.
Put the shaped pretzels on the oiled baking sheets and let them proof for 30 minutes or until the pretzels start to look puffy.
Meanwhile prepare the alkaline solution: bring to a simmer 4 quarts (3,785 milliliters) of water -or 3 quarts of water (2,839 milliliters) plus the bottle of beer)- in a non-reactive medium-sized pot, and add the baking soda.
Poach the proofed spretzels for 30 seconds on each side (use a slotted spoon to flip them gently in the simmering water) and transfer them to the prepared baking sheets.
Before baking the spretzels make sure to garnish them with coarse salt somewhat generously…be careful though, salt is salt after all.
Bake for 20 to 25 minutes or until the spretzels turn a rich golden brown. Let them rest for 10 minutes and remove from the tray. Serve and enjoy.
Prep Time:

2 hours

Cook Time:

25 mins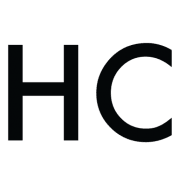 Roxana Jullapat
Pastry Chef Roxana Jullapat, a Los Angeles native of Costa Rican and Thai descent, pursued a degree in journalism before turning to cooking. While taking a break after graduating from college, Roxana found herself baking a tarte tatin in the tiny kitchen of a local bistro. Her fate was sealed. Over the next ten years she held tenures at highly acclaimed American restaurants including Campanile, Bastide, Lucques, AOC and Clarklewis. Since 201, she owns and operates, Cooks County in the heart of Los Angeles, where she's also the head baker. Fueled by the yearlong availability of outstanding fruits and vegetables of California, Roxana's strongest suit is in working with seasonal produce and alternative grains. Her menus are known as perhaps one of the most farmers' market driven in town.