PARTNER POST – Be inspired to create beautiful cheese boards with Castello cheese. And what goes better with cheese than wine? Enter to win a trip for two to Napa, California.
A bright balsamic strawberry jam and cilantro chutney bring delicious sweet and savory flavors to a vibrant spring cheese board.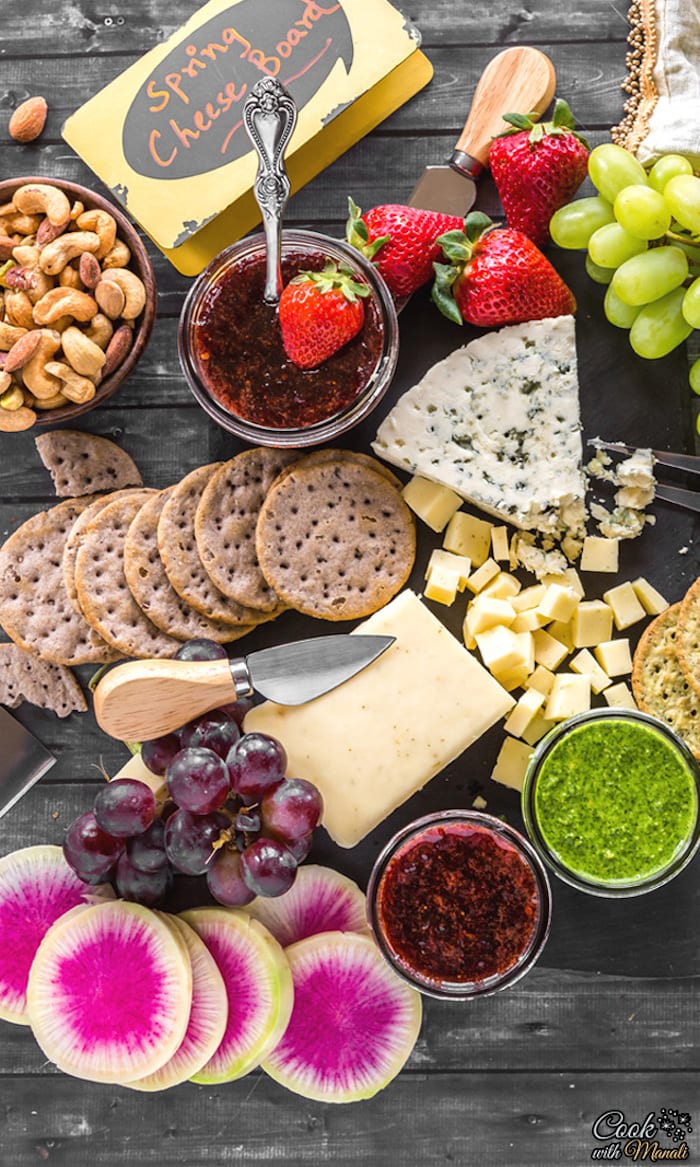 What do you guys think about cheese boards? I think they are so much fun! You don't have to do much, but the possibilities are endless. One can add so much to them depending on the occasion, season, and the best part is they look great with minimal effort. Cheese boards are so good for entertaining – variety of flavors, delicious cheese, fruits, there's something for everyone. To celebrate spring, today I am sharing with you guys how to make a Spring Cheese Board.
When I think of spring, I think of bright colors and that's what you can see in my spring inspired cheese board.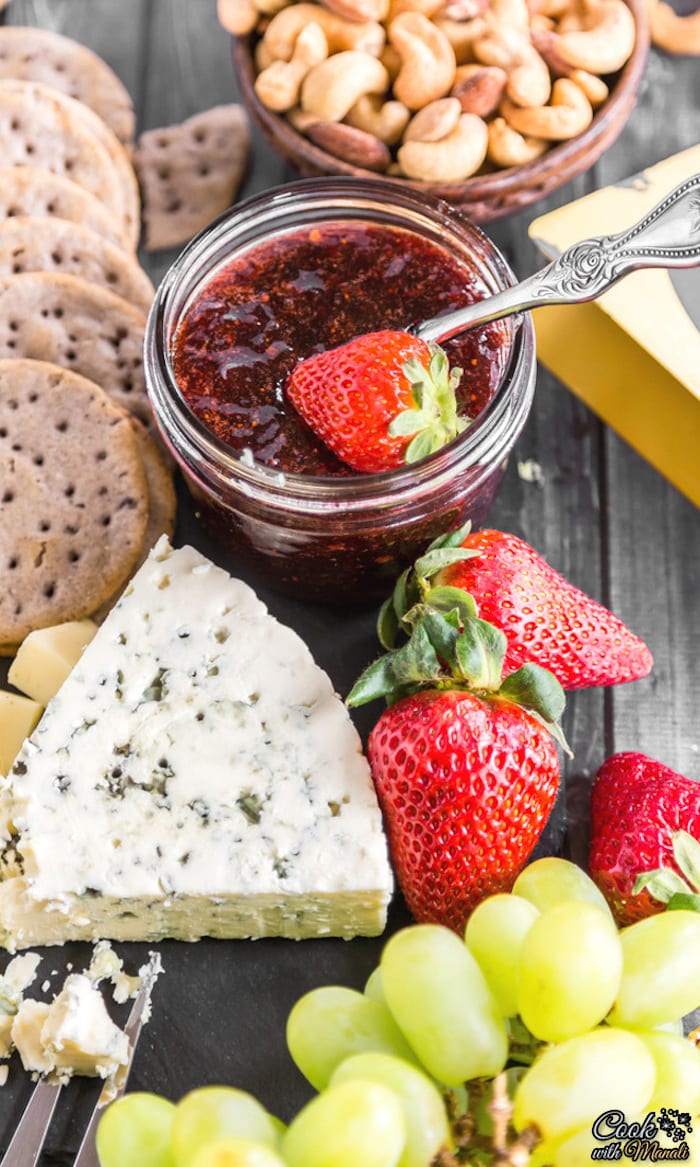 So let's see what all you need to make a Spring Inspired Cheese Board.
Cheese: Obviously what's a cheese board without some good cheese! Use a variety of cheese with different textures in your cheese board. For my spring cheese board, I used Castello Havarti Cheese and Castello Blue Cheese. Castello has always been my favorite since it offers a variety of creatively crafted cheeses. Their cheeses are deliciously balanced and come together to create a gourmet cheese board.
Fruits and Vegetables: Since it's spring, think of adding lots of colors to your cheese board using fresh fruits and vegetable. I used strawberries, green grapes, black grapes and watermelon radish. You can use other spring fruits and veggies too like oranges, apples etc.
Condiments: My favorite part! For this cheese board, I made a Spicy Balsamic Strawberry Jam (recipe below) and my favorite Cilantro Mint Chutney. Strawberries and balsamic pair great together in this jam which is spiced with some red chili flakes and black pepper. It goes so well the cheese! And of course I believe my cilantro mint chutney goes well with everything. These condiments also add a lot of color to the cheese board and make it look perfect for spring.
Nuts and Crackers: I like to add assorted nuts to my cheese board for texture. You can use any nuts of your choice here. Add different types of crackers and breads. There should be something for everyone.
And last but not the least, get creative, add lots of colors and have fun. You see how my jam and chutney not only add lot of flavor to the cheese board but also make it look really colorful. A colorful cheese board during spring is sure to catch attention!
And now for some exciting news! Castello is hosting a sweepstakes as part of the Cheese Board Challenge campaign. You guys, this is your chance to win a trip for two a winery in Napa, California! How exciting right? Enter HERE.
For another cheese board addition, try this spicy carrot chutney: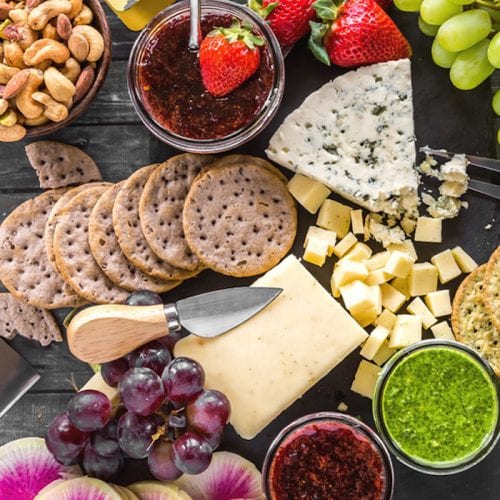 Spicy Balsamic Strawberry Jam
Manali Singh
A bright balsamic strawberry jam and cilantro chutney bring delicious sweet and savory flavors to a vibrant spring cheese board.
Ingredients
1.5

pounds

strawberries

hulled and chopped [around 3.5 cups chopped strawberries]

1.5

cups

granulated white sugar

1

cinnamon stick

¼

teaspoon

cinnamon powder

2.5

tablespoons

balsamic vinegar

½

teaspoon

black pepper

½

teaspoon

red chili flakes
Instructions
To a pan add strawberries and granulated white sugar. Keep them like this for 10-15 minutes with the heat switched off.

After 15 minutes, the berries would have released some of their juices. Now switch on the heat to medium.

Keep stirring as the sugar melts. After 5 minutes, most of the sugar would have melted.

Add cinnamon stick, cinnamon powder and keep stirring every now and then.

The mixture will come to a boil around 10 minutes.

Stir as it continues to thicken. It will start getting thick after 15 minutes of cooking. At this point, add balsamic vinegar.

Mix till well combined and cook the jam for additional 5-10 minutes or till desired consistency is reached. Keep in mind that the jam will continue to thicken as it cools down so do not wait for it to get extra thick.

Remove pan from heat, stir in black pepper powder and red chili flakes. Mix till well combined.

Allow the jam to cool down, then transfer to a jar and store in the refrigerator.
Manali Singh
Food lover, recipe developer, food photographer and a big time baking addict. I live in Seattle with my husband and share simple and delicious vegetarian recipes on my blog Cook With Manali.