Spiced Silverbeet and Pumpkin Hash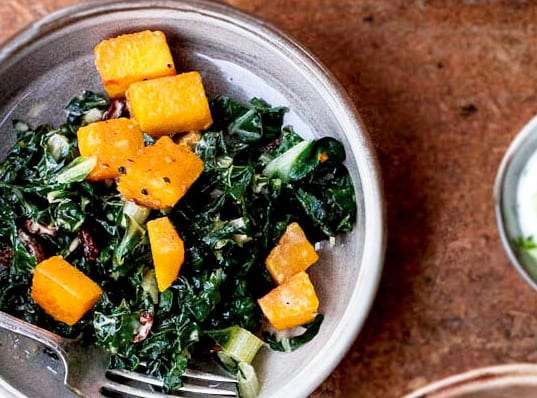 This Spiced Silverbeet and Pumpkin Hash recipe is easy to make and full of warm Mediterranean flavours. It can be served as a side or base to anything from falafels to fried eggs.
By Martyna Candrick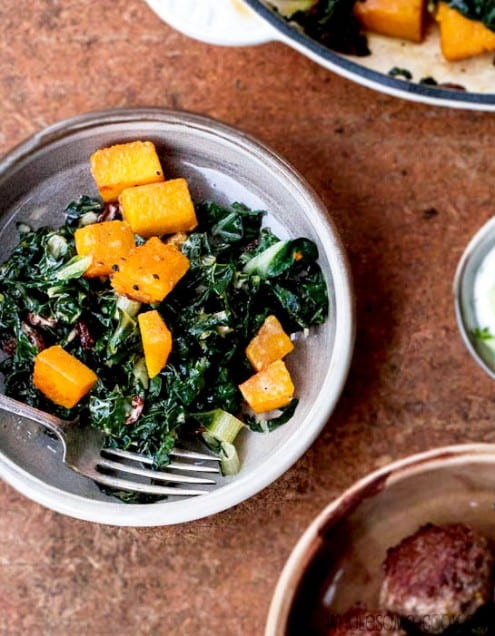 I think the inspiration for this dish came from a dining experience at A Tavola a little while back. The red cabbage slaw, served as a side, came dotted with a good handful of raisins, a Sicilian tradition I'm told, and was dressed with dolce latte – sweetened condensed milk. Rather than recreate an exact copy, partly because the sugar amount in sweetened condensed milk scares me, I thought I'd use silverbeet in mine and sweeten it slightly with cubes of pumpkin.
Silverbeet or Swiss chard is that slightly too-big-to-fit-in-the-shopping-bag leafy green. Many people get put off by the seemingly cumbersome to prepare vegetables such as silverbeet, but preparation couldn't be easier. Simply wash the leaves, remove the stalk and chop up the leaves roughly. You can reserve the stalks and pickle them or braise them.
Spiced with just a touch of sea salt, pepper, all spice and cayenne – which is said to aid digestion, the dish is "sweetened" with caramelised pumpkin. We served ours with a few 100% organic lamb meatballs and a simple yoghurt, cucumber and dill tzatziki sauce but you could add a can of drained chickpeas, fried egg or serve this alongside falafel for a vegetarian / vegan version.
Spiced Silverbeet and Pumpkin Hash
This Spiced Silverbeet and Pumpkin Hash recipe is easy to make and full of warm Mediterranean flavours. It can be served as a side or base to anything from falafels to fried eggs.
Ingredients
For the Silverbeet Pumpkin Hash
½ bunch silverbeet (chard), about 6 leaves
1 tbsp light olive oil
2 cups finely diced pumpkin pieces
½ tsp sea salt flakes
¼ cup raisins
¼ tsp freshly ground black pepper
½ tsp ground cayenne pepper, or to taste
Pinch ground all spice
? cup cream
? cup water
For the Tzatziki:
½ cup Greek natural yoghurt
2 cm piece cucumber, diced finely
1-2 tsp chopped dill
½ tsp garlic powder
Instructions
Wash silverbeet and shake off water. Using a sharp knife, trim off the stalks by running the knife in a v-shape into the leaf. Slice leaves finely, into about 1cm wide ribbons, across.
In a large pan heat oil over medium-high heat. Add diced pumpkin and sprinkle with sea salt. Cook for about 3 minutes, stirring, until caramelised. Add silverbeet, raisins, season with spices and stir. Reduce heat to medium. Add cream and water and cook covered, stirring from time to time, for a further 5-10 minutes.
In a small bowl mix together all ingredients. Set aside until needed.
Martyna Angell
Martyna is a Polish-born Australian recipe developer and food blogger. Her creativity and passion for good food shines through in many of the delicious and easy to prepare meals which she cooks, styles and photographs for her blog, Wholesome Cook. Fresh cream-filled eclairs are her only weakness.