Zucchini keeps this cake moist and indulgent tasting without adding any guilt.
By Faith Gorsky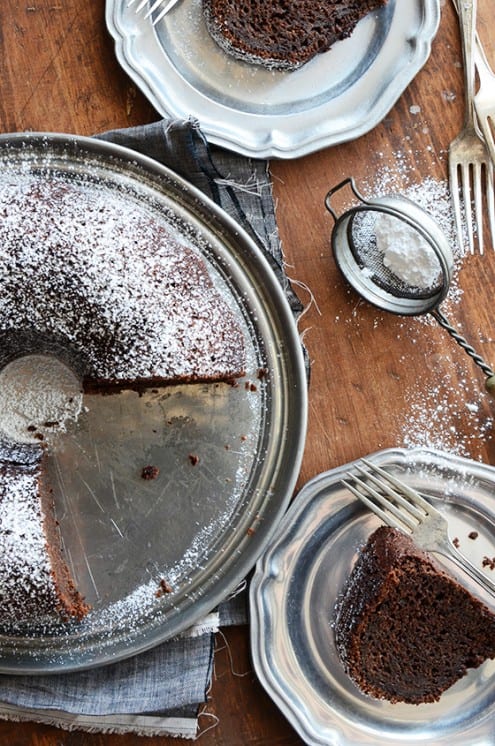 Spiced Chocolate Zucchini Cake
Zucchini keeps this cake moist and indulgent tasting without adding any guilt.
Ingredients
3 medium (600-700 g) zucchini, peeled and chopped
Butter, to grease the pan
1⅓ cups (170 g) all-purpose flour
1⅓ cups (170 g) whole wheat flour
⅔ cup (80 g) natural unsweetened cocoa powder (not Dutch-processed)
1 teaspoon fine salt
1 teaspoon baking powder
1 teaspoon baking soda
3 cinnamon-orange black tea bags, opened (I used my favorite, Harney & Sons Hot Cinnamon Spice)
1¾ cups (350 g) sugar
2 large eggs
⅔ cup (160 ml) canola oil
1 tablespoon blackstrap molasses
1 tablespoon pure vanilla extract
Powdered sugar, for garnish (optional)
Instructions
Add the peeled and chopped zucchini to a food processor and process until it forms a chunky paste (see the photo at the bottom of this post). Use the zucchini paste to make this cake immediately, or cover the zucchini paste and store it in the fridge for up to 3 days until you're ready to make the cake.
Preheat oven to 350F; grease a standard bundt cake pan with butter.
Whisk together the flours, cocoa powder, salt, baking powder, baking soda, and tea (from the opened tea bags) together in a large bowl; set aside.
Beat together the sugar, eggs, and oil until fluffy, then beat in the zucchini (with any juices that have seeped out), molasses, and vanilla.
Add the dry ingredients to the wet all at once and whisk until just combined, being careful not to over-mix.
Pour the batter into the prepared pan and bake until a wooden pick inserted in the center comes out clean, about 1 hour and 15 minutes.
Place the pan on a wire rack and cool completely in the pan, then run a knife along the outside of the cake and invert it onto a platter to remove it.
Before serving, sprinkle with a dusting of powdered sugar if desired.
Faith Gorsky
Faith Gorsky is the writer, recipe developer, photographer, and food stylist behind the blog An Edible Mosaic. Her recently-released first cookbook, An Edible Mosaic: Middle Eastern Fare with Extraordinary Flair (Tuttle Publishing), is a collection of authentic Middle Eastern recipes handed down to her from her husband's family during her extensive time spent in the Middle East. Faith loves to travel, especially to places steeped in rich culture and history.