A delicious skillet meal with a hispanic flavor, fit for a busy lifestyle.
By Brady Evans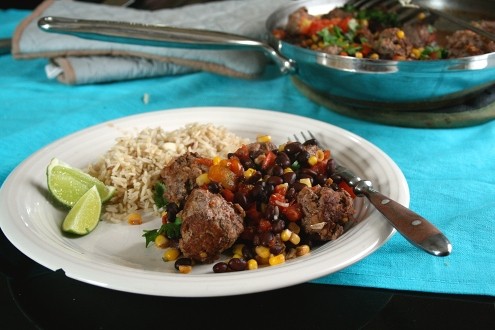 I have been really busy lately.  Shamefully busy.  And I'm trying to find places to cut corners to free up some time for myself but I can't really come up with anything.
I could stop running.
But then I compromise my mental health (and ability to eat lots of food). I would gain more sleep.  And more frustration.  And more weight.
I could stop horsing around.
But that wouldn't be fair to the Omnivore, these guys, or myself.
I could stop blogging.

But then I couldn't share wonderful recipes perfect for a busy person like me (and you!?).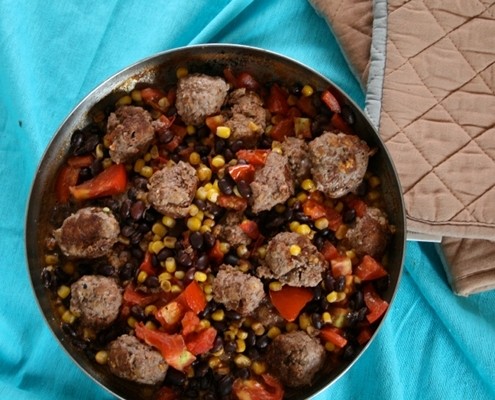 This dish is cooked all in one skillet.  Easy, peasy.  Your hands get rather messy forming the meatballs but sometimes kitchen therapy like that is all you need to forget the length of your to-do list.  The meal itself was restaurant quality.  Don't skimp on the squeeze of lime or the dose of cilantro – you'll regret it.
Southwest Meatballs with Corn Black Bean Salsa
A delicious skillet meal with a hispanic flavor
Author:
Brady Evans, adapted from Clean Eating Magazine
Ingredients
1 lb (450 grams) lean ground turkey
2 large egg whites
¼ cup (60 mL) oats
¼ tsp sea salt
¼ tsp black pepper
2 tsp olive oil
1 cup (240 mL) frozen corn
1¾ cup (450 mL) black beans
2 cups (480 mL) diced tomatoes
1 tsp ground cumin
½ cup (120 mL) broth
¼ cup (60 mL) chopped cilantro
lime wedges
Instructions
In a large bowl, combine meat, egg whites, salt, pepper, and oats.
Mix thoroughly and shape into about 16 balls the size of a golf ball.
In a large skillet, heat oil on medium high. Add meatballs and cook 3-5 minutes, turning frequently, until browned on all sides.
Add corn, beans, tomatoes, broth, a squeeze of lime, and cumin.
Reduce heat to medium, partially cover and cook for 5 minutes until meatballs are cooked through.
Serve with chopped cilantro and lime wedges.