The banana-pineapple spice cake with some southern charm is topped with a smooth cinnamon cream cheese frosting, candied pecans, and drizzled with buttery salted caramel.
By Kathleen Siegle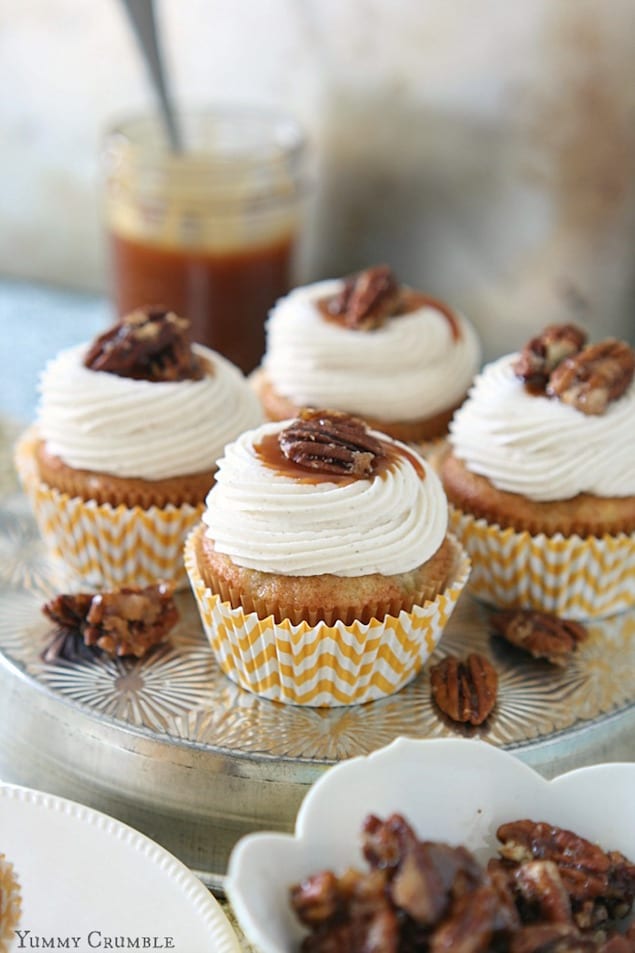 These are baked with the same batter from my Hummingbird Coffee cake (see the link to the delicious recipe below), so they're super moist and full of comforting flavors from the banana, cinnamon, and pecans. What goes best with Hummingbird Cake? Cream cheese frosting of course, and I spiked it with cinnamon. I made a sweet little pool of salted caramel in the frosting. See the little candied pecans swimming in that luscious pool of salted caramel? You know you wish you were that pecan. I certainly do.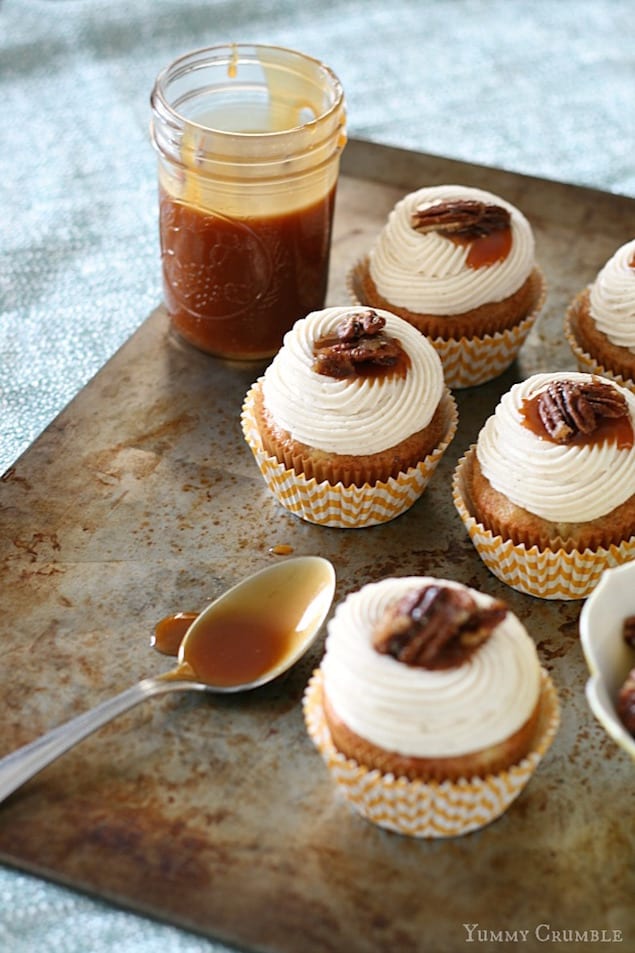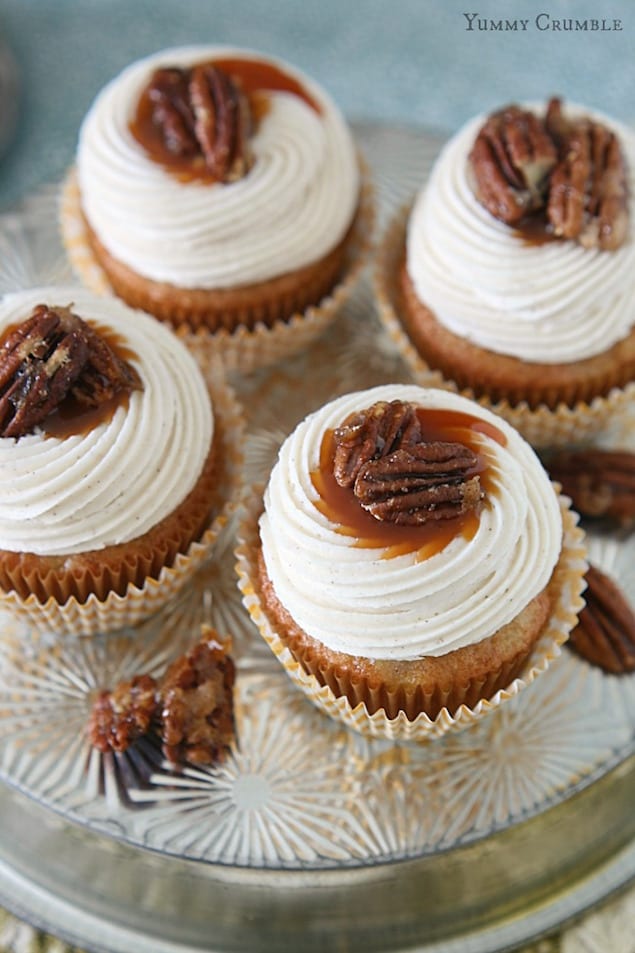 Looking for more hummingbird? Try this recipe for a hummingbird coffee cake.

Southern Hummingbird Cakes with Salted Caramel
The banana-pineapple spice cake with southern charm is topped with smooth cream cheese frosting, candied pecans, and drizzled with buttery salted caramel. Cupcakes adapted from Southern Living and pecans from Natasha's Kitchen.
Recipe Type:
Baking, Dessert
Ingredients
Cupcakes
1½ cups all-purpose flour
½ teaspoon baking soda
½ teaspoon salt
1 cup sugar
½ teaspoon ground cinnamon
2 large eggs, beaten
½ cup vegetable oil
1 teaspoon vanilla extract
1 (8-ounce) can crushed pineapple, undrained
½ cup chopped pecans
1 mashed banana
Cream Cheese Frosting
1 8oz package of softened (full fat) cream cheese
¼ cup softened butter
1 tsp vanilla extract
4 cups powdered sugar
½ tsp cinnamon
Salted Caramel
Candied Pecans
1 cup pecans
¼ cup sugar
pinch of cinnamon and nutmeg
1 Tbs butter
Instructions
Preheat oven to 350 F. Line your cupcake pan.
In a large bowl whisk together the flour, baking soda, salt, sugar, and cinnamon.
In another bowl, whisk the eggs until beaten. Mix in the oil, vanilla, pineapple, banana, and pecans. Don't beat, just mix until combined.
Then gently fold the wet ingredients into the dry ingredients, being careful to not over mix.
Fill your cupcake liners ? full and bake for 18-20 minutes, or until an insert toothpick come out clean.
Allow to cool.
Cream Cheese Frosting
Beat the cream cheese, butter and vanilla until light and fluffy.
Add in sugar one cup at a time and add a little cream if necessary.
Add cinnamon and beat on high for 3 minutes until super light and fluffy.
Candied Pecans
On medium heat, cook the pecans, sugar, cinnamon, nutmeg, and butter in a medium non-stick pan.
Heat for 5 minutes while continually stirring pecans to coat them with the butter and sugar, and prevent from burning.)
Immediately transfer to parchment paper with a spatula to prevent them from sticking together in clumps.
Let them cool completely.
Frost the cupcakes and drizzle with salted caramel before topping with the pecans.