Delights of Dijon — Crispy Honey Mustard Chicken with Creamy Mustard Sauce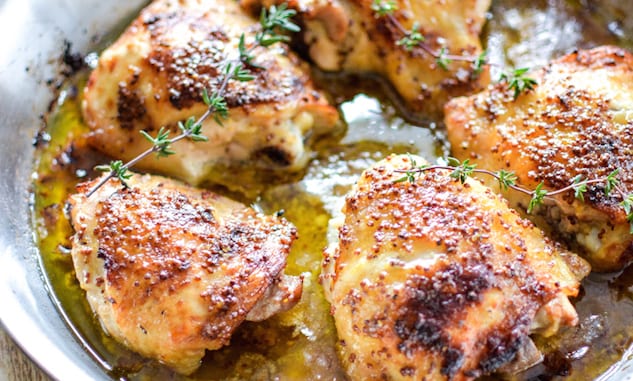 PARTNER POST — Discover the unique flavors of the Dijon region with Maille.
Easy enough to accomplish on a weeknight, this crispy chicken is rubbed with a honey Dijon and served with a rich whole grain mustard sauce.
By Justine Sulia
It's been all about the easy weeknight meals this week, and this recipe for crispy honey mustard chicken thighs with creamy mustard sauce has graced our dinner table once again.
I made this dish a couple of weeks ago, and it seriously broke records in this house. Zach and I are obsessed with it, and while I vary rarely make any one dish twice, this recipe I've made a couple of times (and will continue to make it!). The chicken is so delectably crispy and it is smothered in an addicting rich and mustardy sauce.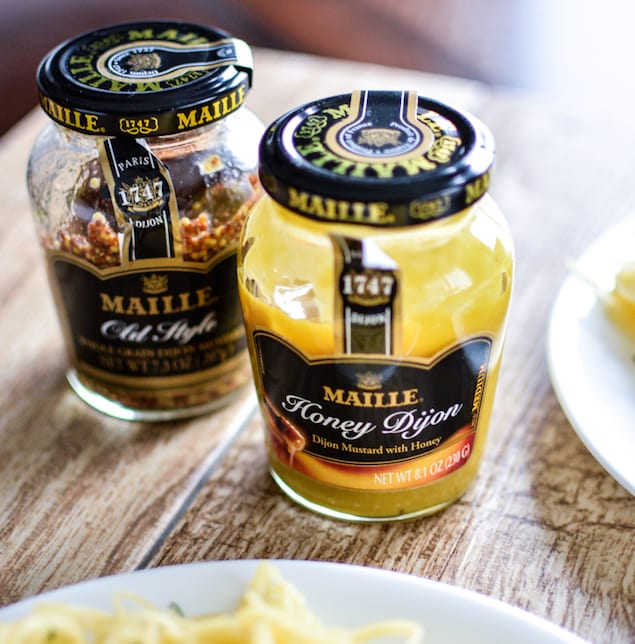 I'm sure many of you already know about my obsession with anything mustard-related. It's most certainly one of my favorite condiments and I use it on almost everything. This is why I was so excited when I got to try the fantastic dijon products from Maille Dijon Delights. You guys, their mustard is SOOOO delicious. I have seriously already gone through my entire supply. I'm not kidding you, I was basically eating the honey dijon mustard with a spoon. If you haven't had a chance to try one of these delicious products, please do!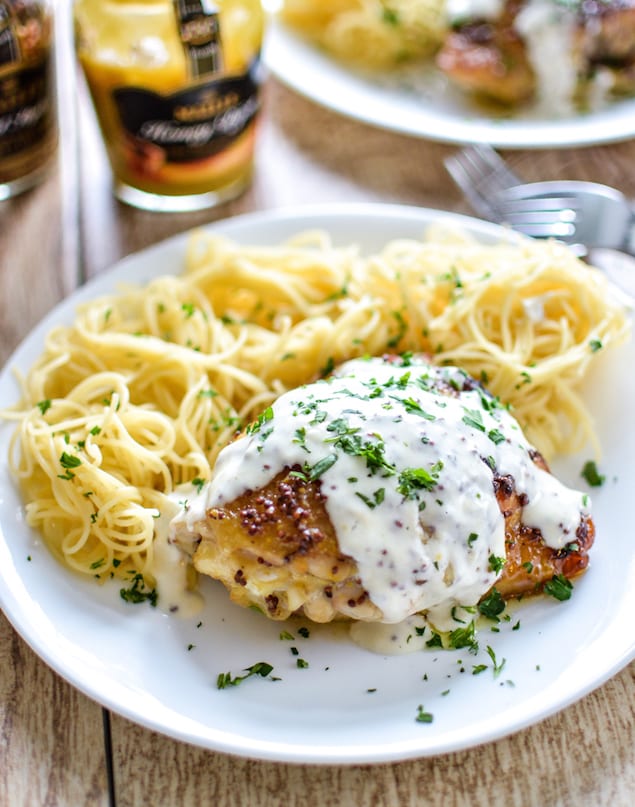 [fve]https://vimeo.com/126301319[/fve]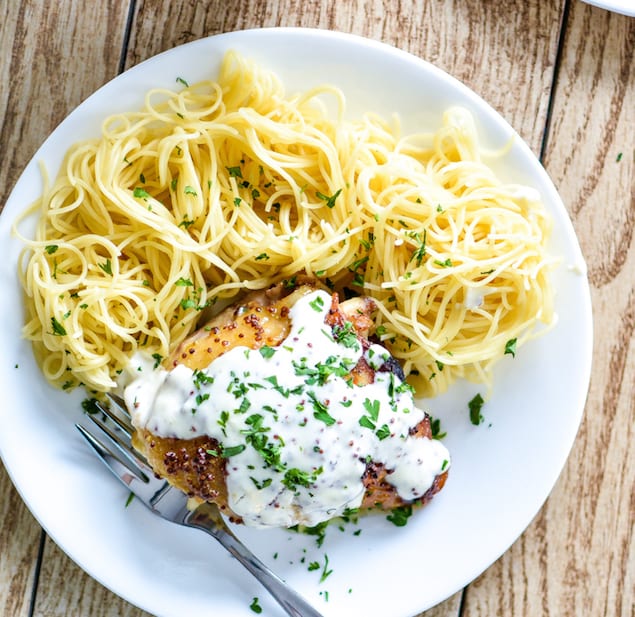 Delights of Dijon — Crispy Honey Mustard Chicken with Creamy Mustard Sauce
Easy enough to accomplish on a weeknight, this crispy chicken is rubbed with a honey Dijon and served with a rich whole grain mustard sauce.
Ingredients
Creamy Mustard Sauce
2 tablespoons unsalted butter
½ of a medium yellow onion, chopped finely
2 cloves of garlic, finely minced
2 tablespoons all-purpose flour
½ cup white wine
1 cup half and half
2 teaspoons fresh thyme leaves
2 tablespoons Maille Old-Style Whole Grain Mustard, more or less to taste
salt and black pepper
Crispy Honey Mustard Chicken Thighs
6 chicken thighs
⅓ cup Maille Honey Dijon Mustard, divided
salt and black pepper
¼ cup chicken broth
2 tablespoons Maille Old-Style Whole Grain Mustard
2 tablespoons raw honey
2 teaspoons fresh thyme leaves
2 tablespoons olive oil
Instructions
Creamy Mustard Sauce
Melt the butter in a large sauté pan over medium heat. Add the onion and cook until tender, about 5-6 minutes. Add the garlic and cook for an additional minute. Whisk in the flour and cook until golden, about 2-3 minutes. Gently pour in the white wine, whisking the entire time. Bring to a boil and reduce to a simmer. Cook until the wine has reduced by about half. Whisk in the half and half, thyme, mustard, and salt and black pepper to taste. Cook for about 10-12 minutes or until thick and creamy. Adjust seasoning to taste. Keep warm on the stove while you prepare your chicken.
Crispy Honey Mustard Chicken Thighs
Preheat your oven to 425 degrees F.
Rub 3 tablespoons of the honey dijon mustard on the chicken thighs. Season with salt and black pepper. Set aside.
In a medium bowl, whisk together the remaining honey dijon mustard, chicken broth, whole grain mustard, honey, thyme, and salt and black pepper to taste. Set aside.
Heat the olive oil in a large non-stick, oven-proof skillet over medium high heat. Add the chicken, skin side down. Sear for about 4 minutes until brown and then flip the chicken and sear for another 2 minutes. Pour the mustard mixture into the pan, and transfer it to the oven. Roast for 20-25 minutes or until the chicken has cooked through and reached an internal temperature of 175 degrees F.
Serve immediately, drizzled with creamy mustard sauce with a side of greens or fresh pasta.
Enjoy!
Justine Sulia
I am the writer, publisher and photographer behind Cooking and Beer. Over at Cooking and Beer, I am combining bold and inspirational cooking (and baking) with the best craft beer I can get my hands on!