A rich, soft cake that is sweetened just by the high-quality chocolate used so that it is overpowered by the taste of sugar and the chocolate flavors can shine.
By Veronica Lavenia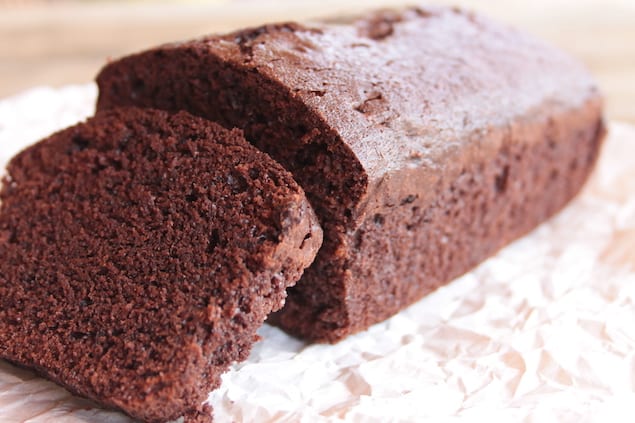 Photo by G. Giustolisi
If you have the habit of sweetening your cakes with a little raw brown sugar, or use honey or malt, this cake, which just calls on the natural sweetness of its ingredients, will be a further step towards the creation of healthy and soft cakes.
If, however, you haven't tried the goodness of one of these cakes, this recipe is sure to have you hooked. The sugar present in 60% dark chocolate will add the touch of sweetness you need. The result is a moist cake, just sweet enough with rich chocolate flavor. Italian Farro flour gives the cake a perfect consistency (you can find it in the best Italian food shops or you can replace it with flour Kamut).
This is a cake that will be much appreciated by connoisseurs of chocolate. Don't save on the quality of chocolate, the key to the recipe. A good extra virgin olive oil gives the right softness, making this cake, with an Italian twist, delicious and healthy.

Dark Chocolate Yogurt Cake
A soft cake that is sweetened just by the high-quality chocolate used so that it is overpowered by the taste of sugar and the chocolate flavors can shine.
Recipe Type:
Cake, Chocolate, Baking, Dessert
Cuisine:
Italian Inspired
Ingredients
150 g (5 oz) high quality dark chocolate 70%
100 g (3½ oz) high quality dark chocolate 60%
2 large organic eggs
2 tbsp Greek yogurt
4 tbsp extra virgin olive oil or 6 tbsp organic cold pressed sunflower oil
pinch of sea salt
250 g (9 oz) whole wheat sifted Farro flour
1 teaspoon organic baking powder, sifted
1 tsp vanilla "Bourbon" powder
Instructions
Preheat oven at 180°C (350°F/gas 4).
Melt chocolate in a double boiler (or a thick-bottomed pan) and, once removed from the heat, allow to cool.
Beat the eggs vigorously. Add yogurt, oil, pinch of salt and stir to combine ingredients. Add the first 100 g (3½) flour, sifted with baking powder. Once mixed with the liquid ingredients, add the remaining flour, with vanilla, stirring quickly.
Pour the chocolate and mix the dough without working too much, otherwise your cake will not become soft.
Lined a mold with baking paper and bake for 25-30 minutes.