This type of strudel is a traditional Croatian summer dessert.
By Tamara Novakoviç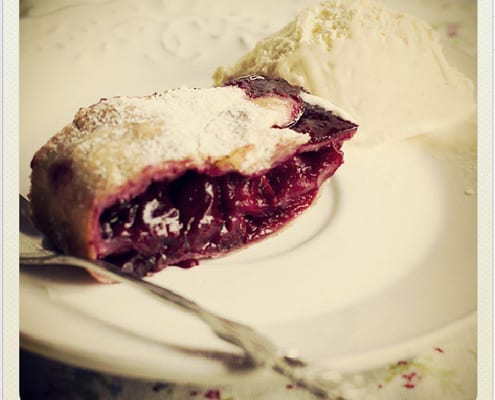 Here we're big on sour cherries and use them in cakes more often that cherries. The dough is often made at home, which results in a perfectly moist, tender crust. Add luscious, tangy filling to it, some powdered sugar on top and a dollop of cream or vanilla ice cream and you've got yourself, in my opinion, the perfect summer treat.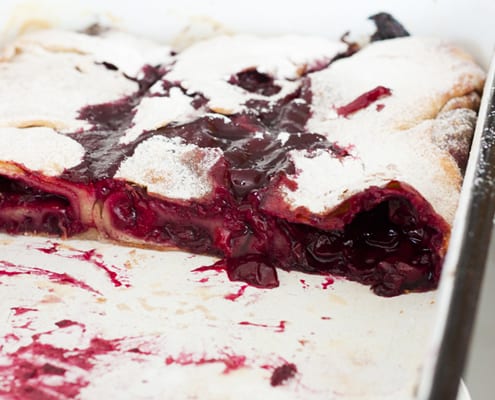 Sour Cherry Strudel
This type of strudel is traditional Croatian summer dessert.
Ingredients
For the dough
17.6 oz (500 g) all-purpose flour
1.2 cup (300 ml) cold water
5 tbsp vegetable or sunflower oil
1 tsp salt
For the filling
31.7 oz (900 g) pitted sour cherries
5.2 oz (150 g) sugar
1 vanilla bean pod
2.8 oz (80 g) cornstarch
powdered sugar
Instructions
Make dough at least one hour in advance. Combine all ingredients and knead well to form smooth, elastic dough. Try kneading it a bit longer, as it needs to be elastic (it will stretch out easier later on). Wrap in cling foil and leave in fridge for at least 1 hour.
Divide dough into 3 equal parts. Roll each one out on lightly flour surface, as thin as possible. Keep it oiled and keep your hands oiled. Start stretching it, pulling it from the middle towards yourself, with your hands. Continue to go in circles, until you've stretched it as thin as you can. Using your knife, cut out thick edges.
Prepare the filling: combine sour cherries with vanilla seeds, sugar and cornstarch. Spread the filling evenly on the stretched dough, but leave the edges empty. Roll each strudel and place into baking trays lined with parchment paper. Brush the top with a bit of oil.
Preheat oven to 356 F (180 C). Bake for around 40 minutes. Let cool slightly and dust with powdered sugar. Serve with a dollop of whipped cream or ice cream.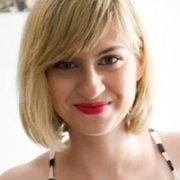 Tamara Novakoviç
Tamara Novakovic is a passionate self-taught cook, food blogger, freelance food writer and photographer behind bite-my-cake.blogspot.com. Her life journey has led her through Faculty of Humanities in Zagreb, Croatia to discovering passion for making cakes. She is currently a weekly food columnist for Croatian newspaper V magazine and food magazine Repete.