These bowls are a nod to Chipotle's sofritas, but with all homemade toppings that are easier to put together than you might think. Easily dig into a Sofritas Burrito Bowls on a weeknight.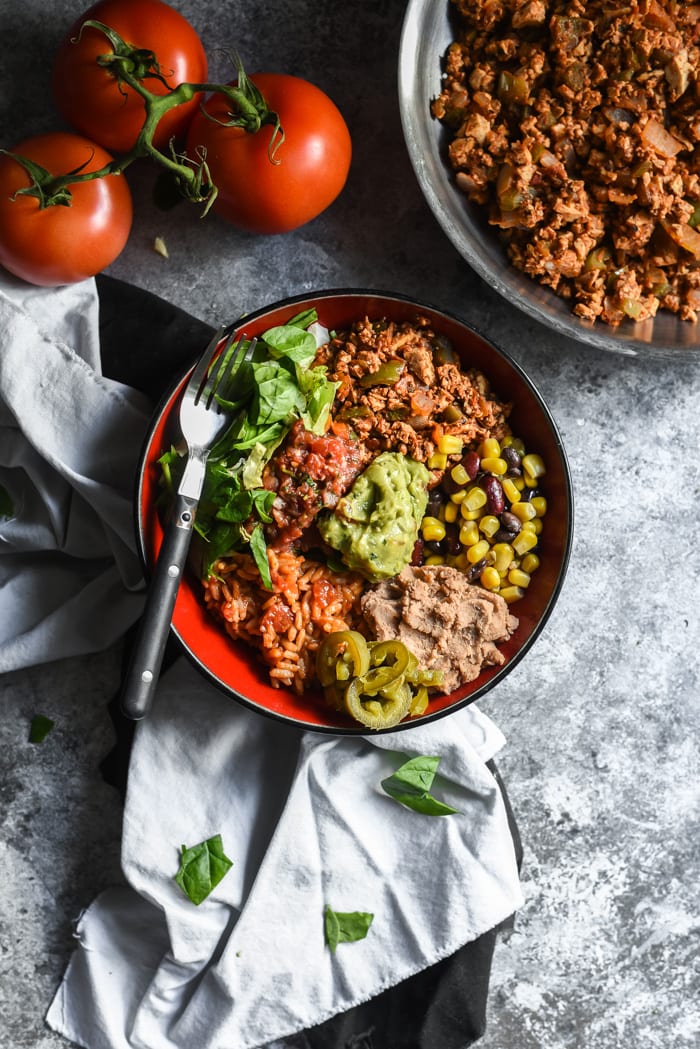 These bowls are a nod to the popular restaurant chain's menu item, sofritas. I'd never actually tried this, much less made it, until this past Summer. My cousin came to visit and asked if I'd ever made it before and you guys know I'm a sucker for trying things I've never tried before. Anyway, I feel like she deserves the credit for this very belated recipe showing up today.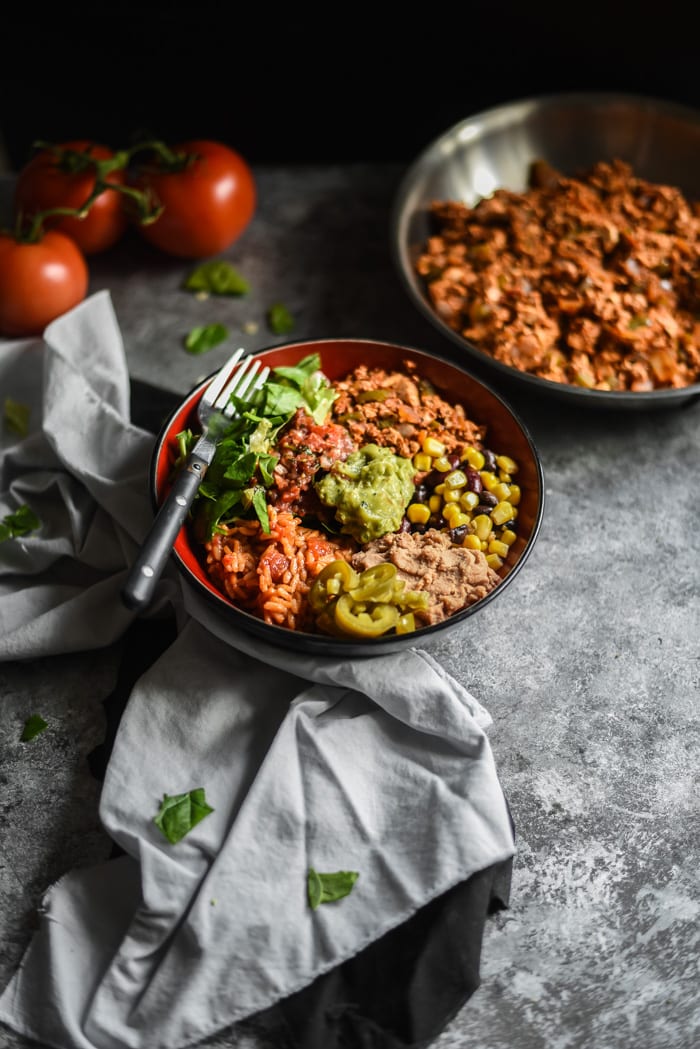 The rest of the bowls are pretty self-explanatory. I went very simple with everything except for the rice and the sofritas. If you're making this for your family you can obviously change up what you put in your bowls. You can also skip making the Spanish rice and simply serve plain steamed rice if you like. Using this all as filling for tacos and burritos is also an option. Oh, or make loaded nachos!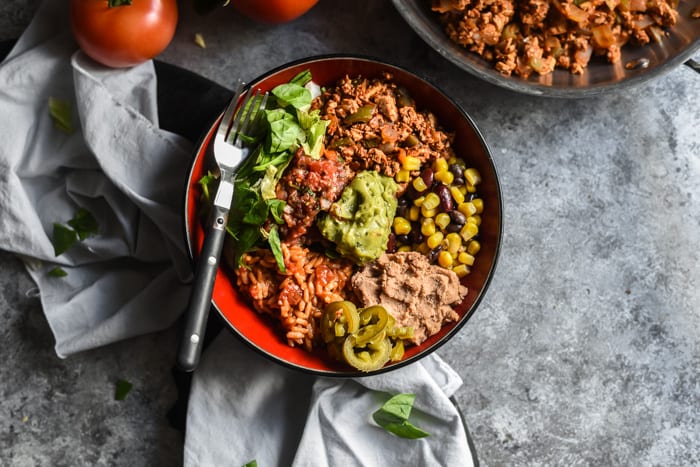 Now let's talk a bit about the sofritas. For anyone who's unfamiliar with Chipotle, you may be wondering what it even is. Well it's basically taco seasoned tofu and it's surprisingly delish. I honestly don't use tofu very often but it's been growing on me recently. As for the cooking method, you start by "frying" the tofu. I know it's typically done with oil but I've left it as optional in the recipe.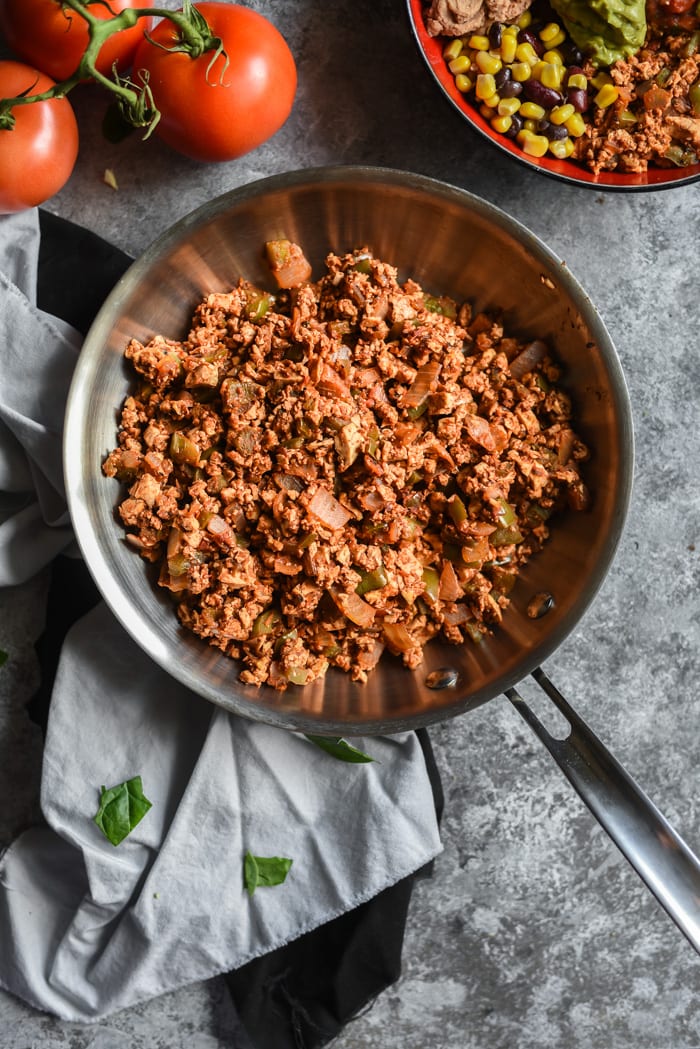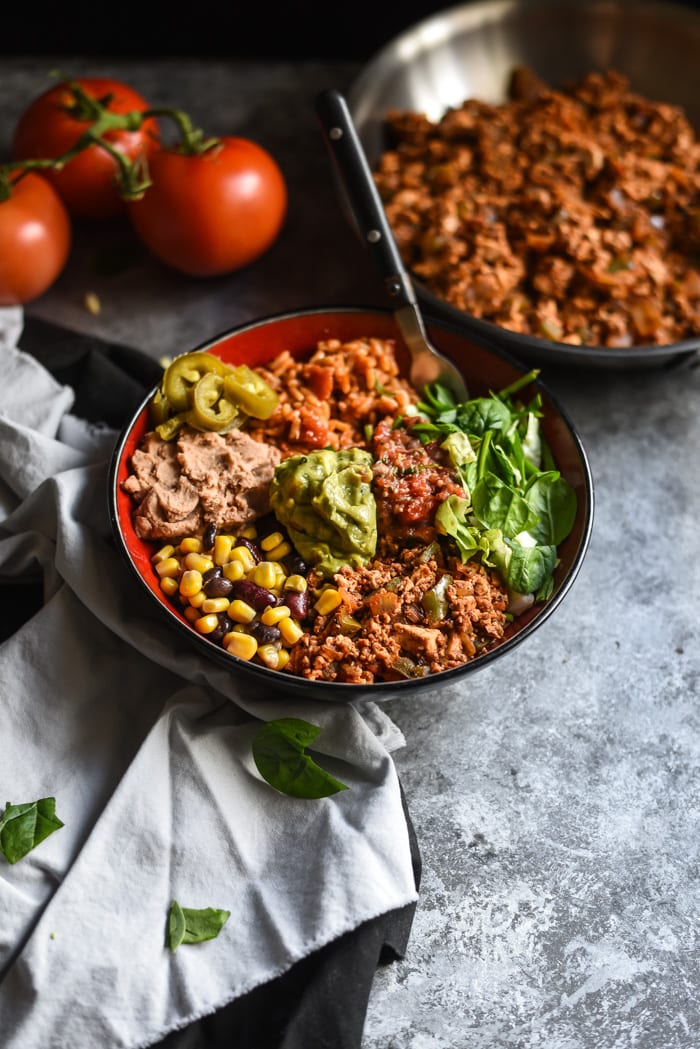 Click HERE for my sofritas recipe.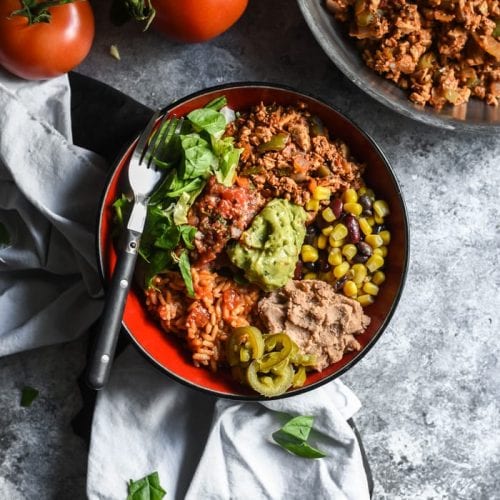 Sofritas Burrito Bowls
Tori Cooper
Ingredients
Sofritas

click the link above for the recipe
Spanish Rice:
2

tablespoons

olive oil

1

small onion finely chopped

3

cloves

garlic minced

2

cups

long-grain white or brown rice

1/4

cup

tomato paste

1

can diced tomatoes and green chiles

2

cups

vegetable broth

1

teaspoon

oregano

1/2

teaspoon

cumin

1

teaspoon

salt
Bowls:
2/3

cup

black beans + 2/3 cup whole kernal corn warmed

1

can refried beans warmed

2

cups

iceberg or mixed greens lettuce shredded
Instructions
Spanish Rice:
Combine onion and garlic in a large skillet with about 1/4 cup water and saute over medium high heat for 3 to 4 minutes until softened and browned. Pour in remaining ingredients, reduce heat to low, and cover. Simmer, stirring occasionally, for 25 to 35 minutes until rice is tender and liquid is absorbed. If the liquid is absorbed before the rice is tender add a bit of water to the pan.
Sofritas Tofu:
Click the link above for the recipe.
Bowls:
Fill your bowls with desired amounts of sofritas, rice, bean/corn mixture, refried beans, lettuce, salsa, and guacamole. Enjoy!
Tori Cooper
Tori is a food blogger with a passion for what she does. She shares all her recipes, photography, and bits about her life living in Patagnia Chile on her blog, Gringalicious.