The creamy-textured and slightly tangy, smoky-flavored dip is the perfect accoutrement for seeded, nutty crackers.
By Faith Gorsky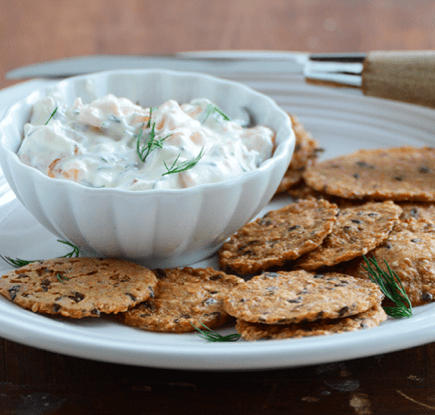 Smoked Salmon Dip
The creamy-textured and slightly tangy, smoky-flavored dip is the perfect accoutrement for seeded, nutty crackers.
Ingredients
4 oz (115 g) cream cheese, at room temperature (low-fat is fine)
¼ cup (60 g) sour cream (low-fat is fine)
1 teaspoon lemon juice
2 tablespoons minced red onion
1 tablespoon minced fresh dill, plus more for garnish
1 pinch black pepper
2 oz (60 g) smoked salmon, finely chopped
Salt, to taste
Instructions
Beat together the cream cheese, sour cream, and lemon juice until smooth.
Stir in the onion, dill, and black pepper, and then the salmon.
Taste and season with salt as desired.
Serve chilled with a little more fresh dill on top, along with crackers, sliced baguette, bagels, etc.
Faith Gorsky
Faith Gorsky is the writer, recipe developer, photographer, and food stylist behind the blog An Edible Mosaic. Her recently-released first cookbook, An Edible Mosaic: Middle Eastern Fare with Extraordinary Flair (Tuttle Publishing), is a collection of authentic Middle Eastern recipes handed down to her from her husband's family during her extensive time spent in the Middle East. Faith loves to travel, especially to places steeped in rich culture and history.