Mexican Braised Beef Tacos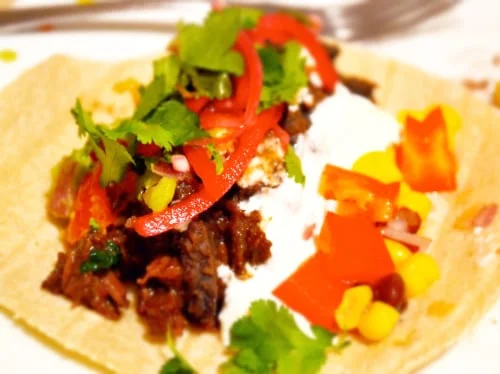 The Mexican beef was made unctuous and meltingly gelatinous by using the often-marginalized beef cheek.
By Helena Berthon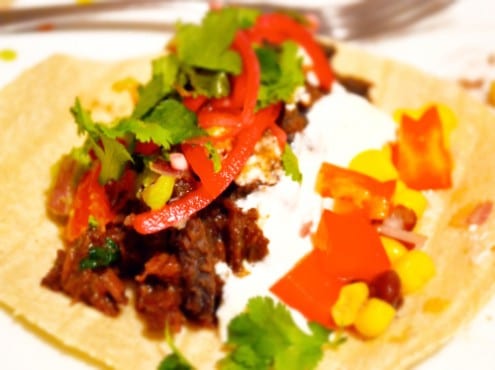 Marinated in a medley of authentically Mexican spices, and braised slowly in beef stock and lime juice, the meat became dark and deeply savoury, developing an umami-like quality.
Mexican Braised Beef Tacos
The Mexican beef was made unctuous and meltingly gelatinous by using the often-marginalized beef cheek.
Author:
Helena Berthon, adapted from The Huffington Post and Food 52
Ingredients
1.2 kg beef cheeks
1 dried red chilli
4 garlic cloves
1 tsp unsweetened cocoa powder
1½ tsps instant espresso powder
½ tsp cinnamon
2 tsps ground cumin
1½ tbsps natural peanut butter
4 tbsps olive oil (2 tbsps for the marinade, 2 tbsps for frying the beef cheeks)
1½ tbsps honey
1 tsp salt
1 handful fresh coriander, plus more for serving
1 cup beef stock
3 limes
Instructions
Clean and trim the beef cheeks. Cut them into large (2 inch) chunks. Put them in a container in which you can marinate them.
Rehydrate the dried red chilli in a little hot water, just enough to cover it. Combine all (including the chilli and it's water) the ingredients apart from the beef stock and limes in a food processor, and whizz until you have a paste. Pour the paste all over the cheeks and mix so that they are completely coated. Leave to marinate in the refrigerator for several hours or, better yet, overnight.
When it is time to cook, heat the oven to 140°C and heat 2 tablespoons of olive oil in a heavy bottomed casserole over a medium heat. Brown the chunks on all sides. Use the stock to rinse the rest of the marinade into the casserole, then squeeze in the juice of the limes.
Braise for about 3½ hours, giving the cheeks a stir once or twice while they cook. If the liquid dries up, add a bit more stock.
When the cheeks are fall-apart tender, use two forks to pull the meat apart in the pan so that it mixes in with all the fatty juicy goodness.
Serve in fresh corn tortillas.
Helena Berthon
Helena is a huge foodie making the most of the explosive gastronomic scene in London, England. She has had her own food blog, http://hellyfillsherbelly.com, for almost two years in which she combines recipes and food styling, with witty and engaging stories. At the moment, she's working all hours in the world of food television, which although hard work, is the perfect opportunity to taste some top notch food. She loves eating, restaurants and cooking, and can't imagine a life that doesn't revolve around food.