Surprisingly, this cashew nut milk is supremely thirst-quenching, and a perfect refreshing remedy for a hot summer day.
by Jessie Chien Bryson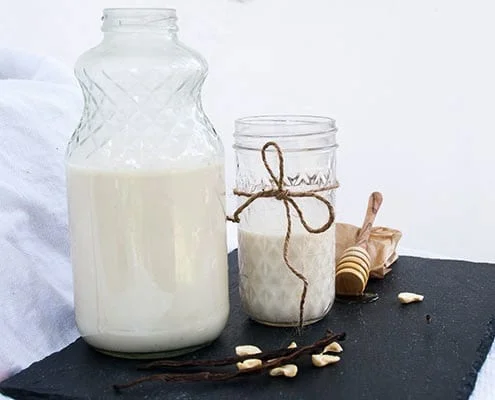 I've recently discovered the world of nut milks – almonds and walnuts and cashews, oh my! This cashew milk recipe, which includes a bit of honey for sweetness and a vanilla bean for maximum fragrance, is by far my favorite. It's been replacing boring-ol' milk in my cereals, poured into oatmeal, splashed into tea, and whirred up in my morning smoothies. I'm already dreaming of cold weather nights, when I can curl up with a warm cup of cashew milk, spiked with cloves!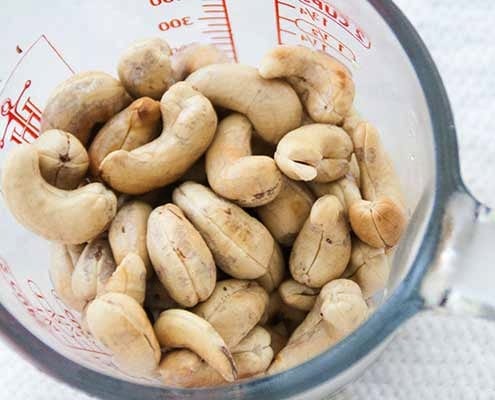 Cashew Nut Milk with Honey and Vanilla
This quenching nut milk is rounded out with a spoonful of honey and vanilla, and a pinch of sea salt for good measure!
Author:
Jessie Chien Bryson
Ingredients
2 cups unsalted cashews, soaked overnight
5 cups water
1 Tbsp Honey
¼ tsp ground cinnamon
1 vanilla bean
Pinch of sea salt
Instructions
Soak cashews in water in a small bowl overnight. Cashews should be puffy and plump the following day.
Drain cashew nuts. Combine in blender with 5 cups water, honey, cinnamon, and one whole vanilla bean. Add a pinch of salt to heighten flavors, if desired.
Blend on high for 30 seconds, or according to your blender's specifications, until vanilla bean and cashews are thoroughly pulverized.
Set a strainer lined with a cheesecloth over a medium sized bowl. Pour cashew milk into the strainer, and let drain for 5-10 minutes. When most of the liquid is drained, gather corners of the cheesecloth and wring out remainder of the milk liquid. Discard solids (or, use in a smoothie!!)
Transfer to an airtight and/or glass container and refrigerate at least a few hours, or overnight if possible. Will keep for up to 5 days.
Jessie Chien Bryson
Jessie Chien Bryson grew up spending sunny California Thanksgivings eating 20lb. free-range turkeys along with sides of Chow Mein, which is what she thinks cemented her insatiable interest of food cultures and sustainable methods as an adult. She recently spent two years in Guangzhou, China, where the locals were said to eat anything with four legs but a table and anything that flies but a plane. She's now on the other side of the world in Dar es Salaam, Tanzania, where she keeps a diary of food, travel, and expat adventures at www.jessbopeep.com