Who doesn't love true low-and-slow smoked pork ribs?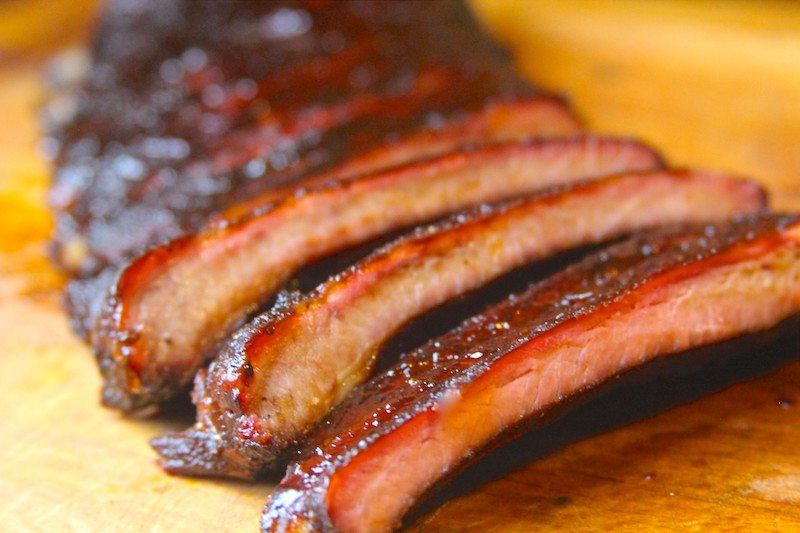 Founded in 1999, Snake River Farms has been passionate about delivering the finest eating experiences, a luxury once reserved exclusively for the world's most esteemed restaurants. Featured on the menus of three-star Michelin-rated restaurants, Snake River Farms products include American Wagyu beef, fresh Kurobuta pork and gourmet hams. The family-owned business began with a small herd of Wagyu cattle from the Kobe region of Japan. The Wagyu bulls were crossed with premium American cattle to form a proprietary herd that has developed into one of the finest groups of American Wagyu cattle in the U.S. Along with their American Wagyu beef and Berkshire pork, Snake River Farms also makes gourmet hamburgers, hams, sausages, frankfurters and hardwood smoked bacon. All products are made with only the finest ingredients to ensure an exquisite eating experience.
Take ribs over the top with Snake River Farms Kurobuta ribs, giving them the perfect kiss of smoke and flames, and finishing them with a flavor packed apple and apricot glaze.
Smoked Pork Ribs with Apple and Apricot BBQ Glaze
(serves 4)
Ingredients
¼ cup Brownulated® sugar (available in the baking aisle of your local grocer)
¼ cup Kosher salt
2 tbsp. smoked paprika
2 tbsp. ground ginger
2 tbsp. garlic powder
1 tbsp. onion powder
1 tbsp. chili powder
1 tsp. dried oregano
1 tsp. dried thyme
¼ cup yellow mustard
2 racks Snake River Farms Kurobuta spare ribs OR 4 racks Snake River Farms Kurobuta baby back ribs
Apple and apricot barbecue glaze (recipe follows)
Instructions
Prepare grill for indirect heat grilling, placing a water-filled disposable aluminum pan in the center of the bottom charcoal grate and adding pre-heated charcoal briquets on either side of the pan. Add 3-4 chunks of your favorite smoking wood to the charcoal, replace the main cooking grate, and close the bottom air vents almost entirely for low heat cooking (approximately 250 degrees).
To begin preparing the ribs, remove the tough membrane from the bone side of each rack by sliding a butter knife under one corner of the membrane then grasping it with a dry paper towel to pull it off completely.
Combine Brownulated® sugar, salt, paprika, ground ginger, garlic powder, onion powder, chili powder, dried oregano, and dried thyme in a small bowl and stir to combine.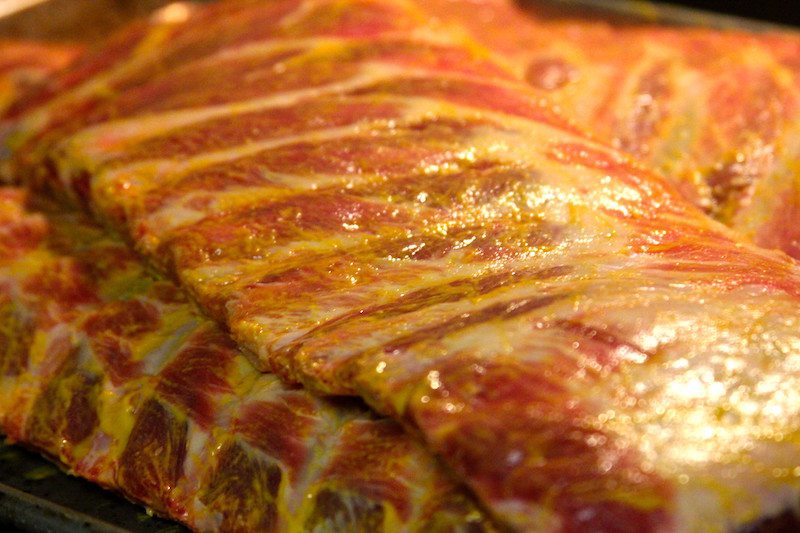 Coat the ribs with a thin layer of yellow mustard then season liberally on both sides with the BBQ dry rub mixture.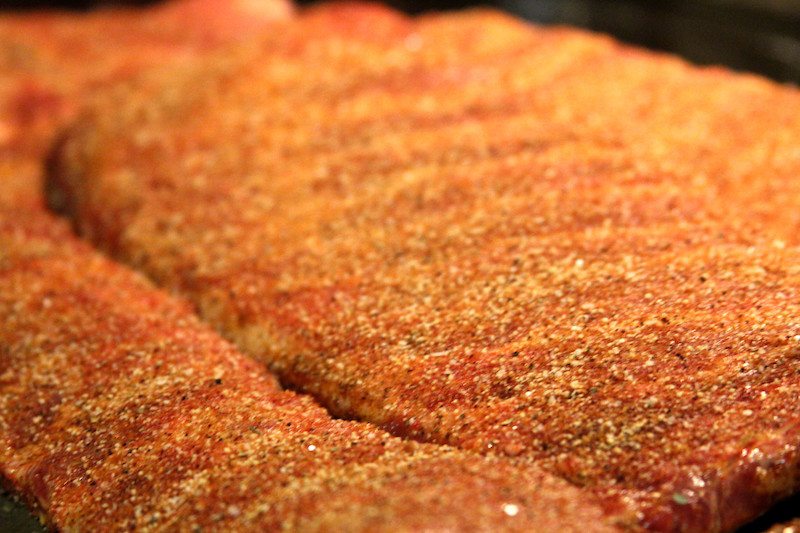 Place ribs in the center of the main grill grate directly above the water pan.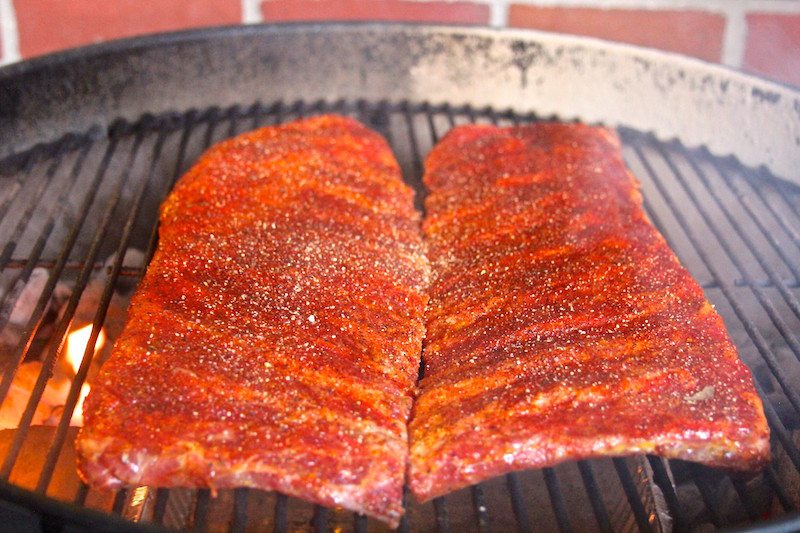 Cover the grill and allow the ribs to smoke for approximately 3.5 hours for spare ribs and 2.5 hours for baby back ribs until they bend approximately 45 degrees when held from one end with tongs.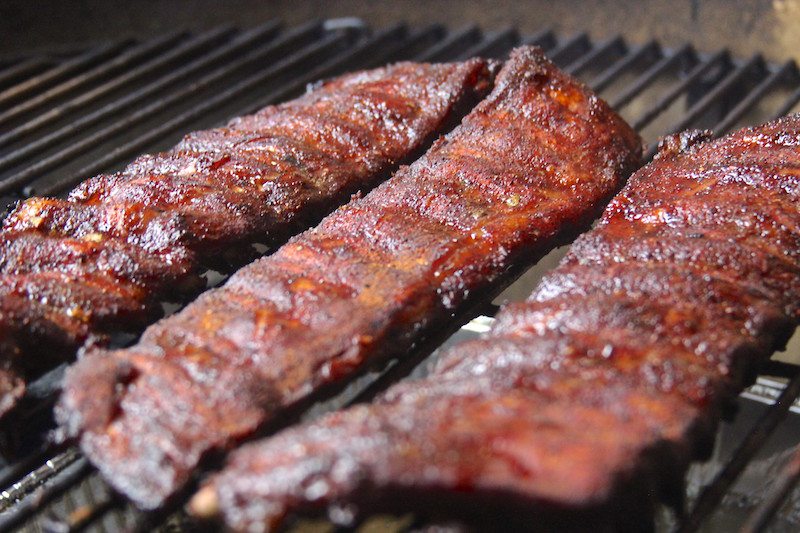 Coat both sides of each rack with the apple and apricot barbecue glaze and return them to the grill for 5 minutes to allow the sauce to set.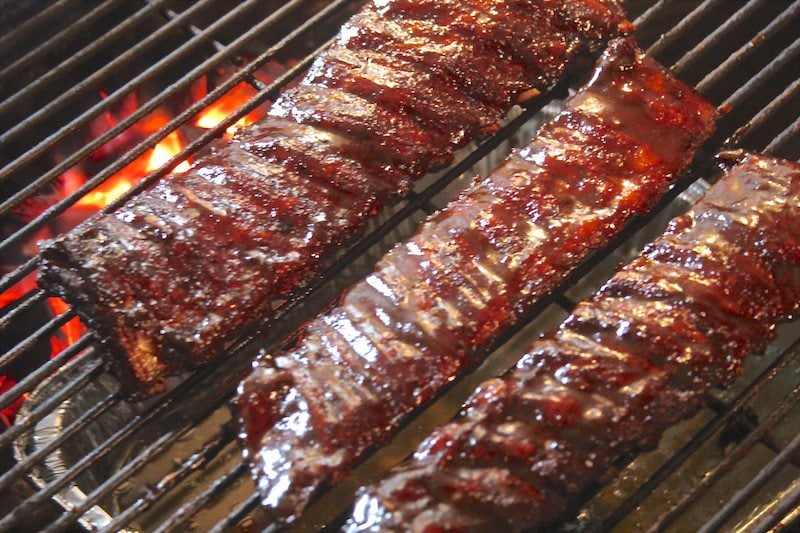 Remove the ribs from the grill, slice, and serve.
Apple and Apricot Barbecue Glaze
While there are many recipes out there for homemade barbecue sauce, this is a quick and easy method for taking store-bought sauce and making it your own with the addition of just a few extra ingredients.
Ingredients
18oz. bottle of your favorite barbecue sauce
¼ cup apple juice
¼ cup apricot preserves
2 tbsp. unsalted butter
Instructions
Combine the barbecue sauce, apple juice, and apricot preserves in a small saucepan and simmer over medium-low heat for approximately 10 minutes until the apple juice has reduced slightly and the sauce has thickened. Stir in the butter and allow the sauce to sit over low heat until ready to use.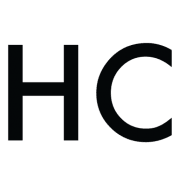 Reena Retuta
As a Culinary Adventurist, getting her hands into food before it gets onto the plate comes naturally to Reena. She spit-roasted her first whole pig at the age of eight, harvested hazelnuts in Italy, butchered a lamb at a ranch in Australia, spent a summer splitting open live lobsters at a traveling pop-up kitchen in Holland, and visits a small vineyard along the central California coast to make wine and olive oil each year. She's determined to find the elusive white truffle in her lifetime. A graduate from the University of Gastronomic Sciences in Italy, Reena holds a deep appreciation for cultural traditions in food, and her favorite simple pleasure is sharing a meal al fresco.