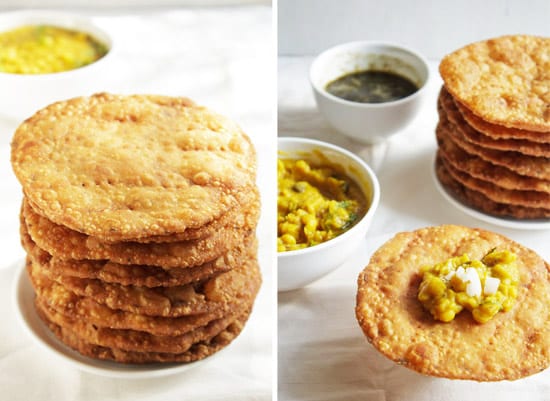 Pakwan is a deep fried, crisp bread flavored with carom seeds, cumin and crushed black pepper that is served for breakfast.
By Dassana Amit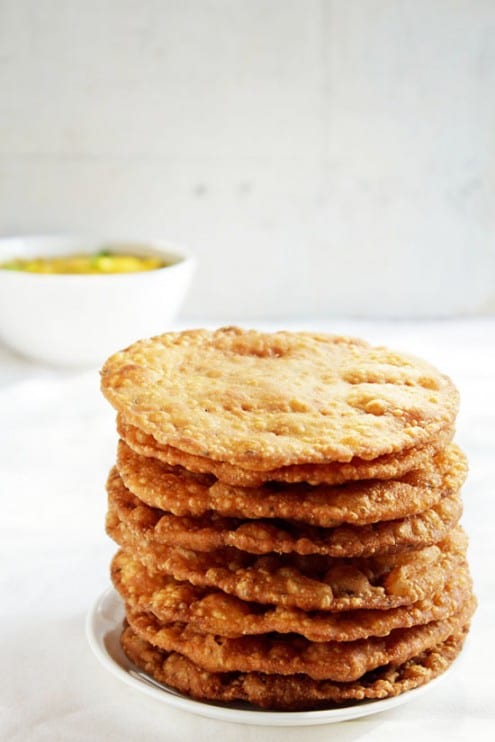 Sindhi Pakwan
Pakwan is a deep fried, crisp bread flavored with carom seeds, cumin and crushed black pepper that is served for breakfast.
Ingredients
1.5 cups all purpose flour/maida
1.5 cups whole wheat flour/atta
1 tsp ajwain/carom seeds
1 tsp cumin
1 tsp crushed black pepper
1 tsp salt
¾ cup water or as required
2 tsp oil or ghee
Instructions
mix all the ingredients in a mixing bowl or on a wide plate/parat.
knead to a semi soft dough.
make small balls of the dough.
roll them into 7-8 cms discs or circles.
prick with a fork.
fry in hot oil till the pakwans are crisp and golden.
drain the pakwans on paper towels to remove excess oil.
serve pakwan warm with sindhi dal or you can also have them plain with tea.
Dassana Amit
Dassana never intended to start a food blog. She never ever thought about blogging in her wildest of dreams. Her only passion in her life was meditation. As she went deeper in meditation, she realized that her inborn gift of cooking delicious & healthy food needs some creative expression. So she started her blog " Veg Recipes of India " as an outcome of creative flowing energy. Now she has also combined her another gift i.e photography with cooking. When not blogging & food photographing - she works as a web developer and seo expert.