These berries brighten a classic G&T, but they're also great on their own, served alongside cheese and charcuterie.
By Debra Smith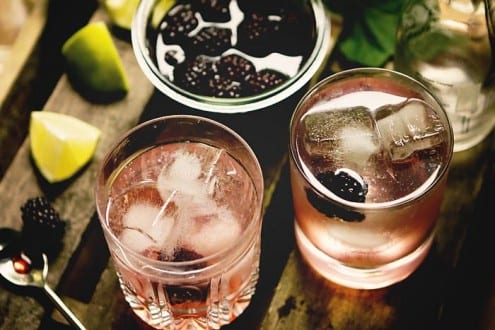 Pickled-Berry Gin and Tonic
These berries brighten a classic G&T, but they're also great on their own, served alongside cheese and charcuterie.
Serves:
4½ cups of berries
Ingredients
For the pickled, spiced berries:
8 black peppercorns
3 allspice berries
2 juniper berries
One ½-inch piece of fresh ginger, thinly sliced
1 small bay leaf
2 cups red wine vinegar
2 cups water
6 Tablespoons sugar
3 Tablespoons kosher salt
1 shallot, quartered lengthwise
1 sprig fresh thyme
18-ounces fresh blackberries
For the Gin and Tonic
3 cubes of ice
1-ounce gin (we love Watershed Distillery's Four Peel Gin)
5-ounces tonic
pickled blackberries (more or less to your liking)
1-2 Tablespoons spiced liquid (to taste)
Instructions
For the berries:
Lightly crush the peppercorns, allspice, juniper berries, ginger and bay leaf on a cutting board with the back of a cast iron pan (you can also use a mortar & pestle or place in a plastic zip-topped bag and give it a couple of good whacks with a rolling pin)
Transfer to a medium saucepan and add the vinegar, water, sugar, salt, shallot and fresh thyme
Bring to a boil, whisking to dissolve the sugar and salt; let the brine cool completely (you'll cook the fruit if you don't – not what you're looking for here)
Strain the brine into a large, clean measuring cup
Divide the fresh berries evenly among clean jars and top with cooled brine
Cover and refrigerate for at least 1 week before serving, 2 is even better
For the gin and tonic:
Mix all ingredients together and serve
Debra Smith
Debra and 'The Professor', Midwest-based husband and wife freelance videographers, photographers, writers, storytellers, and publishers of the Smith Bites. Using images, words, music and video, they connect the stories about food, friends and family to the world around them.