It doesn't take much work to get this wonderful swiss chard frittata ready.
By Sara Clevering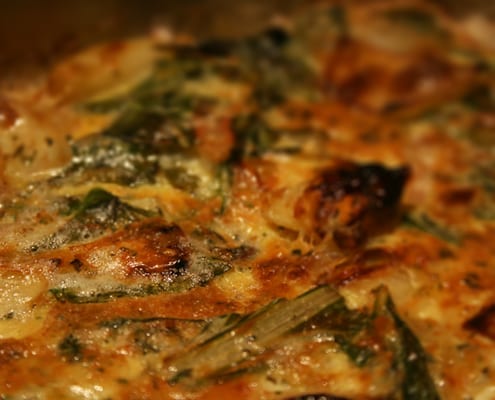 Simply delicious. The onions were deliciously sweet after a slow saute and the chard added texture and color. This was equally good the next day for lunch, and I imagine would also have been delicious between two slices of French bread as a sandwich (something like the spanish bocadillo de tortilla is coming to mind here…). Nice and relaxed eating. While this takes longer than you'd expect for an omelet, it's not much work and most of that is some rough chopping and a few stirs here and there so you can enjoy your appetizers (or wine, or whisky sours?) while you wait for dinner to be ready!
Simple Swiss Chard Frittata
It doesn't take much work to get this wonderful swiss chard frittata ready.
Ingredients
3 tablespoons (or so) of olive oil
1 medium sized onion, roughly chopped
1 bunch swiss chard, leaves only.
1-2 cloves of garlic
6-8 eggs
½ teaspoon each of dried thyme and basil (or more if you have fresh herbs)
1 cup of swiss cheese (yes, I used pre-grated that I found in the fridge).
Instructions
Saute the onions in the olive oil over medium heat, for about 10 minutes or until soft.
Add the roughly chopped chard leaves and saute for another 10 minutes. In the meantime, mash the garlic clove together with a few pinches of salt; I find that a fork works quite well for this not having a mortar and pestle.
Beat the eggs and mix in the garlic paste and herbs. When the chard mixture is ready, stir it into the eggs.
Add a little more oil (an extra tablespoon or so) to the pan and return the entire mixture to the pan.
Preheat the broiler.
Cook over low heat until the eggs appear to be set, while still raw on top, about 10 minutes.
Put under the broiler to brown the top and serve.
Sara Clevering
Sara sees cooking and baking as a delicious way to connect with the past and travel the world from her kitchen. She is commited to preparing homemade, unprocessed meals for her family and is always looking for tricks to fit this into a busy schedule. Sara is currently in the Boston area after several years living in London, Spain, and the Czech Republic, and travelling extensively in Eastern and Western Europe, always making sure to experience local culture through food. She also blogs with her sisters at www.threecleversisters.com