This lentil salad is loaded with protein-power lentils, fresh and crunchy vegetables, sweet and intriguing apricots and an oriental dressing that is a small spice explosion in your mouth! Enjoy the different textures, colors, and tastes and feel yourself transported to another world.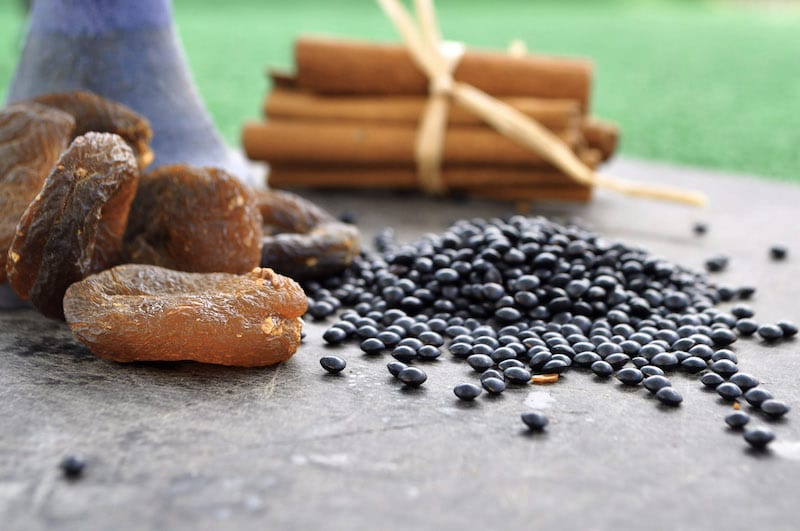 Morocco is one of these countries that always evokes a longing for traveling, seeing exotic places, spending a night in the desert under the stars, trying out bold and fascinating food, visiting an Arabic souk with all its sounds and smells and simply exploring a new, beautiful world. The german word for this feeling would be Fernweh, which would be loosely translated to wanderlust. It's so bittersweet and the sun seems so out of reach when you look outside the window and see nothing but gray and fog and rain… But the nice thing is that you can actually feel a distant world building around you as you taste this salad, letting your imagination take you to this oriental 1001 night fairytale.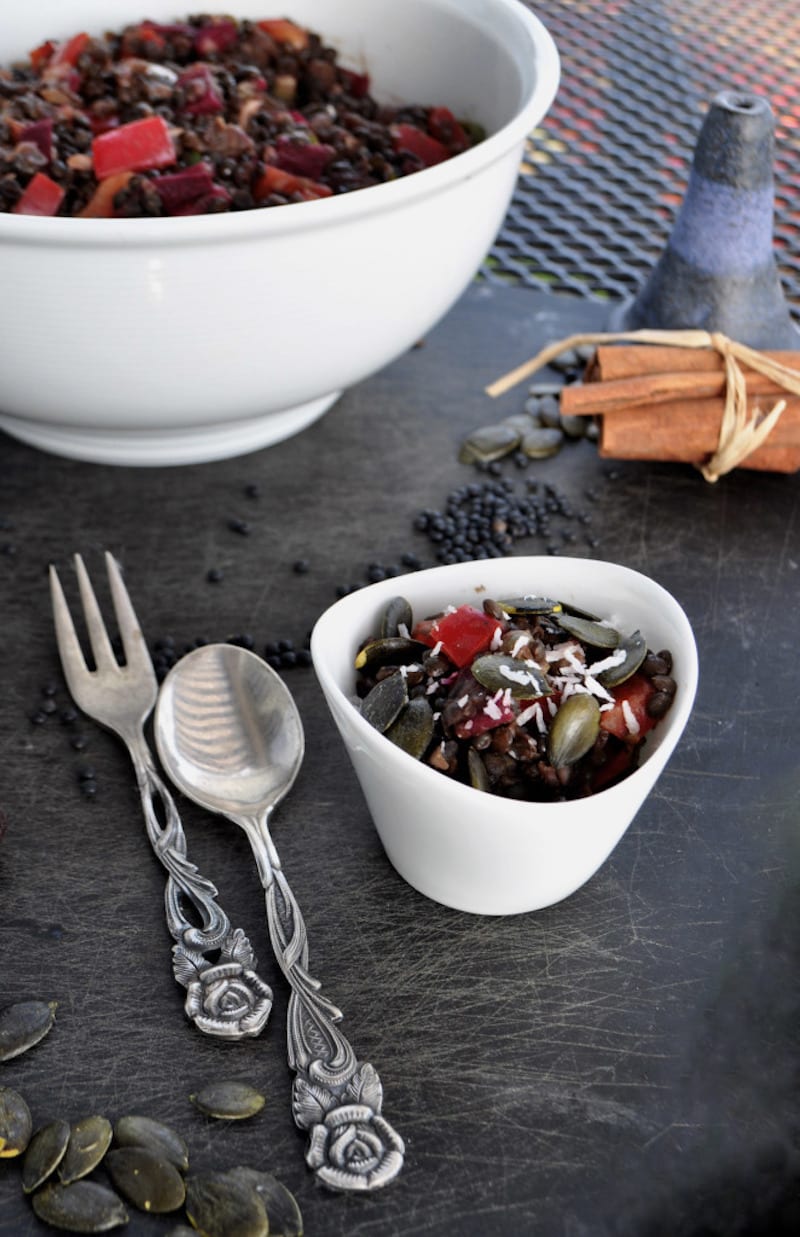 When I first made it, I was a little worried putting together all these different spices, firstly because I thought it would be too strong and secondly because some of them weren't my favourite spices in the whole world, but I decided to simply trust the recipe and I am so glad I did.
Beluga Lentils are a small, dark and – when cooked correctly – quite chewy sort of lentils. They contain lots of molybdenum and iron, which helps oxygenate the blood and release cellular energy. They also are quite the fibre bombs and help keep cholesterol at healthy levels and their high amount of Vitamin B1 is good for regulating the nervous system and maintaining a steady heartbeat. And, of course, lentils are a fabulous plant-based protein option, delivering a stunning amount of around 18 g protein per 1 cup cooked!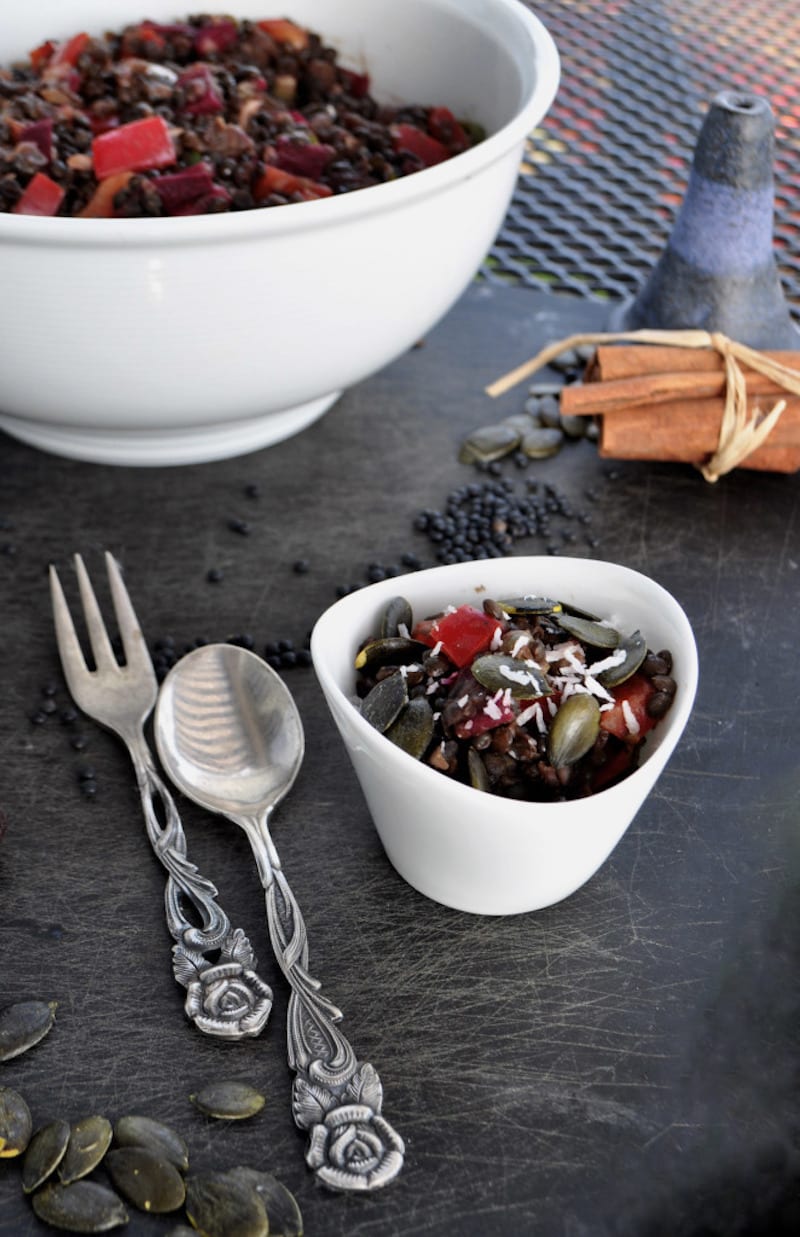 Attributes to all the amazing spices are so numerous, it's incredible. Just to name a few; cinnamon helps regulate your blood sugar, while cardamom can aid clearing congestion, coriander is a great aid in digestion and cumin and turmeric are both rich in anti-inflammatory antioxidants. Turmeric can also shine with its anti-cancer substances and its help in preventing free-radical damage to the brain as well to hardened arteries and it is also able to relieve arthritic pain!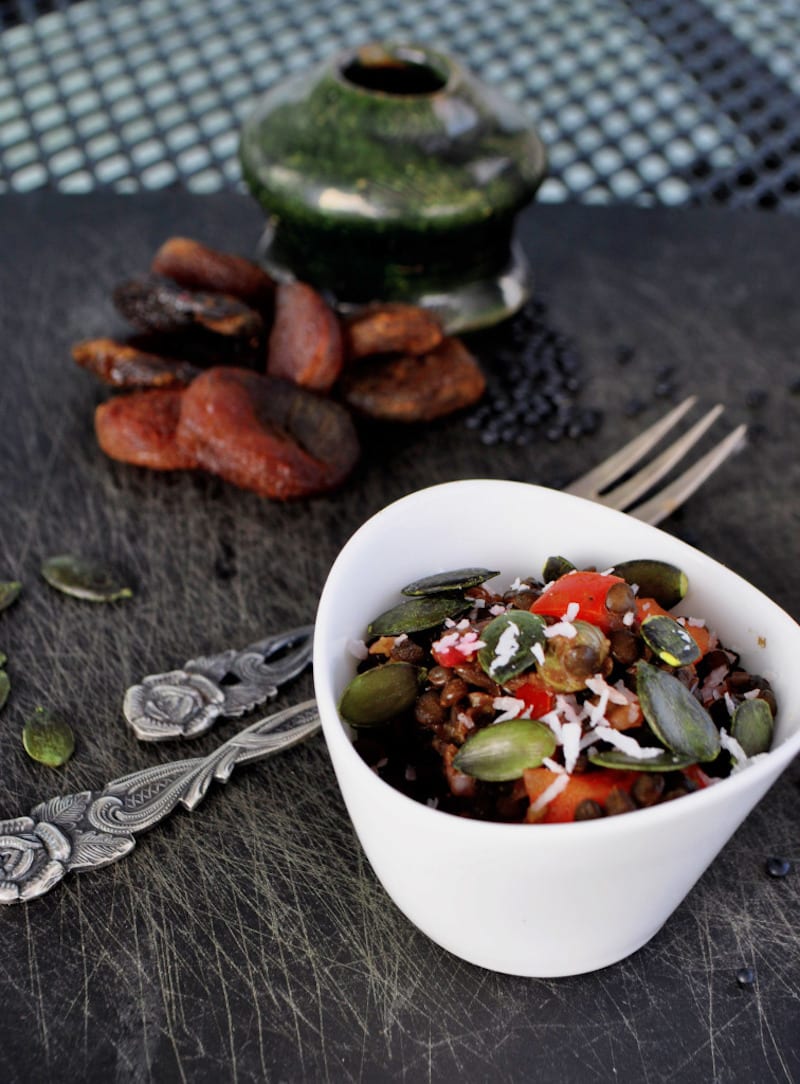 See Also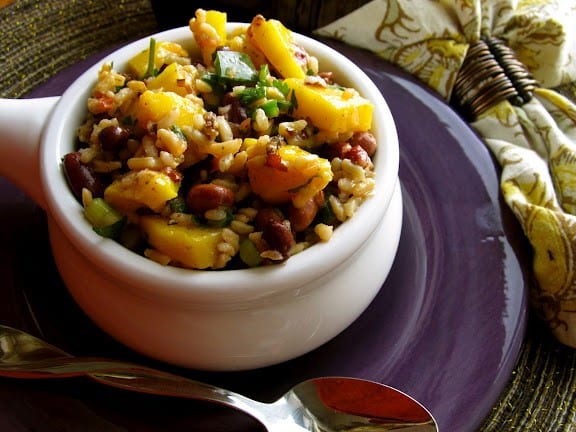 Dried apricots are not only a deliciously sweet treat, they actually contain a lot of fibre, which helps maintain bowel regularity, as well as vitamins A, C, E and surprisingly quite a lot of iron – approximately 10 % of your daily value per 1/4 cup!
Serve this salad whenever you want to make an impression, maybe for a dinner party or other potluck event, maybe all for yourself. As with most salads that are loaded with a lot of spices, this one tastes even better 1-2 days after you make it, so don't be afraid to make a generous amount and stock it in the fridge, it should last at least a week.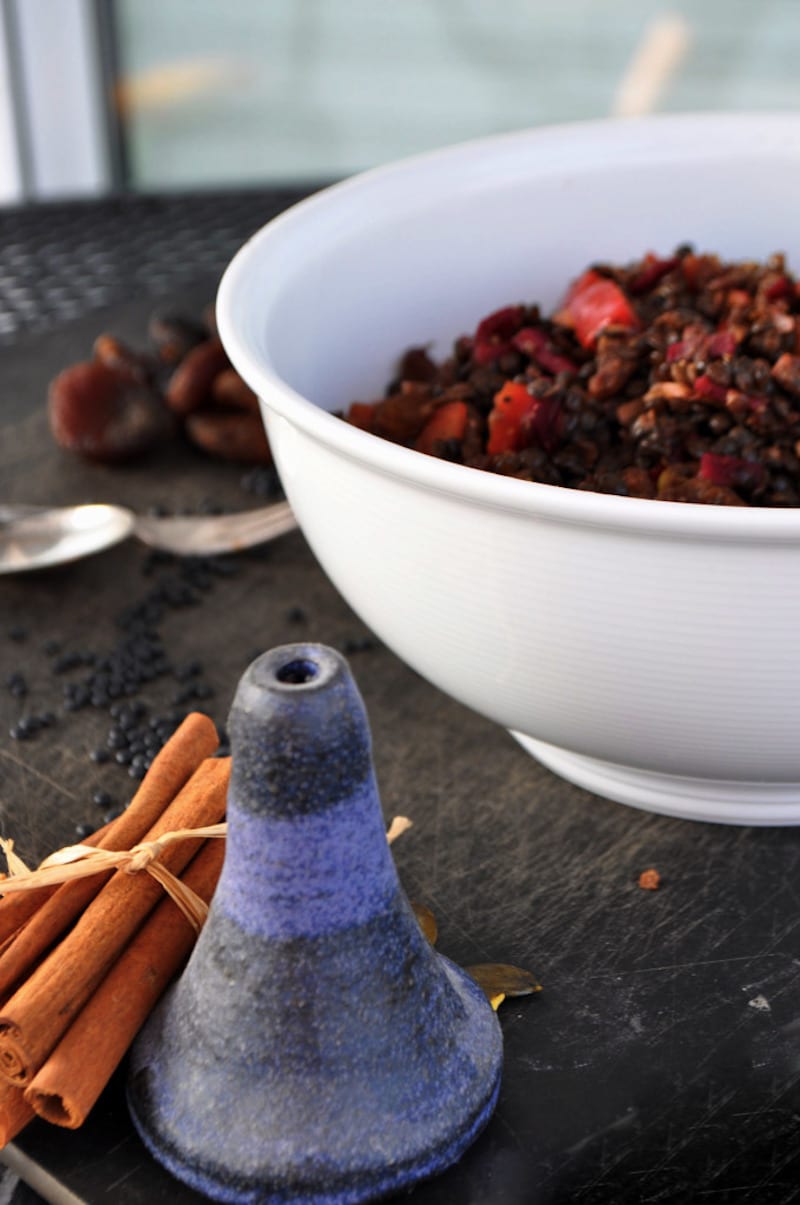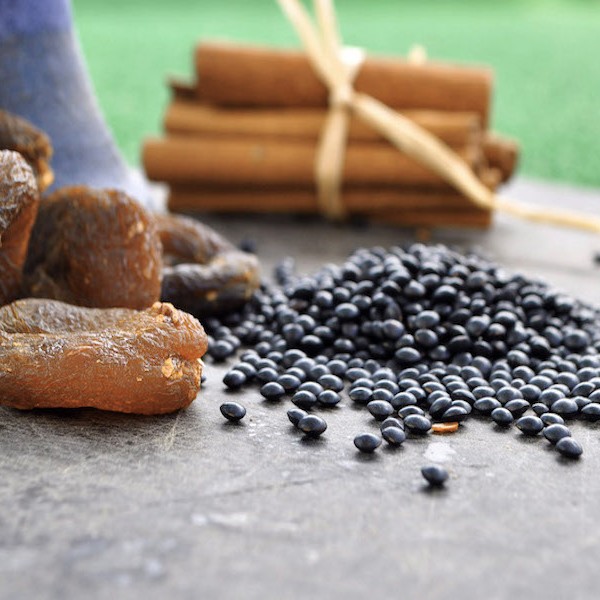 Maike Holland
Ingredients
For the dressing:
¼

cup

olive oil

¼

cup

apple cider vinegar

1

tbsp

maple syrup or honey

1

tbsp

dijon mustard

2

tsp

salt

2

tsp

black pepper

1

tsp

cumin

½

tsp

turmeric

½

tsp

coriander

½

tsp

coriander

pinch

of cayenne

pinch

of cloves

pinch

of nutmeg

½

tsp

cinnamon
For the salad:
500

g

beluga lentils

1 standard package, cooked

1

big red onion or 2 medium yellow onions

finely chopped

1

cup

finely chopped dried apricots

sulphured or other dried fruit (raisins are divine)

1

big red bell pepper

finely chopped

1

carrot

finely chopped
To garnish:
A sprinkling of coconut

pumpkin seeds, hazelnuts, walnuts or other nut or seed of choice

cocktail tomatoes chopped in quarters
Instructions
Prepare the lentils according to the package. Be sure not to overcook them as they shouldn't be mushy at all but remain with a nice bite to them!

While the lentils are cooking, prepare the dressing. Whisk together the oil, apple cider vinegar and mustard, then add the maple syrup.

In a small glass bowl, measure out the spice mix and then add all the spices to the dressing and mix vigorously by putting it in a small glass jar and shake.

Chop the onions, peppers, carrots and apricots and add them to the cooked lentils.

Pour over the dressing and mix well, until the creamy dressing is coating everything evenly.

Let cool completely before enjoying! It tastes even better after a day/night in the fridge as the spices will deepen their flavour over time.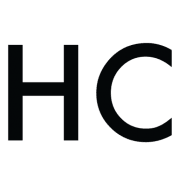 Maike Holland
Maike is a health food blogger, breakfast enthusiast, yoga lover and trying to inspire and help you create beautiful, plant-based food! Her recipes are focusing on nourishing and unprocessed ingredients that are simple to prepare, easy to cook and result in delicous meals. She is from Germany and constantly trying to gain more knowledge about nutrition and food fotography. Follow her on instagram for daily inspiration: instagram.com/elderflowerkitchen/