Try this easy Sicilian summer recipe of eggplant rolls filled with tomato, basil, and cheese.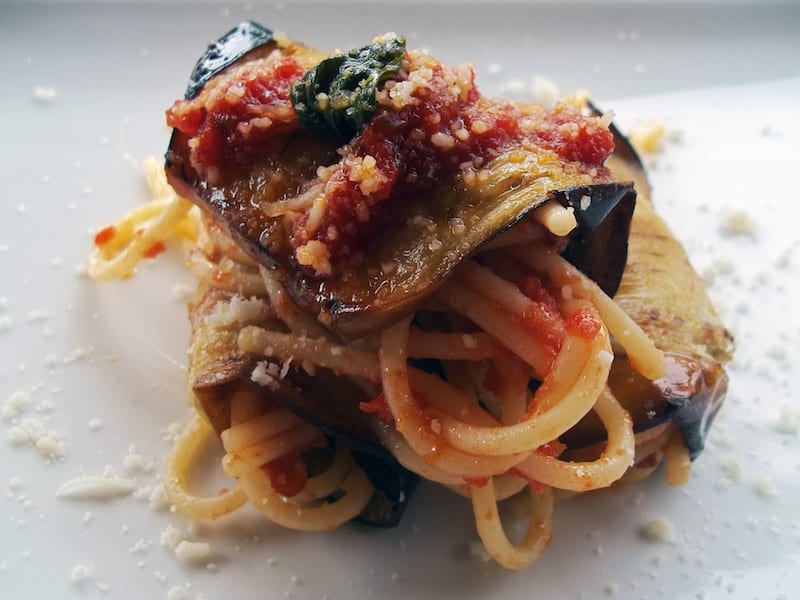 Giuseppe Giustolisi
Basic and fast Sicilian summer recipe with all the flavors all of eggplants from the garden. Serve immediately or left gratin in the oven, the eggplant rolls are a simple but tasty idea with for a delicious Mediterranean dish.

Simple Eggplant Rolls
Ingredients
320 g (11 oz) spaghetti (Italian spaghetti, made with durum wheat)
2 eggplants (aubergines)
Extra virgin olive oil, to taste
500 g (17 oz) tomato pulp
Sea salt, to taste
A sprig of fresh basil
Grated Grana Padano or Parmigiano Reggiano cheese, to taste (or grated vegan cheese)
Instructions
Wash, cut the eggplants and let them soak in salted water for 30 minutes.?Dry the eggplant and fry.
Cook the tomato pulp in a pan with salt. At the end of cooking, add 2-3 tablespoons of extra virgin olive oil and two or three basil leaves.
Cook the spaghetti, al dente, in boiling salted water.
Place the pasta inside the eggplants and wrap. Season with 1 tablespoon tomato pulp and grated cheese.
Serve immediately.