With the dog days of summer coming to an end, a celebratory bash is mandatory to wrap up the steamy season. While burgers are a staple for any summertime bash, to get the party really started having signature summer cocktails  are  a must.
There's nothing quite like a juicy patty hot off the grill and paired with the perfect summer cocktails, you're party will be a hit. Whether you're flipping a Harissa Lamb Burger with Feta and Pickled Onions, a Cheddar and Black Bean Burger  or a Classic Cheeseburger, these summer cocktails will have the crowd smiling from dawn till dusk.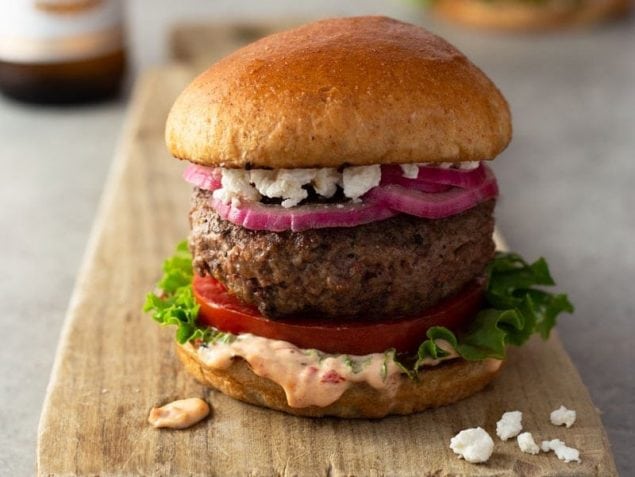 As stated in the the original article by GQ, the key to pair burgers is to keep your summer cocktails simple. "Burgers often have a lot going on, a burger needs something that is both light and refreshing  and also has enough flavor to stand up against all the fixings," says Stephanie Jones of The Clifton in Charlottesville, Virginia. Whereas Johnel Faelnar of Atoboy in New York comments " there is wine for every food" Including a nicely charred burger.
See below for signature summer cocktails: 
Swap the liquor for wine in this punch recipe. The splash of lemon juice in this recipe really pulls it together, and  dash of pomegranate juice to make it evermore delightful.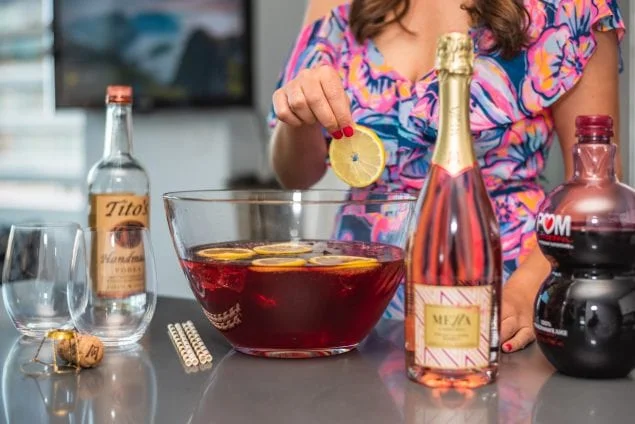 Ingredients:
16 oz. Pomegranate Juice
¼ Cup of Fresh Lemon Juice
12. Oz Citrus Vodka
1 Chilled Bottle of Mezza di Mezzacorona Rosé
12 oz. of Seltzer Water
Sliced Lemon for Garnish
Method: Pour all ingredients into a large bowl with ice. Add in a bottle of chilled bottle of Mezza di Mezzaocorna Rosé. Stir and garnish with sliced lemon. Serve in chilled cocktail glasses with ice.
This mellow, slightly bitter gin-based cocktail is made with grapefruit soda, rosemary-basil syrup, lemon, and Whitley Neill gin.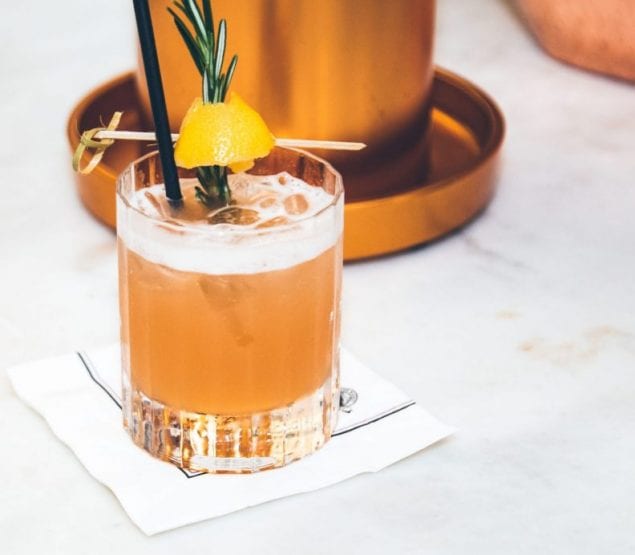 Ingredients:
1.5oz Whitley Neil Gin
.75 oz grapefruit soda
0.75 oz rosemary basil syrup
0.5 oz lemon juice
Topped with ginger beer
Instructions for the cocktail: Pour gin, grapefruit soda, and syrup into a tin, and shake. Pour into a rocks glass. Top with ginger beer and garnish with rosemary sprig and lemon peel.
Ingredients for the rosemary basil syrup:
2 cups chopped rosemary
1 cup basil leaves
3 cups water
1 cup sugar
Instructions for the rosemary basil syrup: Simmer chopped rosemary and basil leaves (for every quart serving) in water for about 30 minutes to extract flavor, then strain away pulp and mix sugar to desired strength.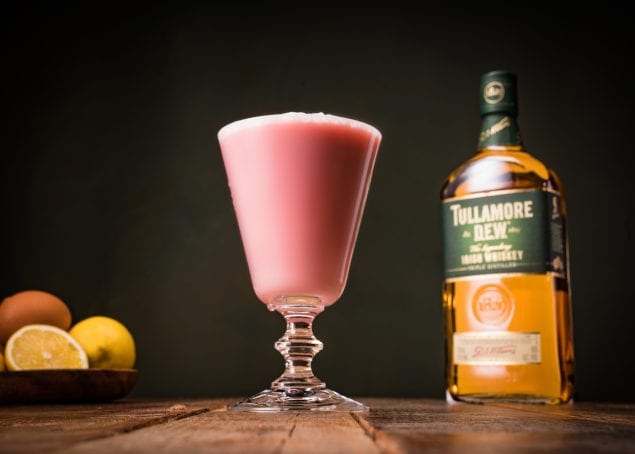 1 ½ part Tullamore D.E.W. Original or Triology
½ part Grahams LBV Port
½ part Lemon juice
¾ tsp Sugar
½ part Egg white
2 dashes Olive Oil
Top of Soda
Method: Combine all ingredients in a small Fizz glass. Serve!
A twist to the mojito,  sweet and spearmint-flavored, the cocktail is named after the herb that gives it its flavor, la yerba buena. This refreshing cocktail is made with Papa's Pilar Blonde Rum, lime juice, house made 'mojito syrup,' and mint bitters.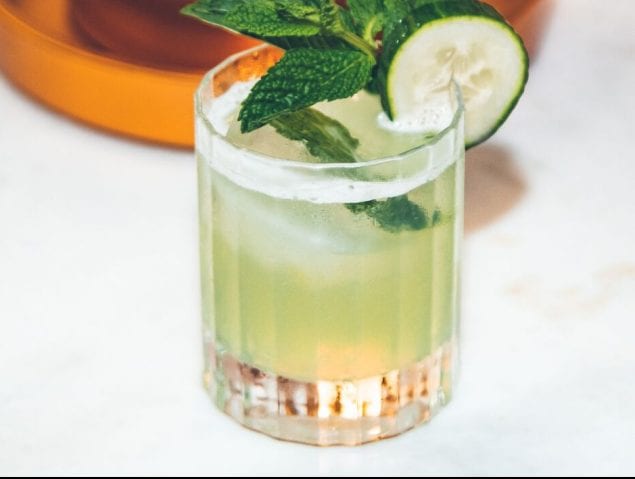 Ingredients:
1.5 oz Papa's Pilar Blonde Rum
1oz mojito syrup (recipe below)
1 oz lime juice
2 dashes Fee Brothers mint bitters
Instructions for the cocktail: Shake all ingredients in a tin. Pour into a rocks glass over a large ice cube. Garnish with mint leaf sprig and slice of cucumber.
See Also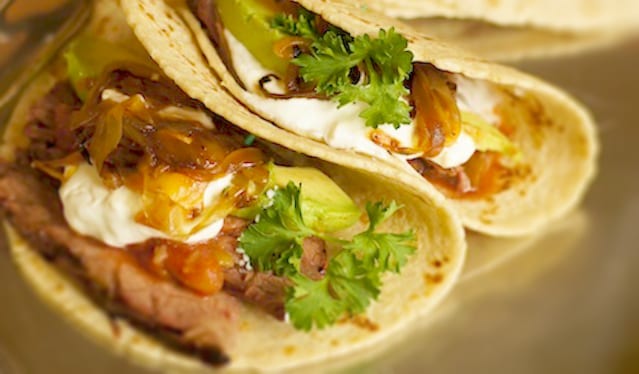 Ingredients for the mojito syrup:
8 parts mint
4 parts cucumber
2 parts basil
1 part dill
Sugar (2:3 ratio of sugar to water)
Water
Instructions for the mojito syrup: Simmer mint, cucumber, basil, and dill for about 20 minutes. Strain out the pulp and pour back into saucepan. Over medium heat, stir in the sugar until dissolved. Let rest. Store in a jar in the refrigerator.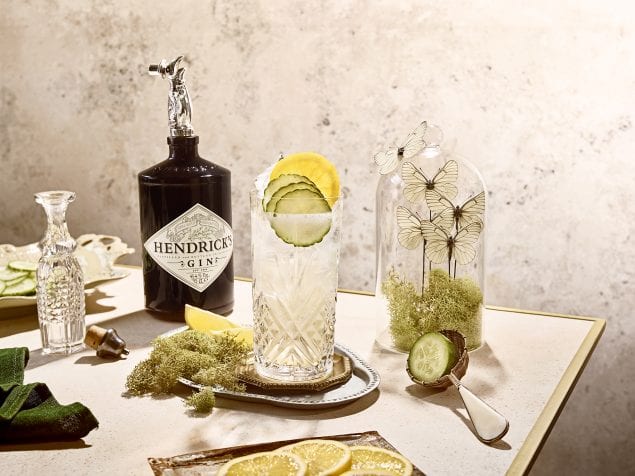 Ingredients:
2 parts Hendrick's Gin
1 part lemon juice
1 part sugar syrup
2 parts soda water
3 thinly sliced rounds of cucumber
Method: Combine all ingredients in a highball filled with cubed ice. Lightly stir and serve. Garnish with 3 thinly sliced rounds of cucumber and 1 slice of lemon.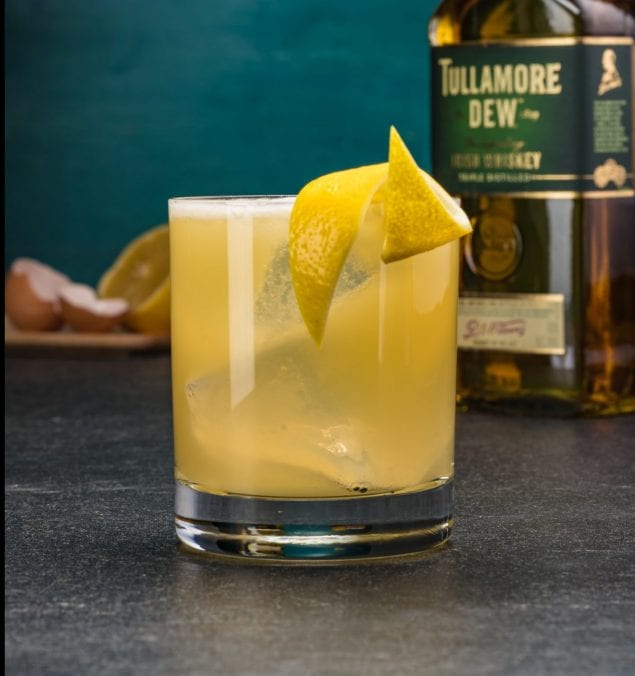 Ingredients:
2 parts Tullamore D.E.W. Original
0.75 parts Fresh Lemon Juice
0.75 parts Simple Syrup
1 Egg White
1 dash Angostura Bitters
Lemon Wedge
Method: Add all ingredients to a shaker without any ice, dry shake. Add ice and shake again. Strain drink over fresh ice into a rocks glass. Garnish with a Lemon wedge.
Featured image for this post is courtesy of Unsplash.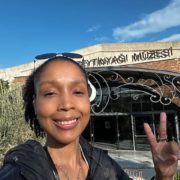 Alyssa Holder
Alyssa Holder is a writer specializing in food and travel topics since 2015.