Classic Cheeseburger with Homemade Pickles and Mayo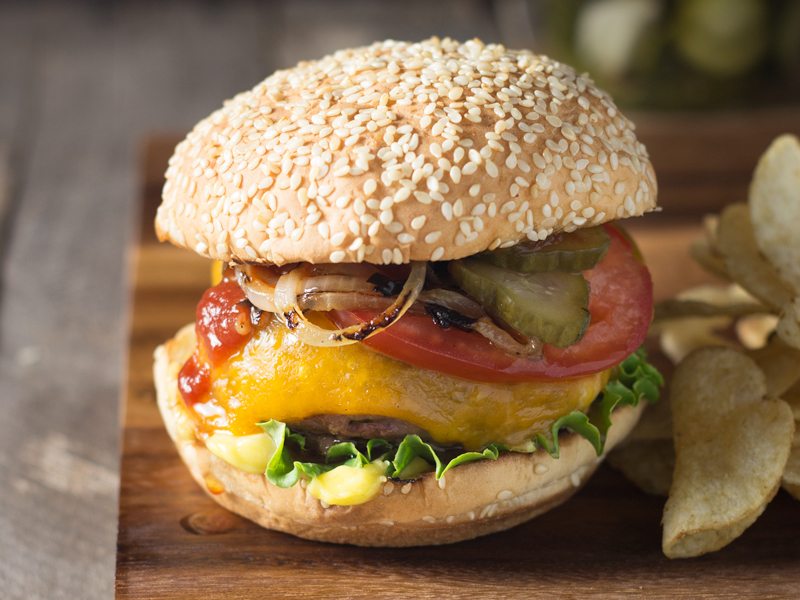 Who doesn't love a classic cheeseburger? Check out this recipe for a perfectly cooked burger with homemade dill pickles, mayo and lots of cheese!
Who doesn't love a good cheeseburger? In this case, I went classic. A classic done right. First off, you need some good ground beef. Has to be 20% fat. No compromises here.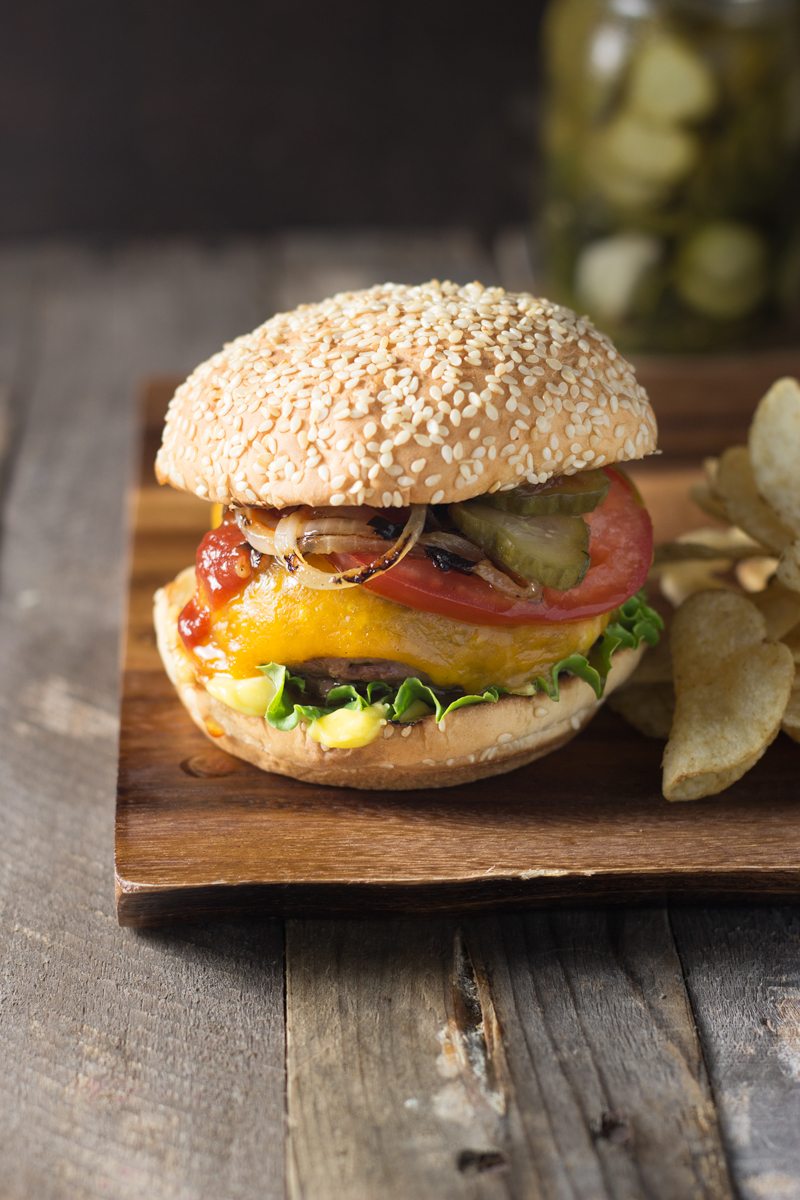 Next comes the cheese. I'm not at all against traditional American cheese with this sort of burger, but I went for yellow cheddar. It's just my preference. Then we have lettuce, tomato, grilled onions, ketchup and a couple of homemade condiments.
I personally think making the pickles and mayo from scratch bring this cheeseburger to another level. They are just so good. Plus pickling and mayo-making skills are good ones to have, so why not practice with this cheeseburger?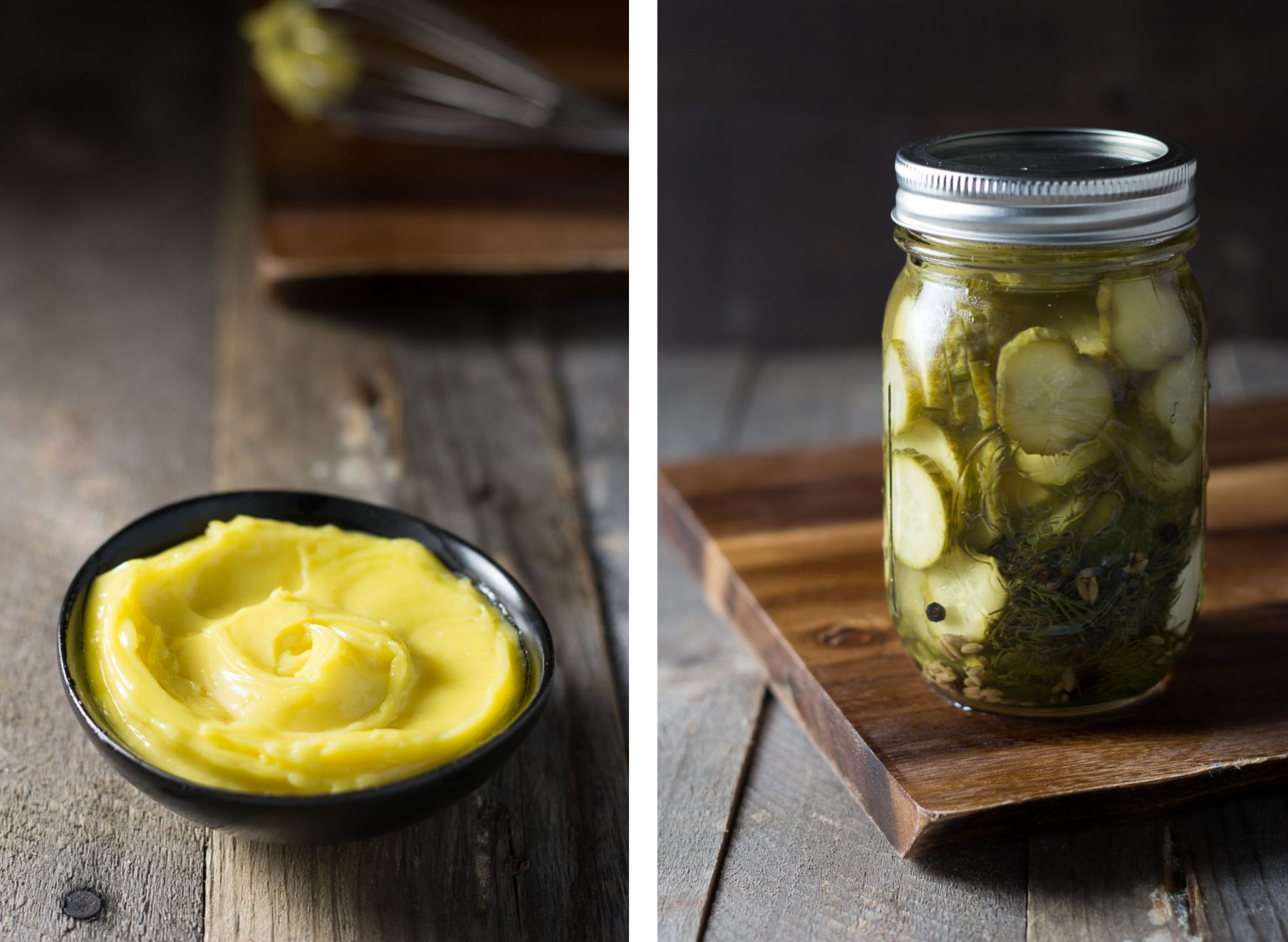 Now that cheddar ended up completely enrobing my cheeseburger! But hey, what's wrong with that? I promise the burger under there is grilled to perfection. It's juicy, flavorful and still a little pink, just how I like it. Top it off with a sesame seed bun and dig in!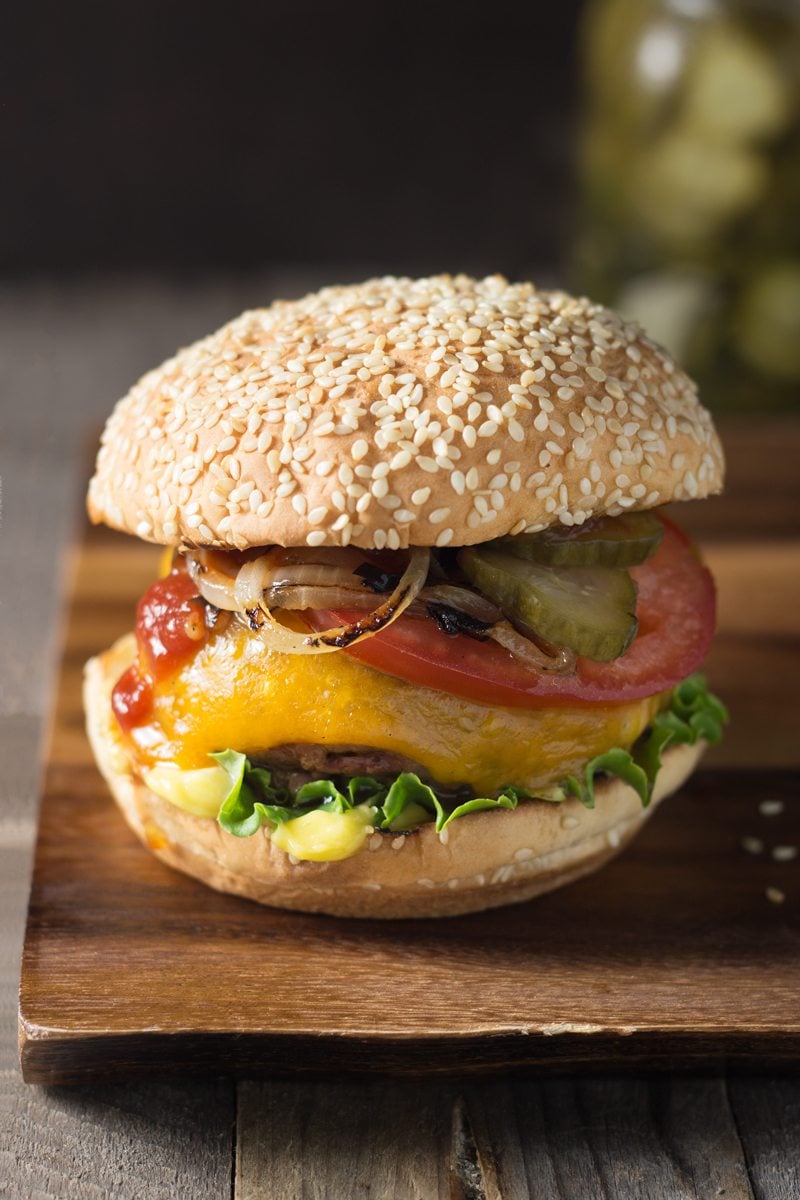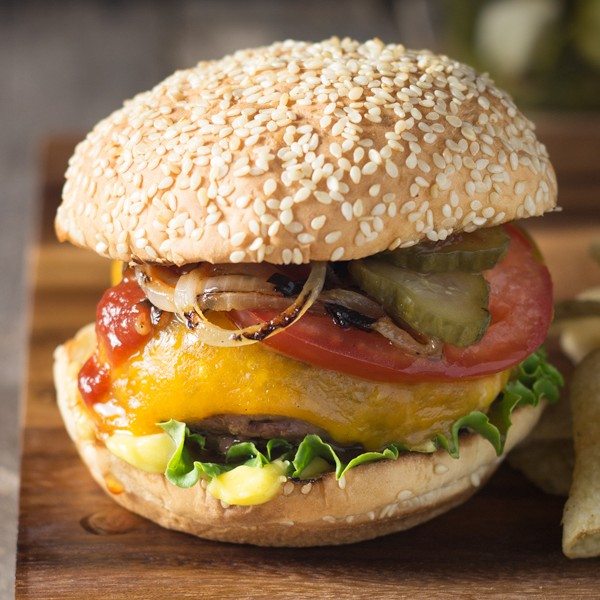 Classic Cheeseburger with Homemade Dill Pickles & Mayo
Ingredients
8

oz

mini cucumbers

sliced ¼ inch thick

1

tbsp

kosher salt

6

tbsp

white vinegar

¾

cup

water

1

tsp

sugar

½

tsp

black peppercorns

½

tsp

dill seeds

2-3

sprigs fresh dill

2

medium whole garlic cloves

peeled

1

large egg yolk

1/3

cup

vegetable or grapeseed oil

1

tbsp

extra virgin olive oil

¾

tsp

red wine vinegar

¼

tsp

lemon juice

plus more as needed

1

small white onion

sliced into ¼ inch rings

Extra virgin olive oil

8

slices

of yellow cheddar or American cheese

1-2

vine ripe tomatoes

sliced into ¼ inch rings

Green leaf lettuce

torn into 4 large pieces

Ketchup

24

oz

ground beef

20% fat

Kosher salt

Freshly ground black pepper

4

sesame seed buns

split
Instructions
Make the pickles the day before. Place sliced cucumbers in a bowl and coat with kosher salt. Allow to sit for 30-40 minutes. Drain and pat dry.

Place the fresh dill and garlic into a pint sized jar. Add the salted cucumbers to the jar.

In a small sauce pot, heat the vinegar, water, sugar and spices until the sugar is completely dissolved.

Pour the warm pickling liquid over the cucumbers in the jar. Allow to sit at room temperature until cooled. Refrigerate.

For the mayo, crack egg yolk into a bowl. Squeeze over a few drops of lemon juice and add a pinch of salt. Whisk constantly while slowly incorporating the oil. Start slowly with a few drops at a time. You can increase speed as the mayo comes together.

Add vinegar, lemon juice and salt, to taste. Add a few drops of water to thin out the mayo, if needed. Refrigerate. This can also be made a day ahead.

For the onions, heat the grill to medium-high. I used an indoor grill pan. Coat the onions in extra virgin olive oil and season with salt.

Grill for about 3 minutes per side or until softened and charred in spots. Keep grill warm.

Brush buns lightly with oil. Add buns to the grill, cut side down and toast about 30 seconds or until grill marks form. Turn grill up to high. Grease grates with oil.

For the burgers, shape meat into 4-6oz patties, about the width of the buns. Make a slight indentation on the top of each burger to allow for expansion.

Season liberally with salt and pepper. Place on grill. Grill about 2- 2 ½ minutes per side for medium-rare and an additional 1-2 minutes for medium. Burgers can also be cooked in a nonstick or cast iron pan.

After flipping, place two slices of cheese on each burger. If using a grill pan, splash a little water on the grill and cover the burger with an inverted bowl for the remainder of the cooking process to melt the cheese.

To construct the burger, spread the bottom bun with mayo. Cover with a piece of lettuce. Add the cheeseburger. Top with grilled onions, sliced tomatoes (seasoned with salt) and pickles. Add ketchup, if desired, add the top bun and enjoy!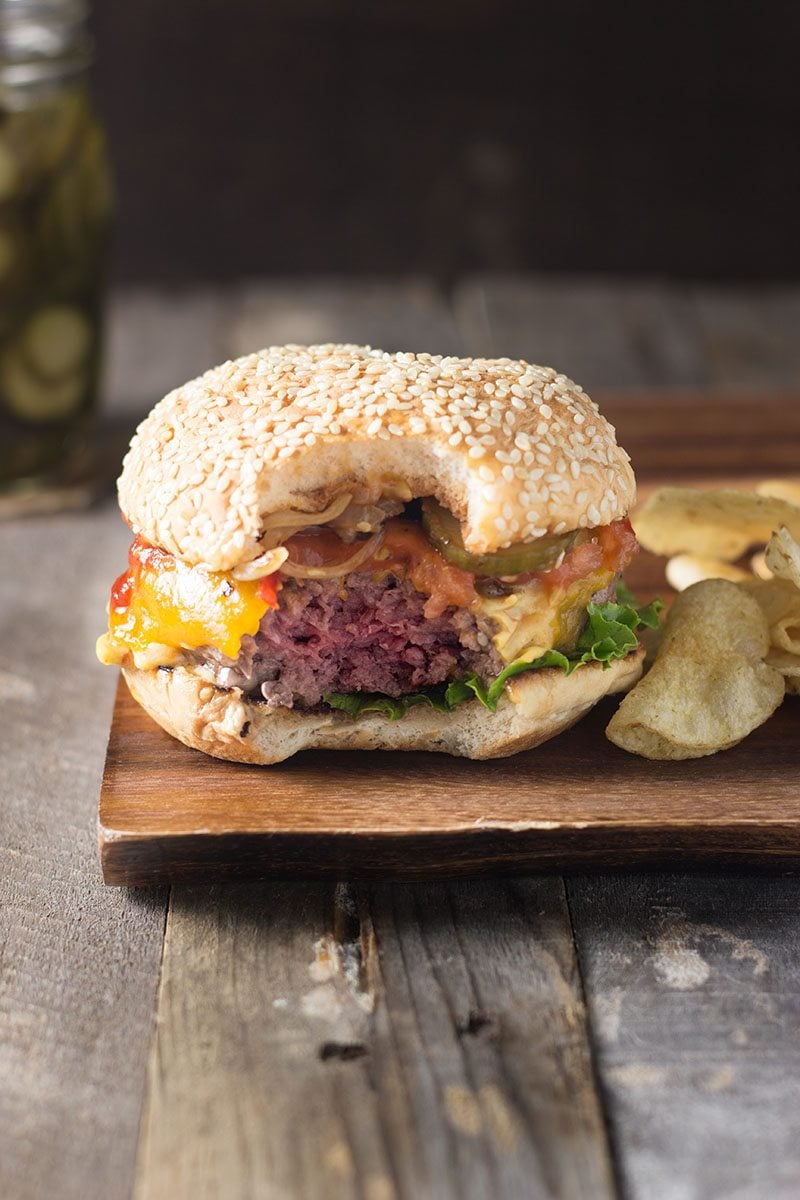 Sabrina Russo
My Three Seasons represents the 3 key factors that are most important to me in cooking. #1 Seasonal ingredients #2 Proper Seasoning (don't skimp on that salt!) #3 Cooking like a Seasoned chef (technique is everything). My name's Sabrina. I live in NYC. I'm a registered dietitian with professional cooking and food styling experience. Come cook with me.