Sicilian Zucchini Parmesan, or Parmigiana DiZucchine, resembles lasagna in its construction, but has a distinct flavor and texture. It's a hearty, gluten-free dish that's bursting with flavor.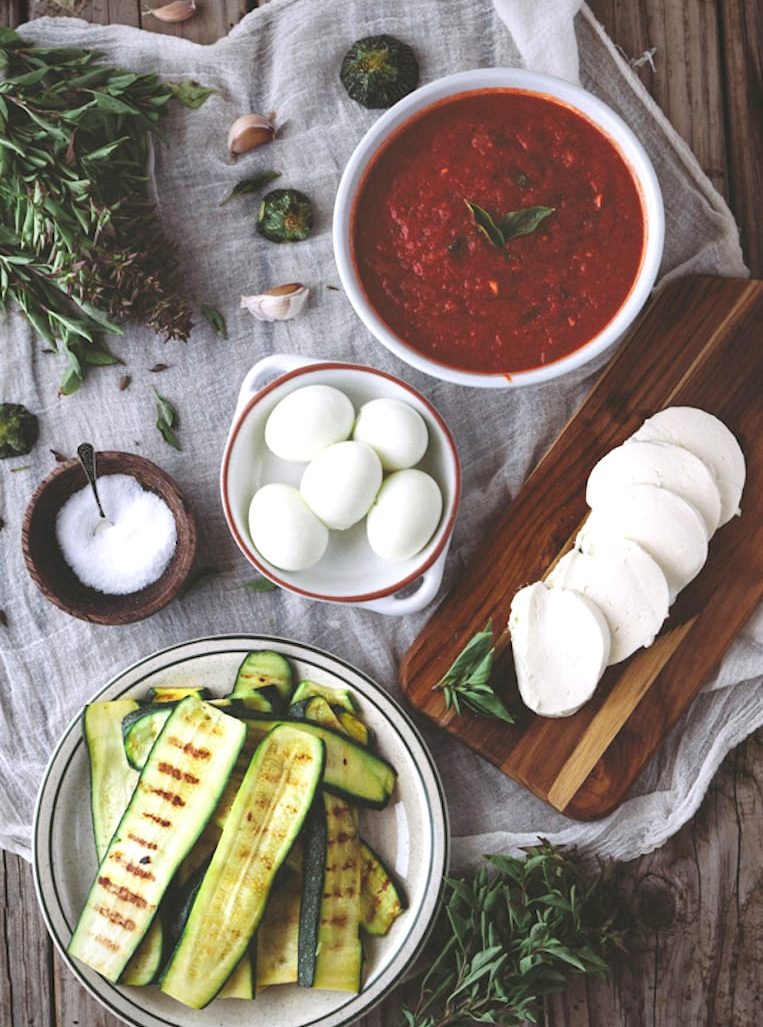 Out of all the vegetables sold in our supermarkets, zucchini is one that you can find consistently. And unlike most other vegetables that loose their freshness, zucchini is one that maintains its form and deliciousness even after days of travelling on ships coming from the mainland.
This Sicilian Parmigiana DiZucchine is a classic Italian recipe. It is similar to lasagna, but instead of using lasagna noodles, you use zucchini slices in their place. What makes it incredibly delicious is a classic tomato sauce flavored with hard-boiled eggs, fresh mozzarella, Parmesan, and fresh herbs like mint and basil generously spread in between layers. The combination of all these delicious yet simple ingredients end up being a healthy and filling meal that can be made easily any time of the week.
The tomato sauce I used in this recipe is one that I use all the time, so much so that I always keep a jar of it in my fridge. I love it because it is so versatile. Most of the time, I use it as a topping for pizza or as a flavoring for pasta and meat dishes. And when it comes making this dish, having it made in advance will save you time.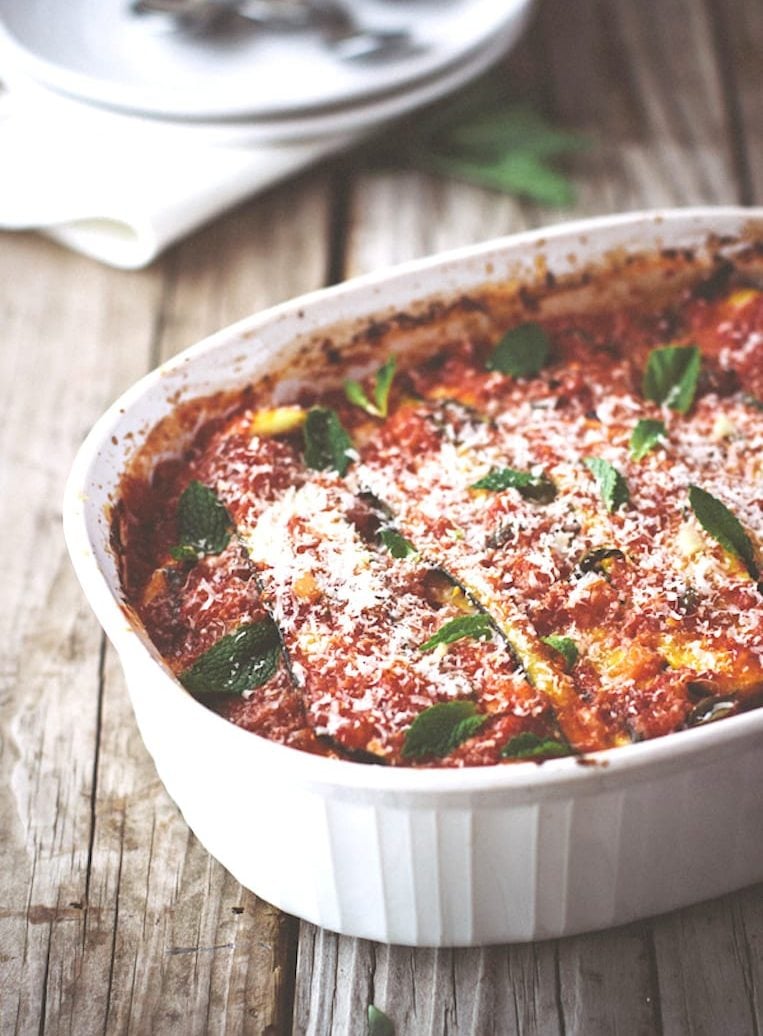 The step in the recipe that calls for you to let the salted zucchini slices to drain is very important. Zucchini must loose some of its juices to prevent the end product from being soggy.
If you have your grill on, you can quickly grill them, but I used my griddle pan on the stovetop instead. Once you have zucchini grilled, assembling it is rather easy. All you have to do is to layer the zucchini slices and cover it with the tomato sauce, cheese, egg slices, and fresh herbs. After 40 minutes in the oven, you have a delicious, healthy, and filling meal ready.
All in all, if you are looking for an alternative to the traditional carb-heavy lasagna recipes and you want to make use of all the zucchini in abundance at your local farmer's markets, give this classic Italian recipe a try.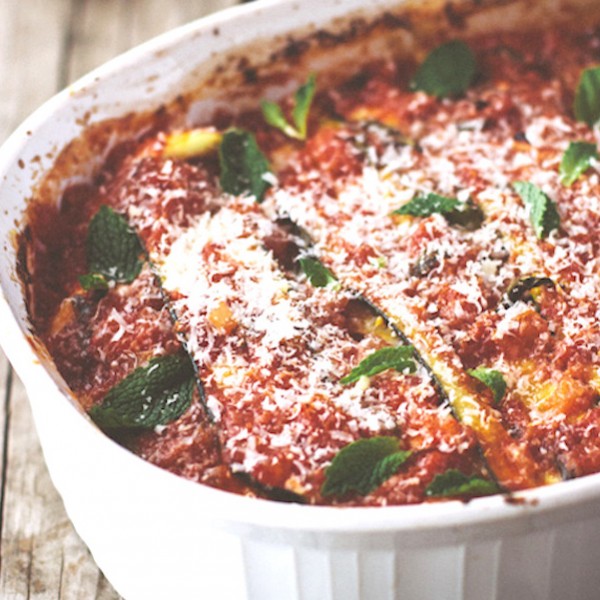 Sicilian Zucchini Parmesan
Aysegül Sanford
If you are looking for a delicious alternative to the traditional carb-heavy lasagna recipes and you want to make use of all the zucchini that in abundance at your local farmer's markets, give this classic Italian recipe a try.
Course
Main Courses, Pasta, Secondi
Cuisine
American-Italian, Italian
Ingredients
To make the tomato sauce:
1

tablespoon

olive oil

1

medium onion

chopped

1

– 28 ounces can of tomatoes

pureed

5

cloves

of garlic

peeled and minced

½

teaspoon

salt

¼

teaspoon

black pepper

1

tablespoon

of red wine vinegar

¼

cup

of fresh basil

chopped
To make the Parmigiana DiZucchine:
5

medium zucchini

sliced lengthwise 1/3 inch thick

1

tablespoon

salt

5

eggs

hardboiled, peeled, and sliced

2

tablespoons

olive oil

8

ounces

fresh mozzarella

Buffalo mozzarella if you can find

1

cup

3.5 ounces of grated parmesan

1

large handful of fresh basil leaves

1

large handful of fresh mint leaves
Instructions
To make tomato sauce: Heat olive oil in a large skillet over medium heat. Add onion and cook until wilted, stirring frequently, 5-7 minutes. Add tomatoes, garlic, salt, pepper, and red wine vinegar. Cook until it is thickened 12-15 minutes, stirring occasionally. Off the heat, add basil, and set it aside.

Pre-heat the oven to 400 degrees.

Place the zucchini slices in a colander set over a bowl; sprinkle it evenly with 1 tablespoon of salt. Let it drain for 30 minutes. You will realize that some of its juices will drain.

Rinse the zucchini slices and set them over paper towels to dry as much as possible.

Brush both sides of each zucchini slice with olive oil and grill in a griddle pan (or you can grill it outside if you have your grill on) in several batches. You do not want to grill them completely. All we want to do here is to slightly cook them.

To assemble: Spread ½ cup of the tomato sauce at the bottom of a casserole dish (mine is 10X13 inches). Cover the bottom of the dish with zucchini slices (just like you would do when making lasagna). Then equally distribute ½ cup of the tomato sauce, egg slices, mozzarella, parmesan cheese, basil leaves and mint leaves. Repeat this process one more time.

For the last layer cover the top only with the zucchini slices. Pour rest of the tomato sauce over the top. Sprinkle it with the grated parmesan.

Place it in the oven and bake for 40 minutes, or until the tomato sauce is bubbling.

Allow it to cool for 15 minutes before serving.

When ready to serve, garnish it with fresh mint leaves.
Aysegul Sanford
Aysegul is the cook, writer, and photographer behind foolproofliving.com. She spends her days creating recipes from seasonal ingredients on a small island in the Caribbean. Other than cooking and baking, her biggest passion in life is photography. She also is a firm believer that if you know how to read, you know how to cook.