This Shamrock Smoothie is festive, delicious and fall somewhere between a snack loaded with greens and a straight up dessert.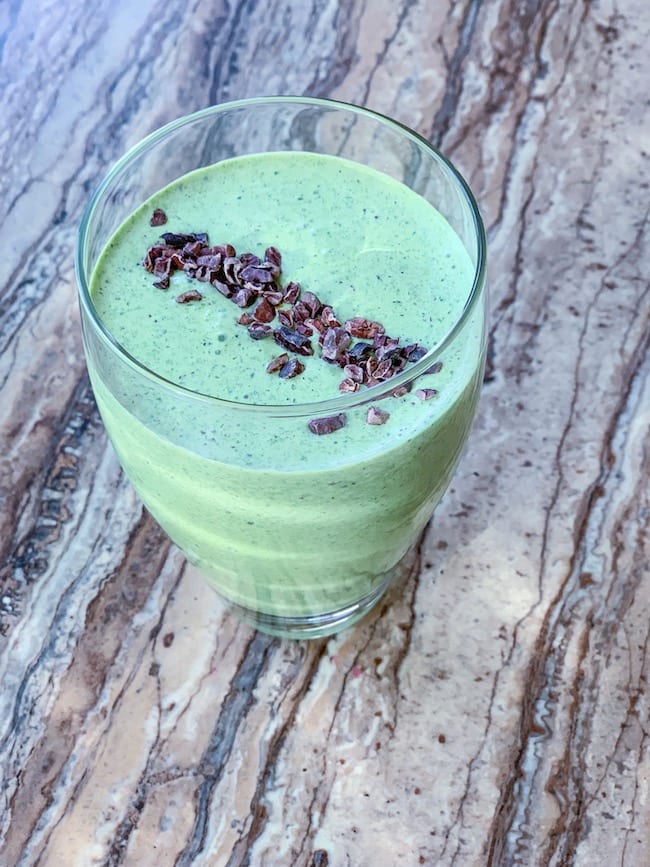 Throughout the year there are just certain flavors you look forward to. Am I right? ALL the pumpkin things in the autumn. (raises hand) As winter rolls in I look forward to cranberry things and dishes with warm, comfy spices. Well, one March comes in with its blustery cool days, I'm all about minty things.
It's that whole Micky D's shamrock shake thing from my 20's when I thought fast food was no big deal. I admit, I slurped down more than my fair share of those bad boys. These days I'm still a big fan of milk shakes and mint but now I've got a healthier option with this Keto Shamrock Smoothie recipe.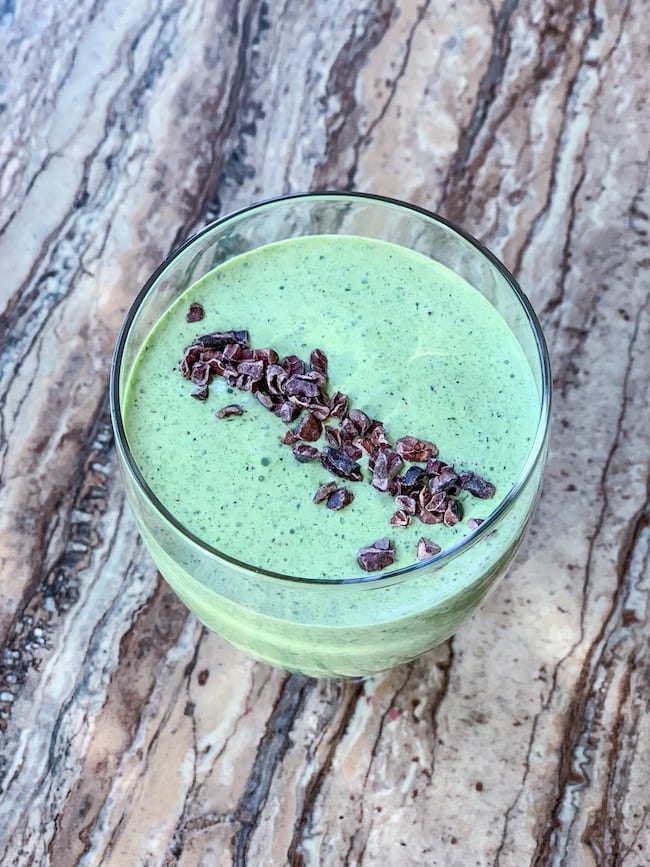 A few simple ingredients like mint extract, cream and cacao nibs make this a tasty treat but then I go and pack a nutritional boost thanks to spinach. Now don't go turning your nose up at spinach. You won't even know it's there! I promise.
Spinach is sneaky like that. Thanks to combining it with the refreshing mint, you'll just think you're drinking a tasty frosty milkshake. You won't be disappointed and not to mention, it's filling and satisfying.

Shamrock Smoothie
Recipe Type:
Smoothie, Dessert
Ingredients
1½ cups spinach
½ cup heavy cream
½ cup ice cubes
¼ teaspoon mint extract
a few drops of stevia (if desired)
1 tablespoon cacao nibs
Instructions
In a blender combine spinach, heavy cream, ice cubes, mint extract and stevia, if using. Blend until smooth. Top with cacao nibs.