A quick weeknight meal that comes together while the rice is cooking, this tuna bowl is full of flavor from a wasabi mayo and sweet sesame sauce.
By Sami Berger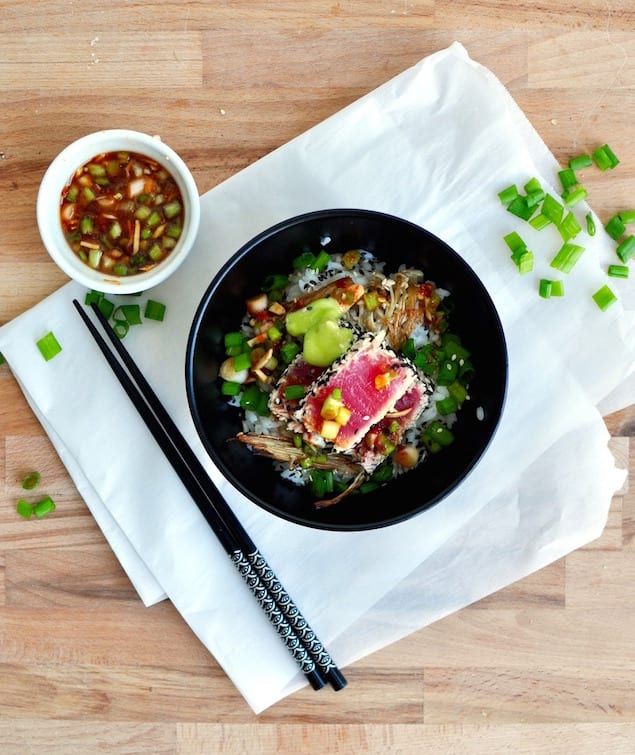 A few months ago, I bought fresh tuna for the first time. We never really saw it at the grocery store before and when we did, we were intrigued to try it out. Because it was a beautiful piece of fish, I wanted to cook it super simply: crusted in black and white sesame seeds, seared and served over rice with some sesame sauce and vegetables. It was delicious. And, for a meal that feels so special, it was crazy how simple and fast it was to pull together. Everything was ready to go by the time rice was done cooking. A perfect weeknight dinner.
The wasabi cream gives everything a kick and brightness that cuts through the rice and fish which are always pretty simple. It's a super east combination of equal parts of wasabi and kewpie mayonnaise, a Japanese mayonnaise that is a bit sweeter than the mayonnaise I'm used to, but you can easily replace it with what you have on hand.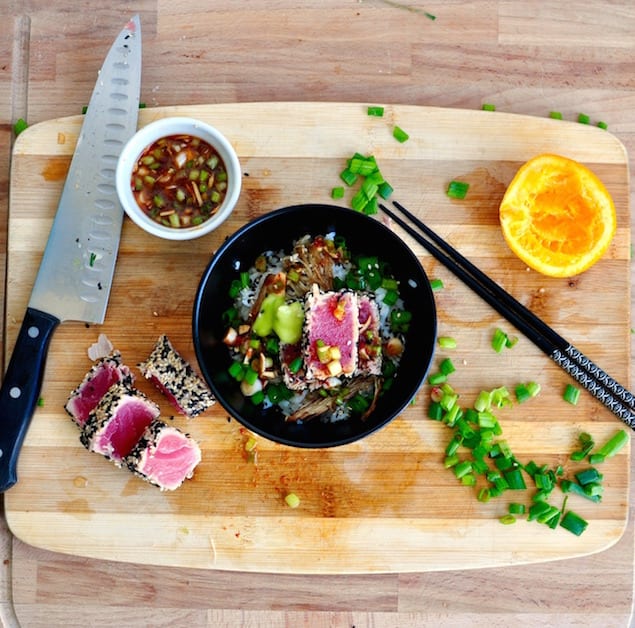 This tuna bowl is filling from the rice, fresh from the tuna, and has some nice texture with the crunchy edges of the browned enoki mushrooms. The sweet, sesame dressing that coats everything and the pop of spicy wasabi that hits you right in the nose every few bites makes this special. You can easily add different vegetables to this (I think edamame, shredded fresh carrot, daikon, and creamy avocado would all be great) and probably even top it with some baked tofu for a vegetarian version that still has the beautiful sauces and play on sesame flavours.

Seared Sesame Tuna Rice Bowl
A quick weeknight meal that comes together while the rice is cooking, this tuna bowl is full of flavor from a wasabi mayo and sweet sesame sauce.
Ingredients
Tuna
1 tuna steak
¼ cup black and white sesame seeds
neutral oil (canola oil)
Bowl
¾ cup sticky rice
1 cup water
200g (7 ounces) enoki mushrooms
neutral oil (canola oil)
Sesame Dressing
½ tablespoon sambal chilli sauce
1 tablespoon soy sauce
1 tablespoon mirin
1 tablespoon toasted sesame oil
1 tablespoon orange juice
1 garlic clove, minced
5 green onions, sliced
Wasabi Cream
equal parts wasabi paste and kewpie mayonnaise
Instructions
Rice
Cook rice according to instructions: I rinse my rice, combine rice and water in a small covered pot, bring to a boil, turn the heat down to a simmer and simmer for 10 minutes. Remove from heat and let sit, covered for an additional ten minutes. Fluff rice with fork.
Bowl and Tuna
While the rice is cooking, heat up a splash of oil in a small pan. Cook enoki mushrooms until browned. Season with salt and pepper.
At the same time, on a plate lay out sesame seeds in an even layer.
Cut tuna steak into even rectangles. You want it to be an even log so that each of the four sides are cooked for the same about of time (see pictures, about 1½ inches thick)
Roll tuna in sesame seeds
In a pan, over high heat, heat up a splash of neutral oil.
Once the oil is hot, cook tuna for 30 seconds on each side (2 minutes total)
Remove from pan and set aside.
Slice tuna into ½ inch slices.
Sauces
In a small bowl combine all of the ingredients for the sesame sauce.
In a small bowl combine the ingredients for the wasabi cream.
Assembly
Assemble bowl by placing rice at the bottom, topping with enoki mushrooms, tuna, any extra green onions, sesame dressing and a dollop of wasabi cream.
Sami Berger
Sami Berger is the author of My Second Breakfast, a mostly healthy, mostly vegetarian blog. Inspired by her travels and life in a new city, My Second Breakfast is a space to tell stories and experiment with sometimes new, sometimes familiar and most importantly, always delicious, flavours.