With spring here, fresh asparagus is beginning to appear at grocery stores across the northern hemisphere.
By Sara Clevering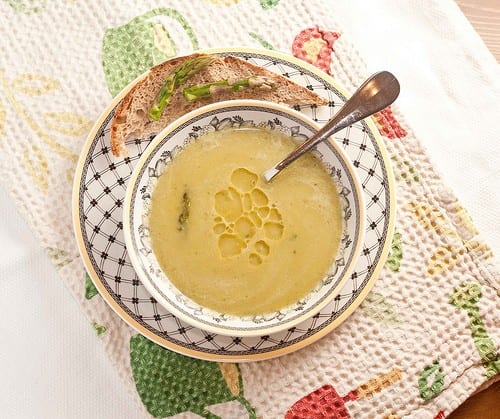 It's always a welcome sight to see asparagus appearing in the grocery stores (or at least, the price coming down)–one of the reasons it makes a welcome addition to any spring table.
You of course wouldn't want to make a soup out of one of spring's signature vegetables that didn't preserve its fresh, light character.  And this does the trick.  After lightly pan-searing the stalks with aromatics, they are cooked in good chicken broth until soft.  Pureed in a stand mixer or in a blender, you get an elegant first course, or even a simple dinner when you aren't too hungry, or don't have time for more.
See Also
I've used a few unusual ingredients here–chervil and roasted hazelnut oil–which boost the herby spring flavors of the soup and round out the body of the liquid.  Based on what's in your pantry, you can use other herbs such as tarragon or thyme and simply drizzle with olive oil to finish.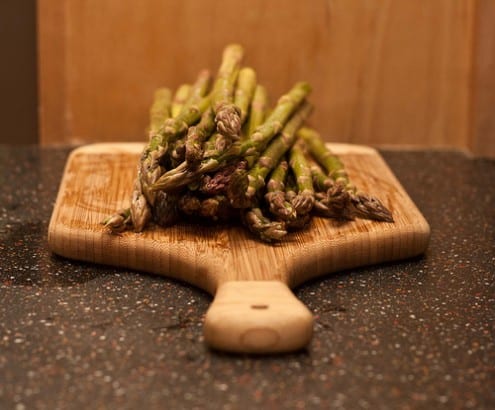 Asparagus Soup with Chervil
Recipe Type:
Entree, Soup
Ingredients
1 bunch asparagus
2T butter
1t dried chervil (substitute tarragon or thyme)
4c chicken stock
salt to taste
hazelnut (or olive or other oil) for serving
Instructions
Melt the butter over medium heat and add the asparagus and chervil, tossing and sauteeing the asparagus until lightly pan-seared and bright green (about 5 minutes). Roughly chop the asparagus, leaving a few tips to garnish your soup. (You can chop before sauteeing as well, and don't chop too fine, remember you'll be pureeing in the end).
Meanwhile, bring stock to a simmer. Add the asparagus, bring to a boil and then lower heat, and simmer for 15 minutes or so, until the asparagus is soft. Puree using an immersion blender or in batches in the blender. Adjust for salt.
Serve, adding a few asparagus tips and drizzling with oil.
Sara Clevering
Sara sees cooking and baking as a delicious way to connect with the past and travel the world from her kitchen. She is commited to preparing homemade, unprocessed meals for her family and is always looking for tricks to fit this into a busy schedule. Sara is currently in the Boston area after several years living in London, Spain, and the Czech Republic, and travelling extensively in Eastern and Western Europe, always making sure to experience local culture through food. She also blogs with her sisters at www.threecleversisters.com