An easy chocolate sheet cake is topped with fluffy coffee-cocoa frosting and a sprinkling of sea salt. It's about to take you to dessert paradise with one bite.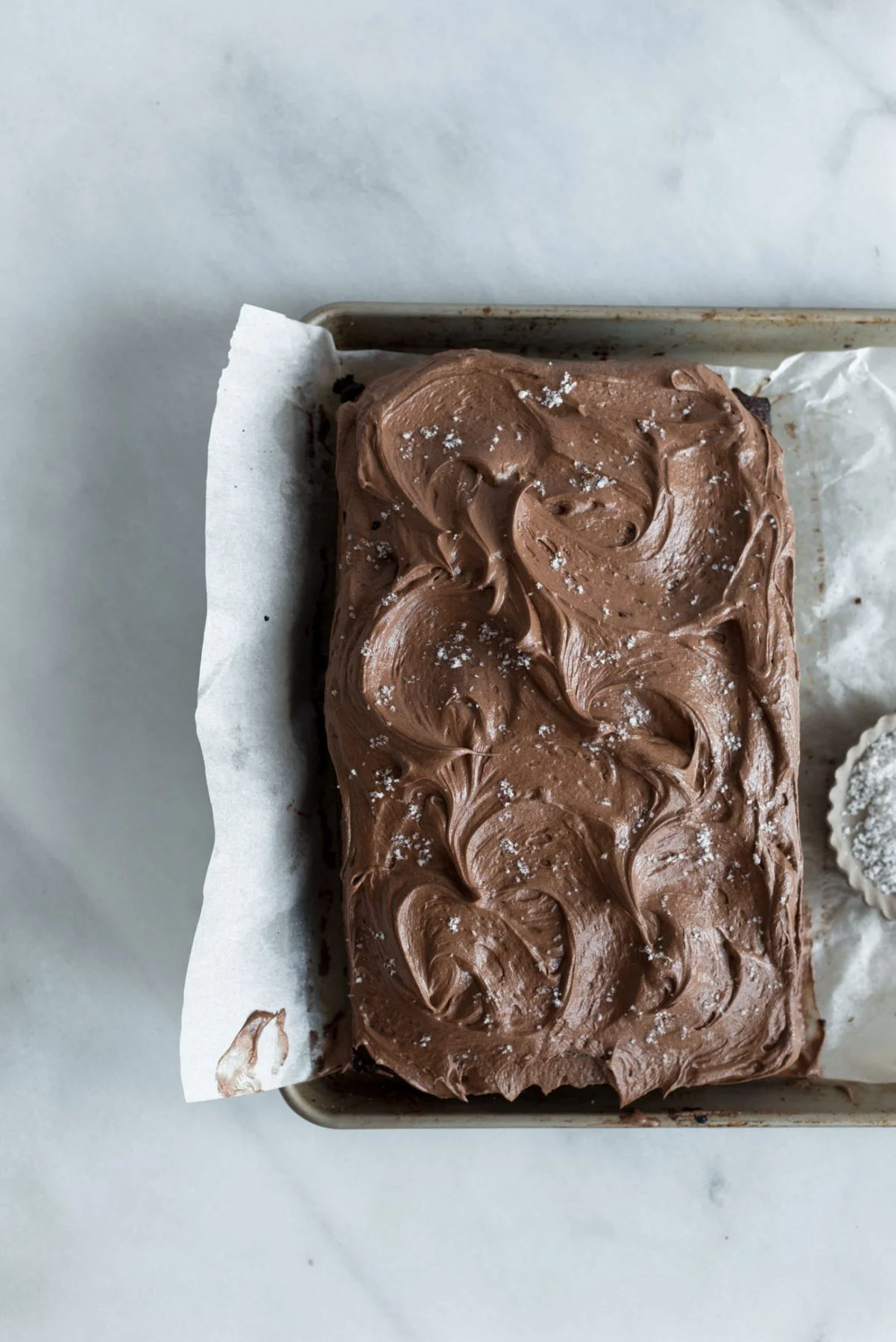 This Sea Salt Chocolate Cake is a great chocolate cake, my best, if you will. An everyday kind of cake, that combines minimal effort with maximum flavour reward. It's my favourite party cake, and the one I usually make for a crowd. I haven't been into celebrating much lately. Not for lack of reason. And even though I'm burying, I standby the notion that a slice of this cake, is celebration enough.
Chocolate Sheet Cake with Fleur de Sel Frosting is my ideal. It's a no-brainer kind of cake, made with few, staple, ingredients. There's been a lot of highlight upon the humble sheet cake recently. And for good reason. They're delicious. Here, the chocolate cake is moist and rich with deep, dark chocolate. There's a subtle hint of bitterness from the presence of coffee too, which only adds to the overall intensity. The cake is thickly smothered in a hybrid frosting that combines the aeration of mousse and richness from classic buttercream. I've always believed that the ratio of cake to frosting should be an equal 1:1, and this, only serves to prove the point. The cake itself, is just as good as the frosting, and, when combined together, it's heaven. There's a pinch of fleur de sel over the top too, which renders the most perfect mouthful.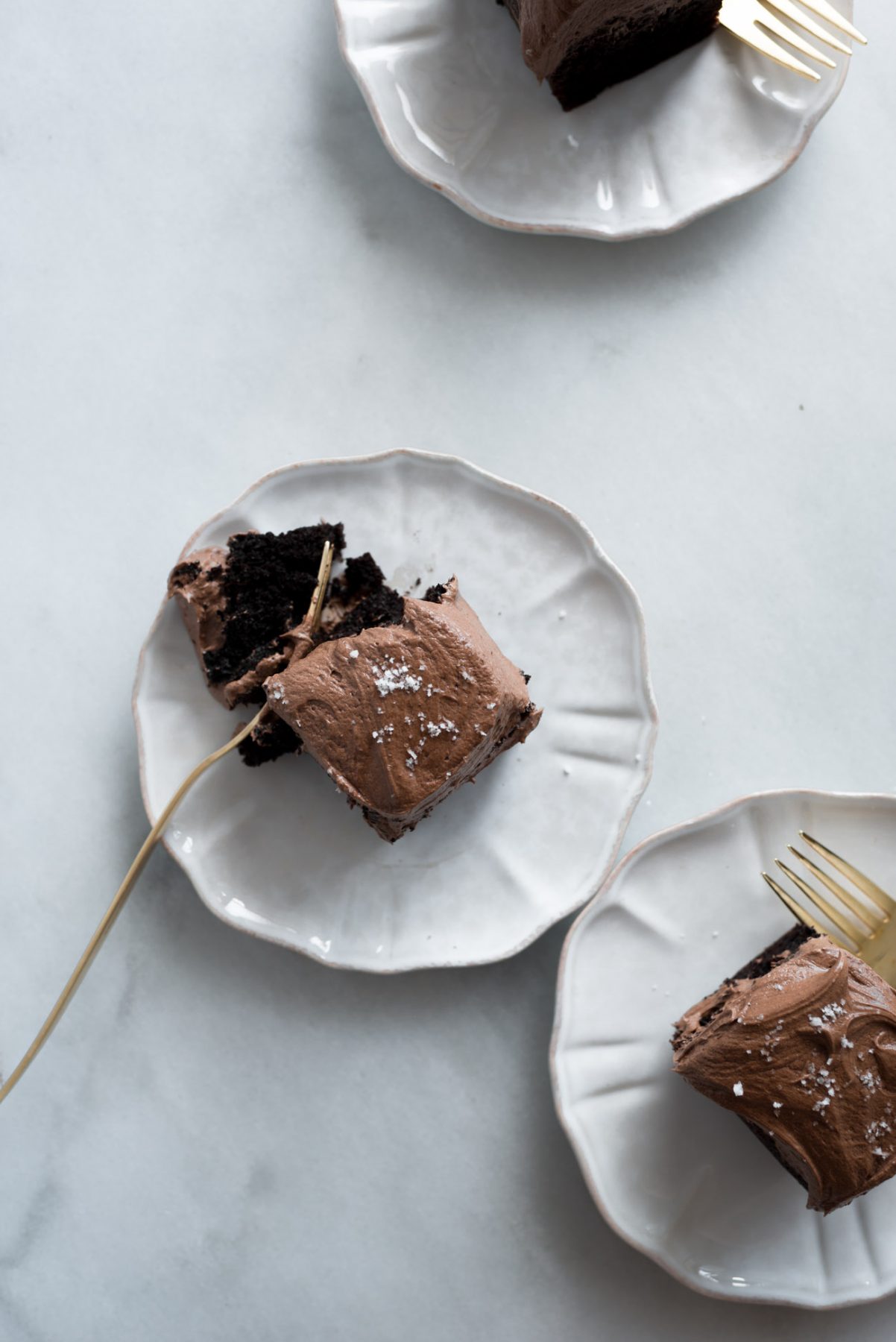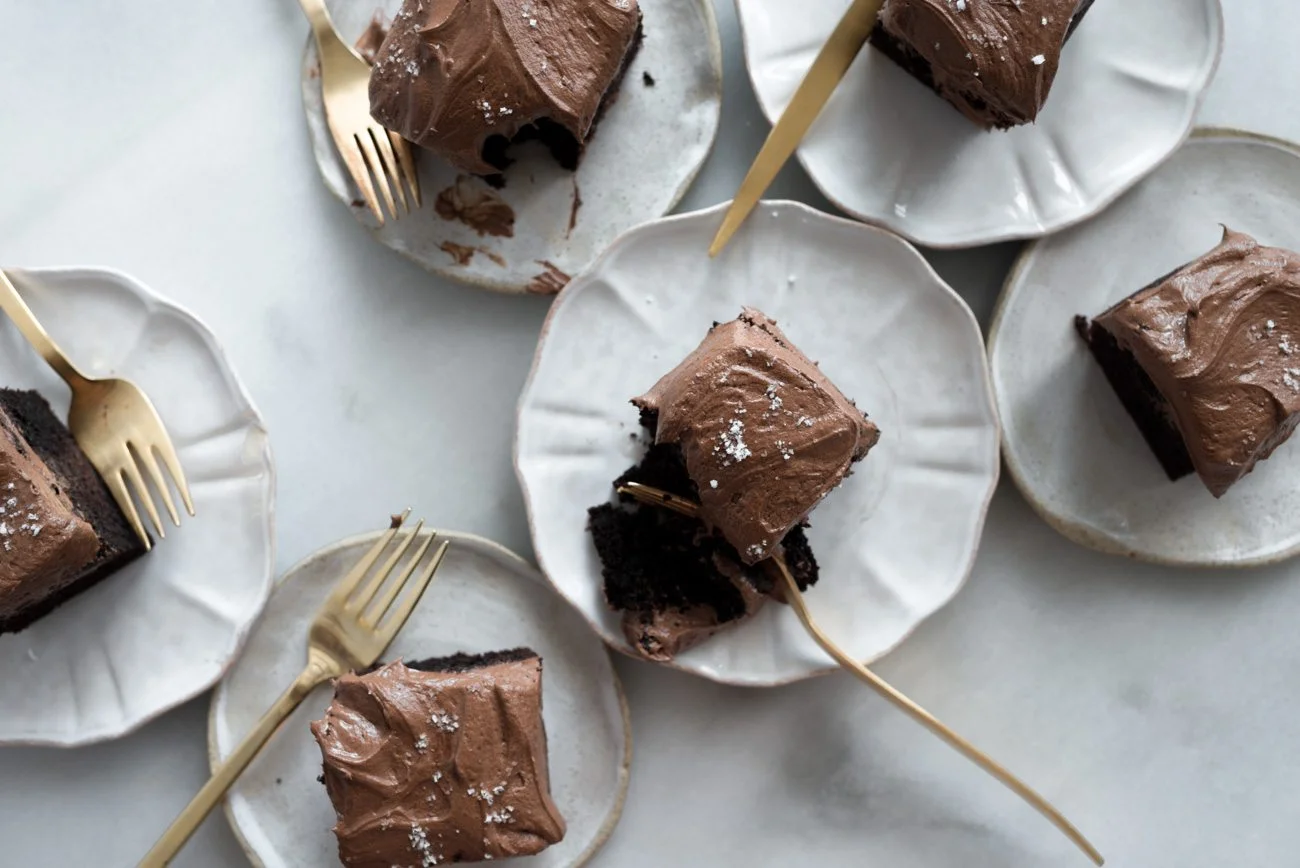 You could decorate the cake with whatever you desire. Fresh raspberries, are always a hit, as are sprinkles. I can never go past a classic chocolate sheet cake with sprinkles. I decorated a cake like this in chocolate chips once too, but then again, things were getting sweetly desperate. Regardless of how it's dressed up, it's always delicious.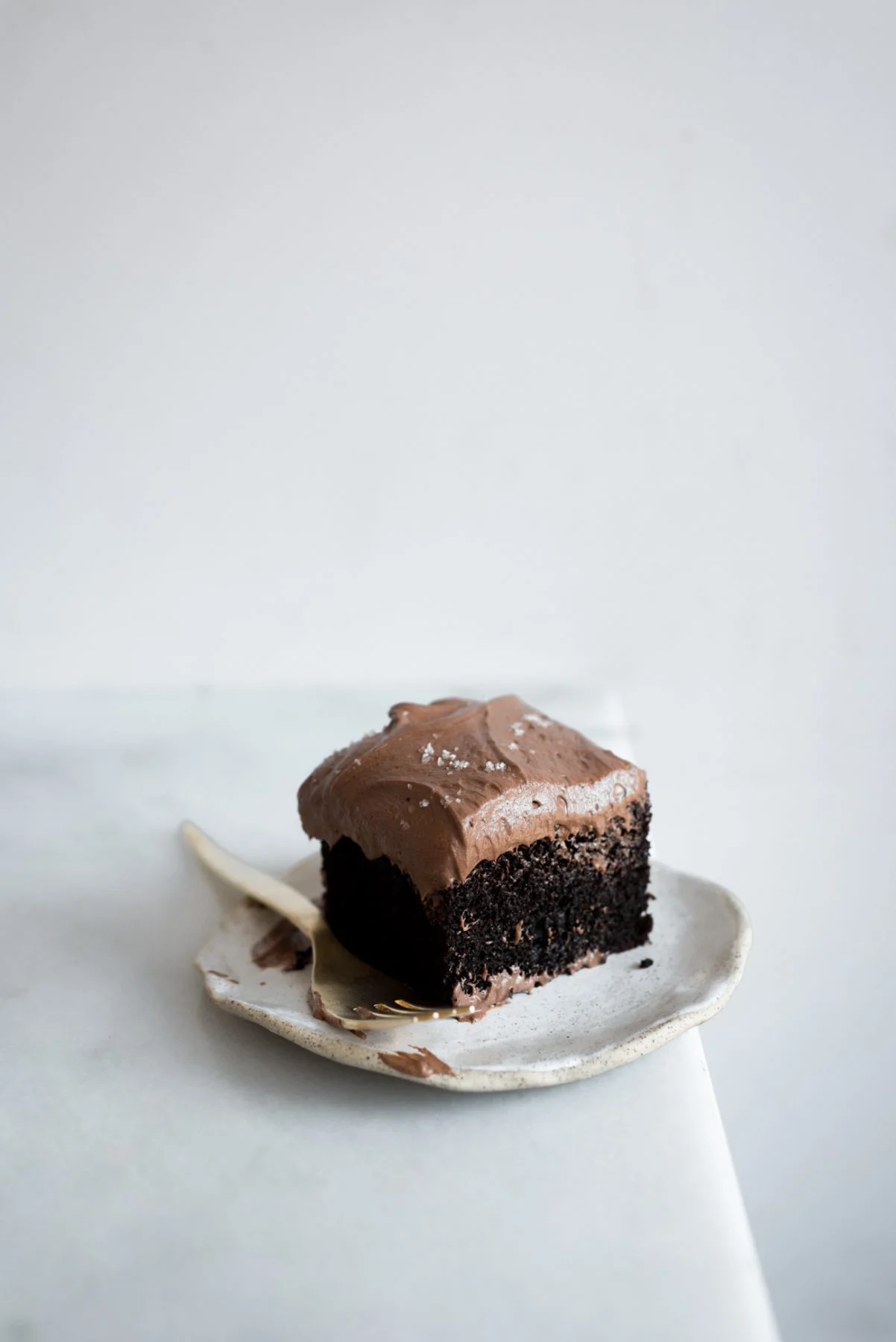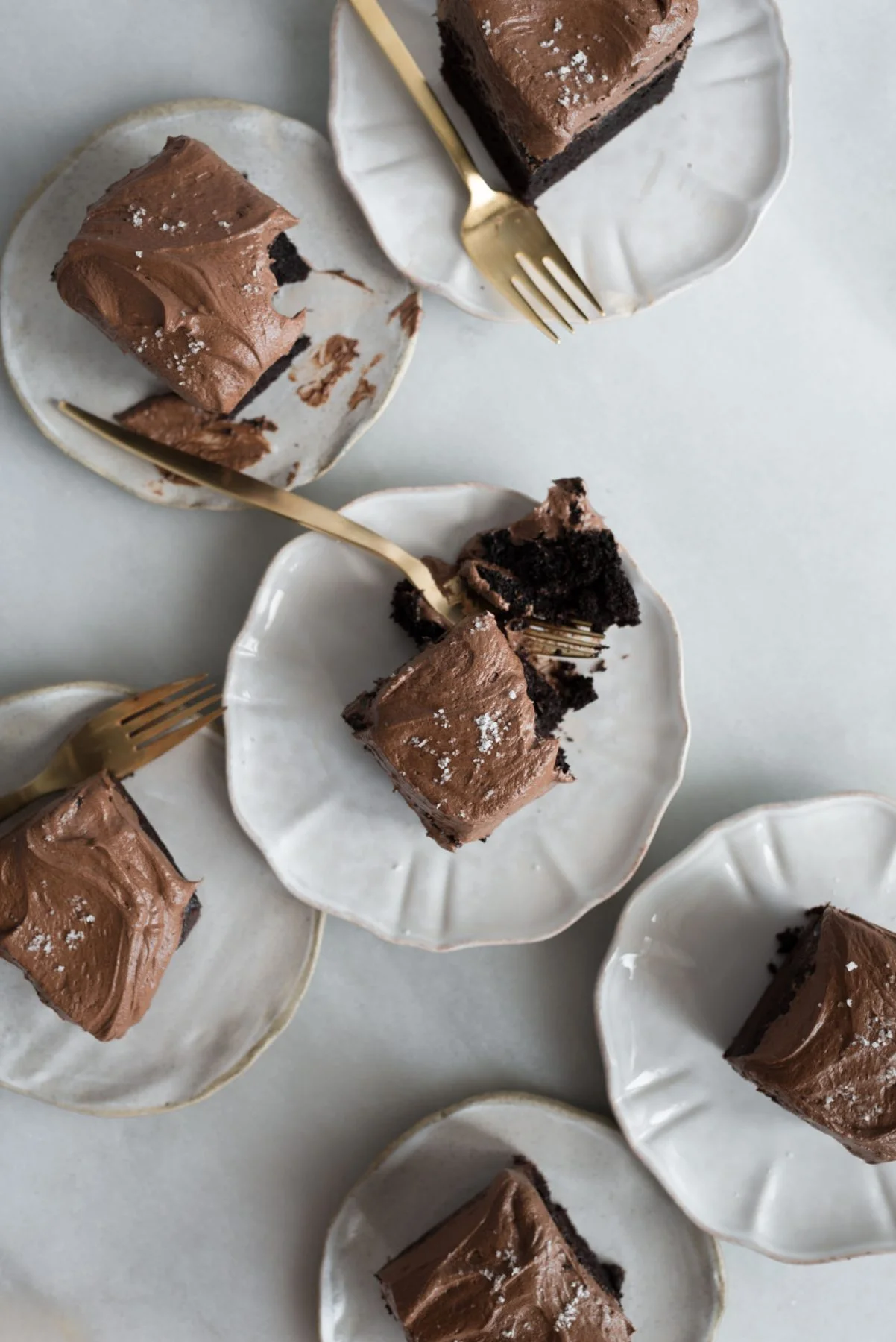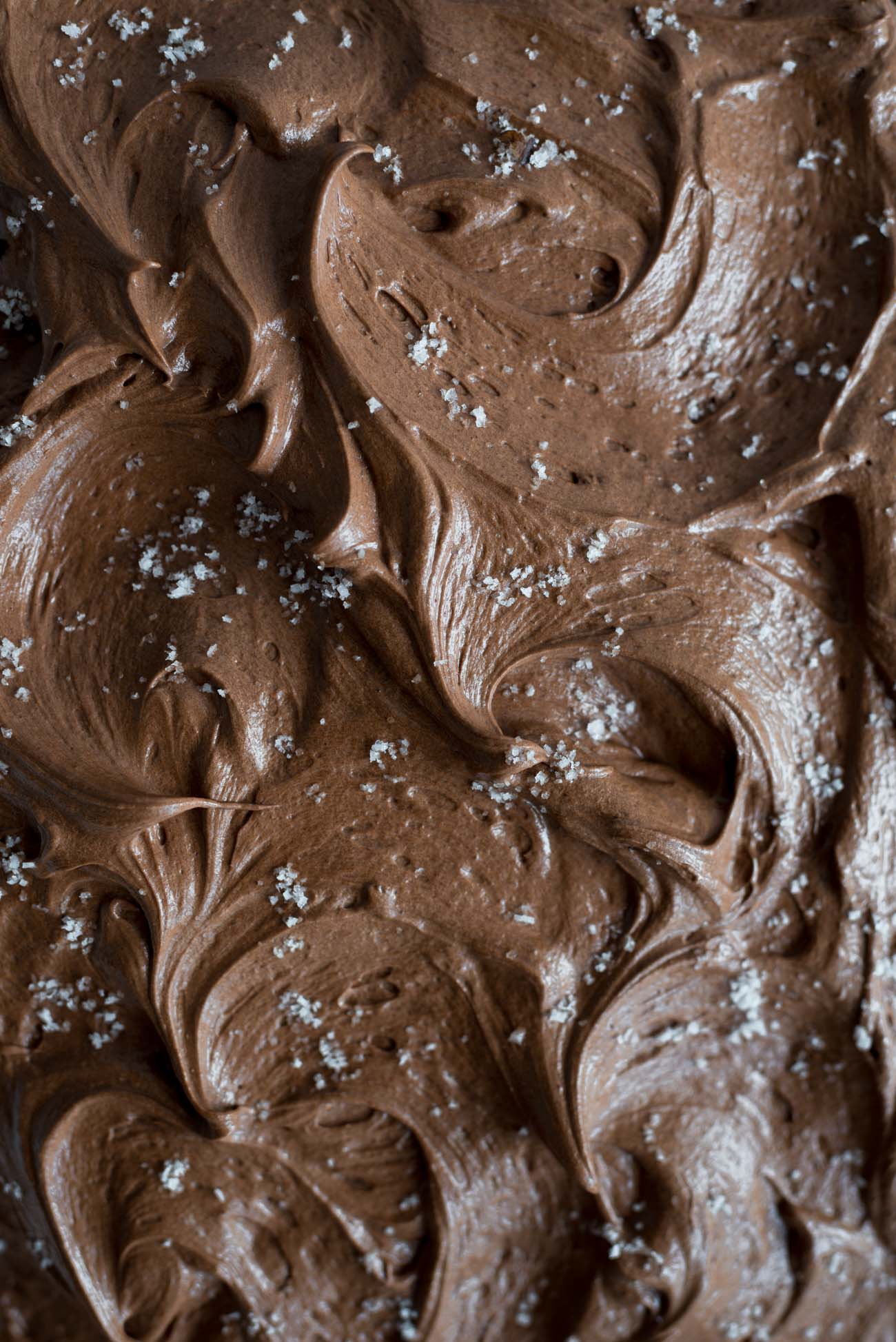 NOTES
See Also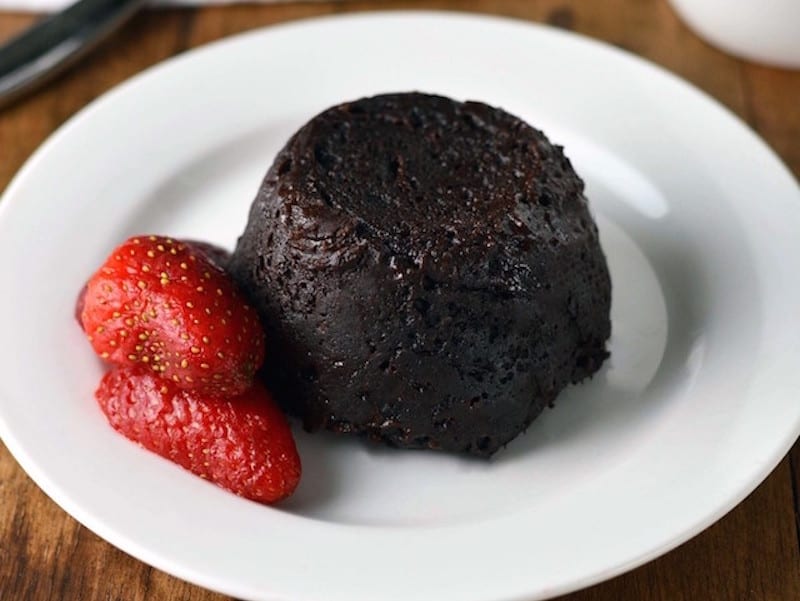 – The brilliance of this recipe lies within the quality of ingredient. Cocoa powder should always be dutch processed, never natural or Bournville. The difference between the former and latter lies within the alkalization process. Dutch processed cocoa is treated with a solution that neutralises the presence of acidity, resulting in a dark, smooth and intense flavour like nothing else. Try to use the best dark chocolate block you can find for the frosting too. It's a simple cake and there's nowhere to hide.
– A variety of salts form the basis of my pantry, so I would recommend sourcing a few different types, to enhance your baked goods. Fleur de sel is an un-refined yet delicate salt that is primarily used for final seasoning. It's readily becoming more available, though, depending on location, it can be difficult to source. A pinch of Maldon flaked salt does well for an equal alternative. Regular table salt should not be used as a substitution.
– Brewed coffee is added to the frosting, to enhance flavour and smoothness. As such, it's important that the coffee is completely cool before it gets mixed in. If it's too hot, it could potentially melt the butter and turn the frosting into a sloppy mess. So be wary of its temperature. It's a rather forgiving recipe though. I've tested the addition of boiling hot coffee when added to the frosting. It did slightly melt the butter, but, the frosting when whipped for an extended period of time, was able to be brought back to how it originally should be.
Click here for the frosting recipe.
Print
Sea Salt Chocolate Cake
An easy chocolate sheet cake is topped with fluffy coffee-cocoa frosting and a sprinkling of sea salt. It's about to take you to dessert paradise with one bite.
Author:

Thalia Ho

Category:

Baking, Cake, Chocolate
For the chocolate cake:
1 tbsp

. instant coffee granules

100

ml 3.3 fluid ounces boiling water

200 g

1 2/3 cups all-purpose flour

65 g

3/4 cup, scant dutch processed cocoa powder

1 tsp

. baking soda

3/4 tsp

. baking powder

½ tsp

. salt

275 g

1 1/3 cups granulated sugar

220

ml 7.4 fluid ounces buttermilk

100

ml 3.3 fluid ounces vegetable oil

2

large eggs

1 tbsp

. vanilla bean extract
Frosting
Click the link above for the recipe.
Instructions
For the chocolate cake:
Pre-heat the oven to 180 c (350F). grease and line a 32 x 22 cm rectangular baking tin. Let the parchment paper slightly overhang the sides.
Place the instant coffee granules and boiling water into a measuring jug. Stir until the granules are dissolved. Set aside to cool, until needed.
In a large mixing bowl, whisk together the flour, cocoa powder, baking soda, baking powder and salt, until evenly combined. Stir in the sugar.
Pour the buttermilk, vegetable oil, eggs and vanilla bean extract into the mixing bowl with the dry ingredients. Whisk, until evenly combined and glossy. Pour in the brewed coffee and whisk until smooth. The batter should be very thin and runny. Pour the batter into the prepared baking tin.
Bake, for 30 to 32 minutes, or until risen and a skewer inserted into the middle comes out with a few moist crumbs attached. Remove from the oven and let the cake cool in its tin for 15 minutes, before carefully turning it out and onto a wire rack, to cool completely before frosting.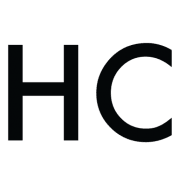 Thalia Ho
thalia is a law student by day, blogger at butter and brioche by night and all around francophile. In her free time you'll find her spending hours on end in her kitchen, testing recipes, baking decadent treats, exploring cookbooks and getting lost in the digital world.