For a packed lunch or quick dinner, roll up these brown rice sushi wraps filled with leftover chicken, seafood, or tofu and a serving of veggies.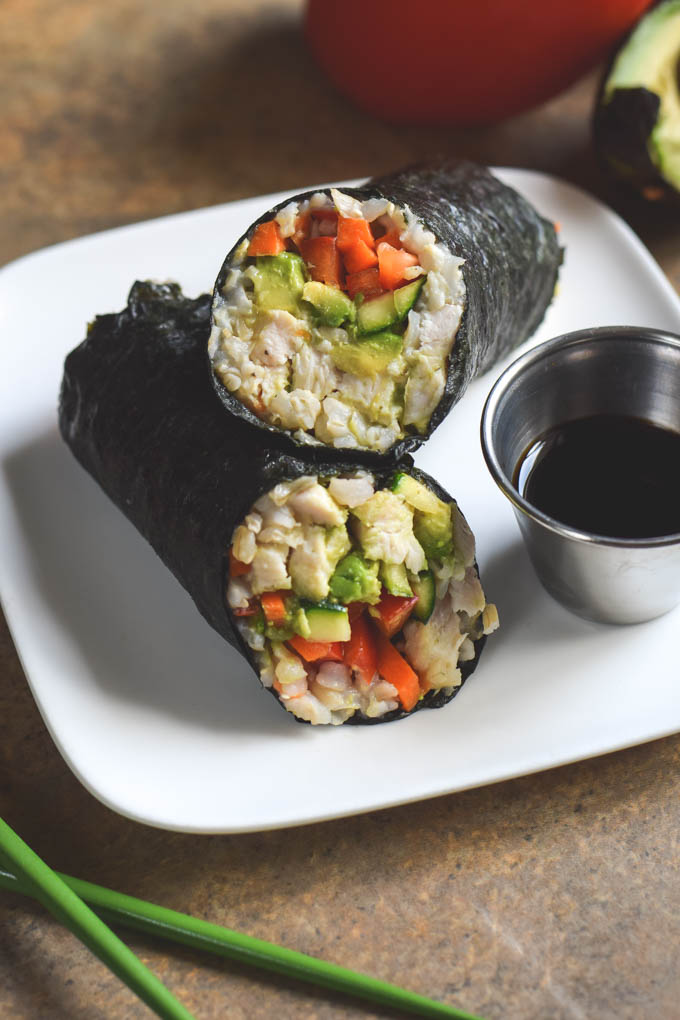 Does it ever seem like all the foodies posting delicious pictures out there are just trying to make us jealous of their perfect lunch? I mean, do you think that when you share something? I used to be afraid of coming off this way when I first started blogging and then I realized how much I enjoyed getting to share with you how delicious my latest recipe could be just so you could try it too!
So yeah, maybe a tiny part of the intention behind each of our food shares is us subconsciously saying "Haha, they wish they were eating this!" but it's probably more likely that they just wanted to share the love. To me that's what food is pretty much, love! I love food and I love to share it.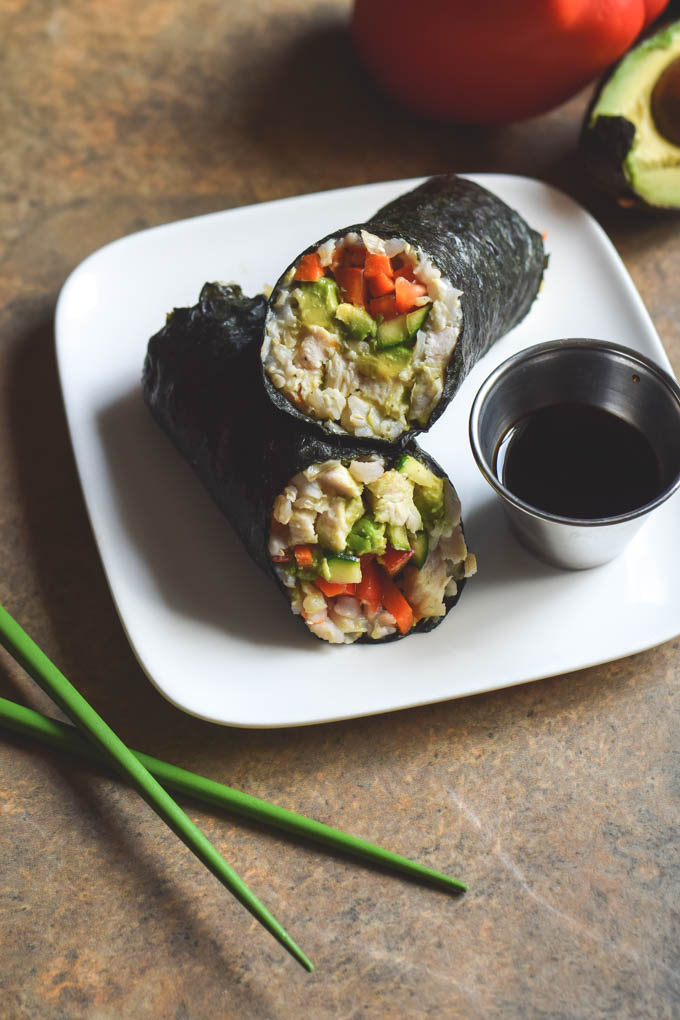 This recipe is probably easier than you think. I used to think sushi making was some complicated process that only the master Japanese ninjas that I'd picture in my head could make. While in reality it's very simple and not all that different from rolling up a burrito. Hey, that's what we're doing!
It's also true that these so called burritos are just unsliced sushi rolls, but I think there is something a little bit fun and rebellious in eating it burrito style. You also don't have to have a Sushi Mat to make it.
I actually just opened the fridge to find that I had some leftover roasted turkey breast and then I pulled out some veggies. Now I know that there are probably die-hard sushi lovers scoffing at my outrageous addition of poultry to sushi, but we're already breaking the rules by making these into burritos so, um, YOLO!
Anyway, if you'd like to make a vegan version you can use tempeh, tofu, or simply just skip the meat altogether. The avocado can also be replaced with cream cheese or you can use both!
Click here for more lunch ideas.
Print
Brown Rice Sushi Wraps
For a packed lunch or quick dinner, roll up these brown rice sushi wraps filled with leftover chicken, seafood, or tofu and a serving of veggies.
Author:

Tori Cooper

Prep Time:

25 minutes

Cook Time:

1 hour

Total Time:

1 hour 25 minutes

Yield:

4

wraps

1

x
Category:

lunch, Main
Rice:
1 cup

uncooked brown rice (or about

2 cups

already steamed rice)

1/2 teaspoon

Himalayan pink sea salt

2 tablespoons

sushi seasoning (*see note)
OR

1 teaspoon

sugar

1 teaspoon

rice vinegar
Filling:
8 ounces

cooked meat (for vegan you can replace with tofu or tempeh **see note)

1

large carrot (julienned)

1

red bell pepper (seeded and thinly sliced)

1

medium zucchini (julienned ***see notes)

1

medium (ripe avocado, pitted and sliced)
Sushi:
8

sheets roasted nori (sushi seaweed)
black sesame seeds
soy sauce for serving
Instructions
Rice:
Cook the rice according to package instructions until al dente. (If using cooked rice you may skip this step.) Add about 1 cup of water and the salt to the already cooked rice and place over low heat, covered. Stir every few minutes until the water is absorbed and the rice is a bit sticky. Remove from heat and stir in the sushi seasoning (if using) and allow it to cool completely before making sushi burritos.(Cold rice is the best to work with.)
Filling:
Spread a Sushi Mat out on your counter or work surface (You can also use a towel or a place mat.) Take 2 sheets of nori and lay them so they overlap for about 2 inches. Wet your hands and spread about 1/2 cup of the rice onto the top sheet of nori. Sprinkle with sesame seeds as desired and layer your veggies and meat to form a line from side to side.
Now slowly start rolling up the end with the rice and applying pressure as you roll. Continue until completely rolled. Wrap the roll in plastic wrap or parchment paper and allow it to set for about 10 minutes.
Serve with soy sauce and any of your favorite sushi condiments.
Notes
*The sushi seasoning is a great addition if you'd like a completely traditional sushi flavor but it's not necessary. (I usually skip it actually) Same for the sugar and vinegar.
**You can use any type of meat you'd prefer such as smoked salmon, or even leftover rotisserie chicken. I've tried a few but the pictured recipe was roasted turkey breast.
***I used bell peppers, zucchini, and carrots but there are many different veggies that you could use to replace them, like cucumbers or microgreens.
For one burrito (only salt + vinegar in rice) with 1/2 cup rice and roasted turkey breast it's approx: Kcal:300 Protein:21g Carbs:38g Fat:8g
Tori Cooper
Tori is a food blogger with a passion for what she does. She shares all her recipes, photography, and bits about her life living in Patagnia Chile on her blog, Gringalicious.