ReViVer popped up on 8th Avenue in New York City just two weeks ago and has an ambitious goal:  to provide food that is both nutritionally beneficial and enjoyable to eat.  On top of that promise to their customers, every dish is affordable, priced at less than $12 and ready to eat four minutes after being ordered.  This exciting concept led me to visit the restaurant and talk to two of the creators and life long friends, Todd Horowitz and Chef Scott Leibfried.
By Molly Nugent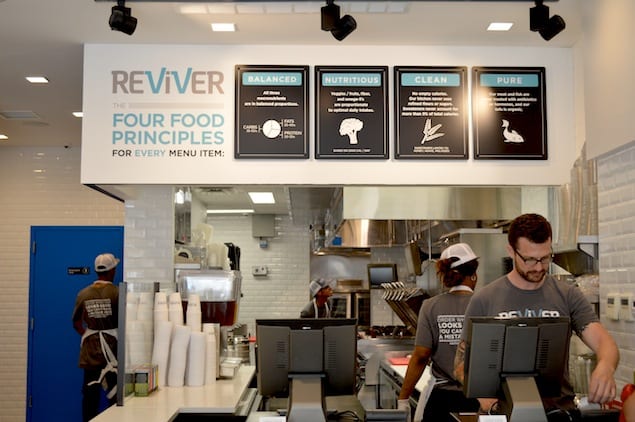 First off, let's clear something up. The word "healthy"refers to lifestyle. If you are not sick or injured you are healthy. The word "nutritious," on the other hand, refers to nourishing, efficient food.
When asked how he and his partners, Scott Leibfield and and Bill McDermond came up with the idea, Todd explained, "Healthy eating needed to be defined.  There's a lot of information and misinformation available about food, you know, low fat, high fat, low carb, paleo, vegan, vegetarian, and so on.  We felt that the general public was confused and looking for solid answers.  So we turned to science for proven answers and enlisted the help of a licensed nutritionist."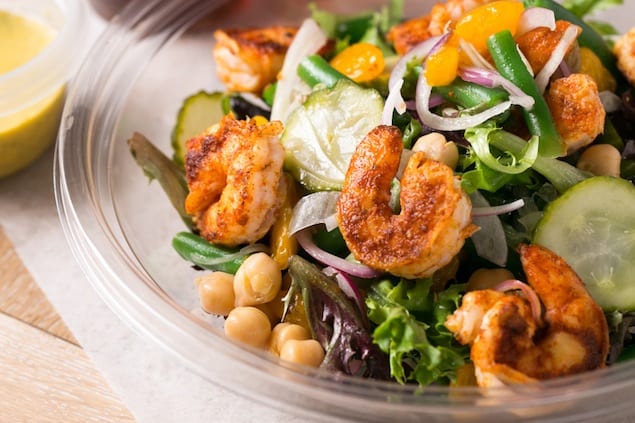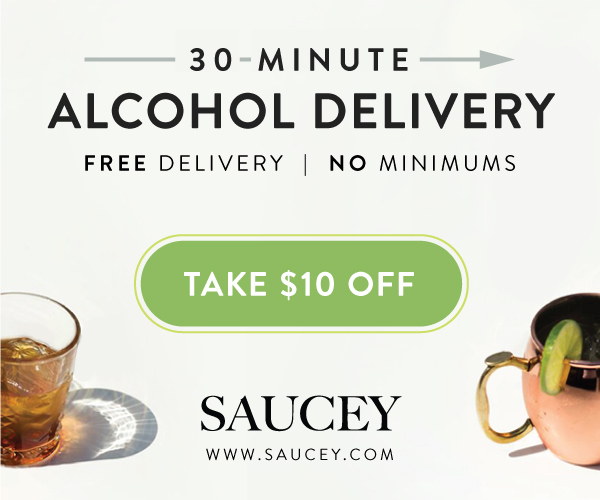 revivernyc.com
It's true.  It used to be, knowing something was super nutritious for you was kind of a turn off.  Nutrition was synonymous with gross.  Times have changed and now people are obsessed with eating nutritious food, seeking it out, whether it's bland tasting or not.  Cars are adorned with "Eat More Kale" bumper stickers and even children are doing juice cleanses.  Let's face it, "healthy" food is in.
However, Todd and Scott recognized that there was a problem: the majority of us only vaguely know what food is better for us to eat.  We want to know what's best for our bodies but don't have time to do the research, and while we can control what goes into our food at home, eating out at a restaurant is a different story.  We do our best to decipher what will be best for our bodies, but to a certain extent it's all a guessing game.
These guys were sick of the guessing and decided to take matters into their own hands.  They set out with the goal of giving people the nutritional food they are looking for without a catch. They created a nutritional charter on which to base the ReViver food. The charter was developed using data from universities and institutions around the world.  "It wasn't just the USDA or the FDA, we looked for evidence based on studies out there, 20 year long studies.  The charter is about 15 pages long and you can read it online."  The information boils down to four basic food principles.  This makes it a simple and fun way for customers to digest their findings.  You can see the four principles: balanced, nutritious, clean and pure below.

Todd went on to say that another thing he wondered was, "Why is nutritious food, "healthy" food sort of boring?  Why do we have to be eating egg whites or steamed vegetables?  Why does it seem to be such a limited menu?"  He explained that instead of their restaurant focusing on a specific cuisine like Mexican or Italian, their focus was making sure the food conformed to those four principles.  The parameters were based on science, not geography.  This gave Scott full creative run with the menu to create dishes that he himself would want to eat every day.  It was just as important for the dishes to taste delicious as it is for them to be good for you.
This freedom was inspiring but Scott explained "It was far from easy and took a lot of thought and brainpower."  He had some serious homework to do.  Scott has been experimenting with recipes within their set nutritional parameters for the past couple of years.  When asked how far it has come he said, "We couldn't believe that we thought what we originally started with was okay.  In terms of the menu, it's come so far.  Finding the right products, finding the right sources and finding the right people within the sources… and then everything came together."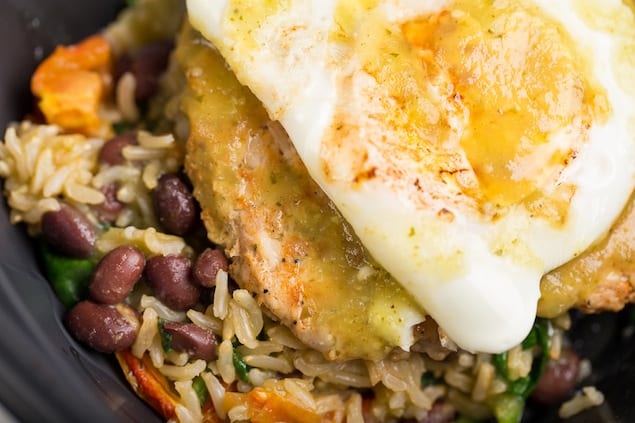 revivernyc.com
The food wasn't the only important aspect of the business though.  Todd and Scott also place great value on accessibility.  As they put it, "It has to be affordable.  We don't want to be the people that are just servicing one part of the demographic.  We want everyone to have their eyes open and understand what they've been missing and add some truth to what they've been hearing all along."  The menu certainly reflects this sentiment with the most expensive item on the menu being $11.99.
The menu features a breakfast section, soups and salads, sandwiches and ReViVer meals.  Under each dish there is a description of what it comes with, how many calories, what the ReViVer score is, and if it is gluten free, dairy free, vegetarian or vegan.  It's all spelled out for you.  For example, the Egg and Potato Scrambowl, priced at $4.50, comes with scrambled eggs, roasted red potatoes, tomatoes, onions and green chilies, finished with housemade hot sauce.  It is gluten free, dairy free, vegetarian, has 262 calories and a ReViVer score of 94.
On the back of the menu you'll find a description of the ReViVer score.  "Sure, calories matter.  But eating right isn't just about counting calories — it's about making every calorie count.  In addition to making sure every meal provides a balance of carbs, fats and protein we also guarantee that it's packed with the essential nutrients your body needs.  A ReViVer score is included on every menu item.  This unique equation reflects the meal's nutrient density.  What goes into a ReViVer score?  The ReViVer score is based on 10 key nutrients that represent a broad range of nutrient types and functions.  These nutrients all work together to optimize health and well-being.  Accordingly, a meal must be high in a broad range of nutrients and low in added sugars and other empty calories in order to score well."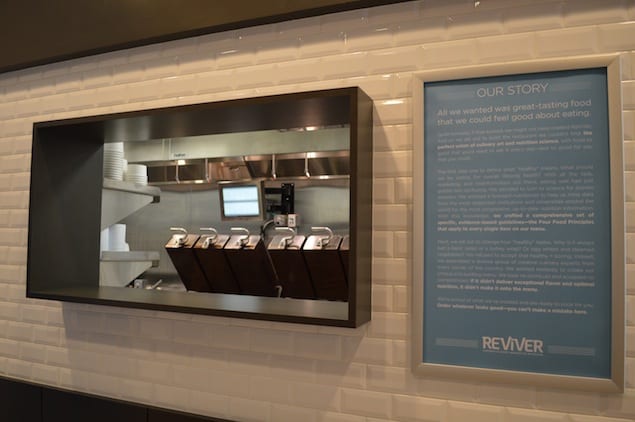 So where did the name come from?  Well, as you might have guessed, just as there was careful thought put into every aspect of this operation, the name was carefully chosen and the logo meaningfully designed.  Todd says, "We're different from everyone out there so we didn't want to have kitchen or cafe or grill in the name.  Our food is about balance.  We are getting you a balanced amount of micronutrients and balancing out the amount of sweeteners.  So "ReViVer is a palindrome, a perfectly balanced word spelled the same forwards and backwards.  You also have the two "v"s in the middle representing "viv," aka "life."  And the one lowercase little "i" in the center is the little person in perfect balance actually representing their ability to take care of themselves."
And there you have it.  If you're in New York either on your lunch break or just visiting, I highly recommend trying ReViVer.  No need to put too much thought into what you order.  As they say, "Order whatever looks good.  You can't make a mistake here."

ReViVer NYC
934 8th Ave, New York City 10019
Website: http://revivernyc.com/